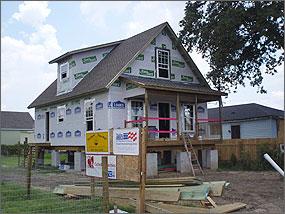 The average size of single-family homes completed last year fell, the National Association of Home Builders (NAHB) announced last week at the International Builders' Show, the Wall Street Journal reported.
The average size of homes completed last year was 2,377 sq ft, down three percent from last year. The average size peaked in 2007 at 2,521 sq ft, after growing for nearly 30 years.
According to an NAHB survey, more than 50 percent of builders expect to build smaller and less expensive homes in the next year.
The survey found that builders expect family rooms to increase in size in the next few years, likely in the form of great rooms, which allow more flexible living space. Lesser-used areas such as dining rooms or living rooms are expected to decrease in size.