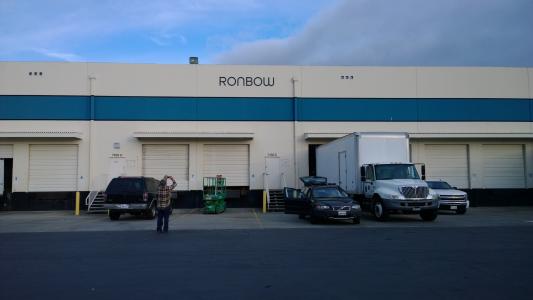 To meet growing demand for its products in the multi-billion dollar bathroom products industry, California-based Ronbow Corporation - manufacturer of affordable luxury bathroom furniture, sinks and countertops- announced plans for a new world headquarters and North American Distribution Center. With over 200,000 combined square feet of new space, the locations will employ 50 individuals with plans for additional hires to support the company's growth– projected at more than 30 percent over 2013. Company officials noted an improved U.S. housing market, both in the new construction and renovation sectors, played a factor in the decision.
Located in Fremont, Ronbow's new global headquarters, encompassing 36,000 square feet, will include the company's customer service, accounting, product development, marketing, sales and operations divisions along with training facilities and a product showroom. The new North American Distribution Center, located in neighboring Livermore, covers 180,000 square feet which the company will use for distribution to dealers and distributors in the United States and Canada. Twenty employees will staff the energy-efficient facility with ample room for expansion as needed.
With two manufacturing plants in China, Ronbow Founder and CEO Jason Chen said the city of Fremont is an ideal global base of operations not only for its ease-of-access, but also the talent pool of San Francisco being a short drive away.
"We are a global company proudly based here in the United States. With a well-established manufacturing footprint in China though, we needed a new location with easy access to the ports and convenient for air travel overseas. Fremont is an ideal area, not only for the conveniences it offers, but also its access to the talent pool of San Francisco where we can recruit designers and engineers," Chen said. "For the past 14 years, we have worked with some of the world's leading designers to deliver our industry's most expansive bathroom furniture collection showcasing the latest trends, colors and finishes. As we continue to grow, we now have world-class facilities to both meet demand and better serve our customers." PR