Cedar shake roofing can be a love-hate relationship. Your customers love the look of cedar shake roofs but hate the ongoing maintenance. And, much sooner than they like, homeowners discover that real cedar shakes can rot, crack and curl when exposed to long-term weather conditions.
When your customer's frustration levels run high with a failing cedar shake roof, you can be the hero. By educating them about the long-term, easy-care benefits of composite shake roofing, you can provide your customers with the appealing cedar shake look they desire while reducing their maintenance worries. As a bonus, there's a high value proposition with composite shake roofing. The investment lasts for decades and many people get discounts on their homeowner's insurance with composite roofing.
"Our customers want a recommendation for a roof alternative that outperforms real cedar, but still gives the authentic appearance of cedar shakes," says Mark Dalrymple, president of steep roofing operations for Butcher and Butcher Construction Co., Inc. in Michigan. "We recommend composite shake roofing from DaVinci Roofscapes.
"Homeowners truly love the fact that the composite shake looks so much like natural cedar roofing. They're excited with the roof's performance and the idea that a composite shake roof will far outlast their old natural cedar roof."
Made of virgin resins, UV and thermal stabilizers along with specialized fire retardants, both shake and slate roof tiles from DaVinci Roofscapes emulate and even improve upon the aesthetic cedar shake and natural slate.
Your customers can select from a large variety of color options that are available in three different tile options --- multi-width, single-width and the Bellaforté line. Plus, realistic nature- inspired colors like Black Oak, Aged Cedar and Mossy Cedar composite shake tiles reflect different progressive aging processes found on real shake shingles. These colors capture the look of a moment and retain it for decades on a roof. The composite tiles come in both wavy and straight grains throughout each shake tile to achieve an authentic wood look.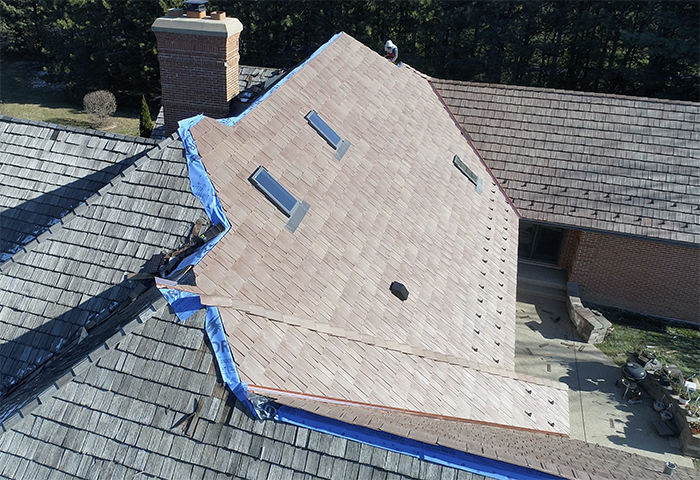 "For my family's home, I wanted the Bellaforté Shake tiles," says Matt Appelhanz, president of Appelhanz Roofing, Inc. in Kansas. "Our company has installed almost 20 composite roofs from this company in the past four years. Each time we install a Bellaforté roof it strikes me all over again that this is a light weight roof that has an elegant look.
"The composite shake roof is easy to install, durable, has Class 4 impact and Class A fire ratings and, to top off that package, it's also available at a reasonable price point.
"From our experiences installing this composite shake product for the past several years we've seen how it resists fading, rotting, cracking and pests. I recommend this composite roof to any of our customers looking for a reliable roof with a realistic shake appearance. In this case, my wife and I were the customers … and we took my own advice!"