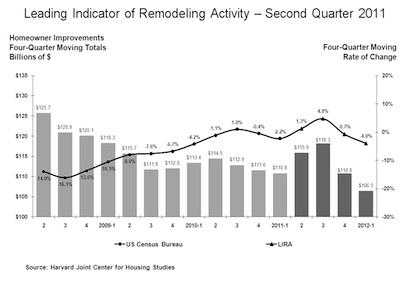 After a promising start to the year, hopes for a robust recovery in remodeling are being dashed by an increasingly stagnant economy.
The Harvard Joint Center for Housing Studies released its latest Leading Indicator of Remodeling Activity this morning and the predictions are certainly less-than-rosy. The LIRA is projecting a 0.7 percent drop for 2011 compared to 2010. Things look even worse as the calendar rolls into 2012, with a 4 percent drop in the 12 months ending with the first quarter of next year. That would put the LIRA at $106.5 billion at the end of the first quarter of 2012 -- the lowest mark on record.
The LIRA measures homeowner improvements in four-quarter moving totals. it doesn't track maintenance and repair spending, which is generally more stable, or work on renter-occupied buildings.
(It's worth noting this follows right on the heels of BuildFax reporting May was the best month since 2004 for remodeling nationwide.)
Harvard also says that remodeling activity should rise in the third quarter, up 4.8 percent from a year ago, after a 1.3 percent increase in the second quarter of the year.
Still, it was only last fall that the Joint Center was projecting double-digit percent increases in remodeling activity for 2011. Officials at the center say the continuing struggles of the economy make any recovery hard to predict.
"The recent slowdown in the economy has caused home improvement spending to weaken again," said Eric S. Belsky, managing director of the Joint Center. "Falling consumer confidence levels have undermined interest in discretionary remodeling projects."
The overall sluggishness of home building also continues to put pressure on remodeling, said Kermit Baker, director of the Joint Center's Remodeling Futures Program.
"What looked to be a promising upturn in home improvement spending earlier this year has begun to stall," says Kermit Baker, director of the Remodeling Futures Program at the Joint Center. "Housing starts, existing home sales, and house prices have all been disappointing lately, which has dimmed prospects for home improvement spending gains this year."