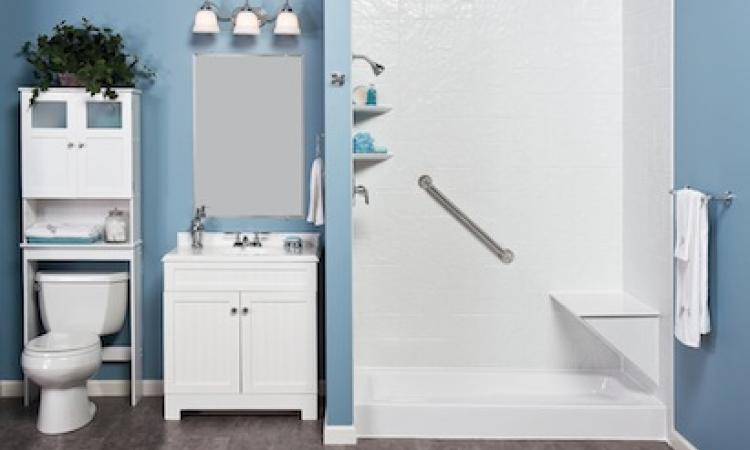 With the housing crash and resulting shift in project types and sizes, many remodelers have been looking to make changes in their business.
One popular solution has been adding a franchise or dealership to take advantage of a niche such as bathroom remodeling or window replacement to supplement larger custom projects.
For more than 25 years, Roger Mills ran a custom home building and remodeling business in Reno, Nev., but didn't think the housing boom would last.
"We kind of felt that business wasn't going to be the right way to go, it wasn't going to be sustainable," Mills says. "I wanted a niche that would separate us from everyone else around."
Mills identified the kitchen and bath category as one that would have more legs, even if the housing market slowed, and several years ago launched One Day Bathrooms. He started out as a dealer for BCI Acrylic Bath Systems and since has become a dealer for Sentrel Bath Systems.
"In remodeling, this is one of the better niches there is because it's needed," Mills says. "When bathrooms get old, they get old. When they get to the point where they don't function you have to do something."
Gribben Construction Co. was also built on large custom remodeling and new construction projects, with job size ranging from $300,000 to $1 million. The Stuart, Fla., company saw that business almost completely disappear after the housing market crashed.
So two years ago, company founder Ed Gribben bought a DreamMaker Bath & Kitchen franchise.
"If it wasn't for this franchise, I probably wouldn't be in business," Gribben says. "My main business still hasn't recovered, but now that I can do remodeling, custom homes and kitchen and bath remodeling, we're busy and back doing projects."
Besides opening up the kitchen and bath category for the company, DreamMaker has also helped Gribben improve his business. Although he founded Gribben Construction in 1986, Gribben says he still has learned from the management training and systems DreamMaker provides. That's commonly one of the largest advantages of franchises that franchisees cite.
"They do have business down to a science," Gribben says. "They have systems in place for selling, for marketing, for accounting. You're not reinventing the wheel."
The deals Gribben has been able to get on pricing because of DreamMaker's national buying power have also helped the company protect its margins an items like cabinetry, faucets and sinks.
While some contractors, worry about the restrictions of franchises, as far as Gribben is concerned, there has been no downside to his DreamMaker purchase.
Mills, on the other hand, opted not to consider a franchise because he wanted freedom to sell any products he wished.
"Being independent for 25 years, it didn't strike me as something I wanted to do," he says. "I didn't want to be locked in."
From the outside in
David Bobby started Atlas Home Improvement in 1989 as a Gutter Helmet dealer. Since then, the company has added seamless gutters, insulation, roofing, siding and, most recently, a BathWraps dealership from Liners Direct.
The Whitmore Lake, Mich., company has always focused on selling premium-level products in the niches it serves, and BathWraps fit well with its other offerings, says principal Darian Bobby, who joined his father's business in 1999.
"The problem was we were missing something we could do year-round," Bobby says. "We were too seasonal."
Bathroom remodeling now accounts for about 50 percent of the company's business, much of it from Atlas's 14,000 existing customers in southeast Michigan. Those clients had been asking Atlas to do other work over the years, which is what has driven much of the company's expansion into other areas.
The Atlas management team had been leery about expanding the business into bath systems until BathWraps was recommended by a fellow Gutter Helmet dealer in Virginia.
"We originally looked seven or eight years ago, but when we researched it, we found that were a lot of complaints and a lot of unhappy customers, so we were thinking this was not a business we wanted to be in," Bobby says.
The Bobbys visited that Virginia dealer to see installed projects and talk to clients, a step they recommend before making any sort of franchise or dealership decision.
"Before you get involved in some kind of new product, get a referral," Bobby says. "That made it a lot easier for us because we already knew this person was having a lot of success with it."
Gribben offers similar advice. Before purchasing his DreamMaker franchise, he visited four different franchises, talking to them about their experiences and how it had benefited them.
"Anyone getting into a franchise should get a list of other franchisees and make sure everything the franchisor told you was true," he says. "I listened to what they had to say and then I verified it."
Pros & Cons of Franchises
Franchises can be a great way to expand into a new business, but they're not without their pitfalls. Here are some pros and cons of buying a franchise.
PROS
• National Support — You're not on your own when it comes to marketing, sales, installation training, etc. Most national franchises offer support across the board, not only from the franchisor, but also through networking with other franchisees.
• Turnkey System — Franchises can give you a business system that has proven successful in other markets.
• Buying Power — Franchises often offer a chance to buy product at a discount through the power of group buying.
• Recognized Brand — Many franchises have a name brand that is recognized by consumers, which can speed up branding in your marketplace
CONS
• Start-up Costs — Buying into a franchise adds to the expense of launching a new division or entering into a niche. If you already have brand recognition, it may not be worth it.
• Royalty Payments — Many franchises require ongoing payments. You'll need to weigh the advantages of the franchise versus the added expense.
• Less Freedom — Owning a franchise can tie you into buying specific products to the exclusion of others. That may limit your opportunity to take advantage of new innovations and trends.