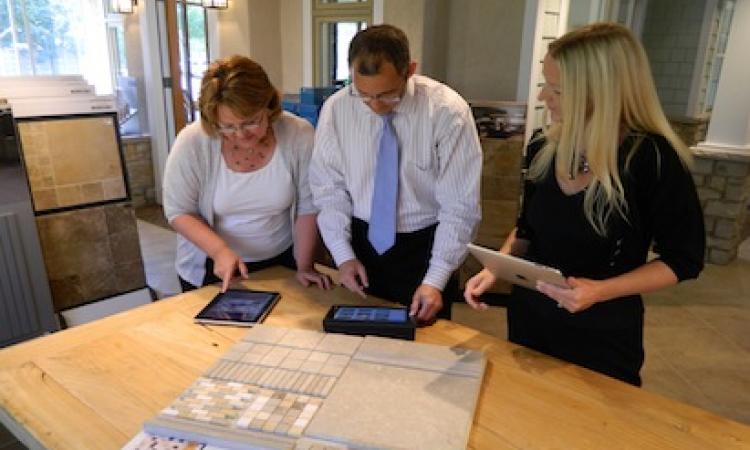 Remodelers are embracing tablet computers as an important new business tool, seeing them as a useful hybrid of smart phone and traditional computer.

Nearly a quarter of remodelers said they own a tablet computer and use it in their business, an impressive penetration rate for a technology that barely existed before the introduction of the iPad just last year. That's according to our most recent survey of Professional Remodeler readers.

In both that survey and interviews, many remodelers are extolling the virtues of the technology — especially the iPad, which controls the majority of the market in the remodeling industry just as it does among the general public. Eighty-four percent of remodelers that own a tablet said they own an iPad. (The estimates for the iPad worldwide are about 65 to 80 percent of the market.)
Difference maker
Using an iPad with clients helps to set remodelers apart from the competition, says Gary Rochman, president of Rochman Design-Build in Ann Arbor, Mich.

"It helps me appear more advanced, more able to take advantage of current technology to help my clients," he says.

Rochman has found his iPad to be most useful when working with clients. The iPad has replaced his portfolio, giving his presentations a bigger wow factor and saving money constantly printing new photos.

"That's where it makes its money most for us," he says. "I've found that people just have a different physical reaction when they're touching the screen versus a page on a portfolio."

The interactive experience of an iPad makes a significant difference to clients. Rochman can bring up a photo on the screen and turn the tablet over to them, letting them feel more in control of the experience.

"It kind of empowers them to do what they want with it," he says. "It engages them on another level."

Once the client is on board, the iPad also makes presenting design ideas easier. Instead of the old days of having the client look at a laptop or go to a desktop, Rochman simply pulls out the iPad.

"It just works better," he says. "It's a little handier."

Of those remodelers that own a tablet, 92 percent of them are using it for business. The most common use is email, with 85 percent reporting they use it for that. Three-quarters of remodelers use it for web browsing.

Like Rochman, about half of remodelers are using their tablets during the sales process. Eric Lamascus, president of Elite Construction Services, is part of that group. He says that the iPad was the solution he'd been looking for in his sales presentations — a simple, clean way to deliver information about his Aptos, Calif., company and projects to prospective clients.

"I'd been thinking about it for some time because I knew that was what was missing from our sales presentation," he says. "The problem was that when I realized that the iPad didn't exist yet."

As the sole salesperson at his firm, Lamascus is so far the only one using the iPad, although he sees the potential for his project managers to use them as well for accessing specs and communicating with clients and trades on the jobsite.

"We haven't gotten to that point yet where I feel it will be a big benefit to us because I don't want the additional distraction for the employees right now," he says. "But in the long term, I definitely see us going in that direction."

Not everyone sees the need for tablets, though. Of the 44 percent of remodelers that aren't considering buying a tablet, many said they just don't see a need for it or couldn't justify the expense for the payoff.

"There's no need. Desktop and Blackberry are long enough leashes," said a California design/build remodeler, in what was a frequent sentiment from respondents to the survey.
Remodelers embracing mobile tech
Whether or not they're using tablets, most remodelers are now staying connected while they're outside the office.

"Everything is at our fingertips," said a Virginia remodeler. "We are able to address any/all issues on the fly which makes a very good use of our time."

That availability to work outside the office is the difference-maker, said a Colorado remodeler.

"I don't have to be in front of my computer all day in order to get the information necessary to keep projects moving forward," he said.

Overall, 71 percent of remodelers said they access the Web from a mobile device on a regular basis.

The most common use was email — with 93 percent of those remodelers using their phones, tablets or other devices for that. Nearly 70 percent are looking for product information that is easily accessible on the go, while smaller numbers are participating in social media (38 percent), reading business articles (37 percent) and watching videos (30 percent).