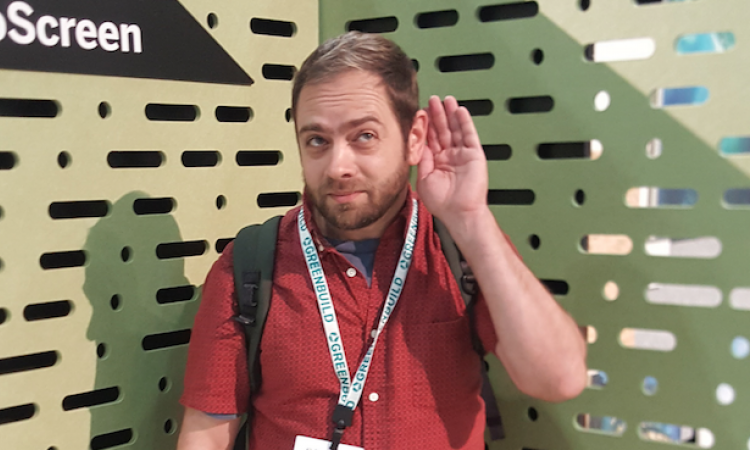 At the Kirei booth, I checked out the sound-absorbing properties (0.85 NRC) of the EchoPanel. This felt product not only dampens sound, it's made up of 60 percent recycled material.  
All images: Michael Anschel
Green building has been mainstream for longer than most of the remodeling community is aware of, and the 2016 Greenbuild show held Oct. 5–7 at the Los Angeles Convention Center, made it that much more apparent. With more than 18,000 in attendance, it dwarfs most industry trade shows, and the major players are there in force. This year, KB Home built its vision of a production 2020 home on site complete with Tesla Powerwall, Carrier Côr Wi-Fi thermostat, Cosentino recycled-content counters and floor tile, and Owens Corning VIP—vacuum-insulated panel wall systems. 
Elements that were a hard sell in 2005 are now standard product offerings from virtually every manufacturer. The currency of 2016 is LCA, EPD, and BIM. Andersen Windows pitched not only its product, but its role in Yellowstone National Park's five-year sustainability plan, providing energy-saving enhancements at park buildings, as well. Humboldt Redwood Co. won a leadership award from Forest Stewardship Council for restoring 44,000 acres of severely damaged redwood forest in California and turning it into a sustainable logged forest. 
But perhaps what struck me most about 2016 Greenbuild was how mainstream the products, applications, and companies were. With that mainstreaming comes increased confidence and stability, marking a turning point in the long-term adoption of green building practices by the shelter industry.
Here are my picks of the stand-outs this year. 
1] Bluebeam Revu software 
I can't see running my business without this. On the document side, we convert everything to PDF, so being able to create and edit a PDF is critical. On the design side, we constantly comment on, edit, and red-line drawings. Bluebeam Revu tracks each person, creating layers so you know who made which comments, and it can address them as a group or independently. On the construction side, we use Bluebeam's take-off tools to quickly figure out area and item counts, and to even create punch lists based on the drawings to which we can quickly attach photos for quality assurance. For our clients who travel, Bluebeam offers a tool for cloud-based meetings where clients can comment and draw on the PDF (for free). Not only is Bluebeam fast and nimble for software this robust, it's affordable, which makes it No. 1 in my office toolbelt.
Details: Available for Windows or Mac; choose from three editions: Standard, CAD, or Extreme (see pricing comparison here.); $274 for one to four seats (Revu Standard); $54 fee for optional annual maintenance.
2] Kirei building products
There are so many reasons to love this California company. Its owner, John Stein, will happily take you out surfing if you're in town and he brings the same laid-back detail-oriented vibe to a company that's been pushing the sustainability envelope since day one. Kirei's sorghum board is a true agricultural waste product, with the factory set up across the road from the farm. It creates a stunning visual for any wall, panel, or cabinet face. Bamboo products from Kirei have always complied with CARB 2 (California Air Resources Board's phase 2—more stringent—standard for formaldehyde emissions). And Kirei's newest release, EchoPanel, is a cool mix of colors, shapes, and patterns in a felt panel. Yup, felt! Made from up to 60 percent recycled PET, with sound absorption up to 0.85 NRC, EchoPanels let you create a stunning visual that doubles as amazing acoustical control. 
3] Carrier's Côr thermostat 
Another entry in the growing market of smart thermostats, Carrier's Infinity system has been leading the residential pack for some time with multicomponent integration, monitoring, and controls. This step toward an extra-friendly user interface includes Wi-Fi and a touch screen. Not only can Côr be installed on most existing HVAC systems, but it can speak to your HRV, humidifier/dehumidifier, AC, and heating modules. It provides real-time monitoring of humidity levels (which those of us in the building performance world worry about ... especially in remodeling), so your clients can avoid encouraging an unwanted biological dance party. While setback thermostats are really only useful for poorly insulated homes on forced-air systems, I'm impressed with the central brain approach with the added benefit of remote diagnostics and modification. 
4] Kohler Veil dual-flush toilet
Kohler is generally a mixed bag. The manufacturer's flushing systems have gotten better and better over the years, with its standard dual-flush tower (used in the Sterling Rockton) becoming the most dependable system on the market, and the recently updated Aqua Piston flushing system is a low-flow master. But, if you ask me, Kohler's toilet design and feature development has left something to be desired. The touchless flushing was about as useful as Microsoft's paperclip assistant when it was introduced, and the uncomfortable-looking-and-insanely-hard-to-keep-clean Numi was a letdown. Finally, however, Kohler has something worth taking a real look at: The new Veil has great style with function to match. Features include a night light for those who leave the lid up overnight, a stainless steel bidet wand that self-cleans and disinfects with a UV light, and cool integrated chrome hinges to activate the seat—all wrapped in a beautiful curved hatbox-style toilet. This is the closest to the Toto Neorest series that Kohler has come to date, and with those chrome hinges, this one's a winner.
5] Ramen 
Tell me: Who can survive without it?!
6] View Dynamic Glass
This isn't the first glass that you can tint with the flip of a switch, but it's the best evolution we've seen so far, in large part because of the software it runs on but also because of the continuous looping trunk line that ties the physical system together. Rather than each window having a home run feed, a trunk line runs the perimeter of the home with "pigtails" that branch off at each opening with their own IP address. The software monitors weather data and proprietary analytics to determine when to tint or un-tint the glass and the degree of tinting required. Think about that lake home with the windows that face south and the living room that gets unbearably hot in summer. Cranking the AC was the old way to manage unwanted solar gain, and it resulted in uneven cooling. Dynamic Glass is an automated system that makes life for your clients more comfortable and enjoyable.