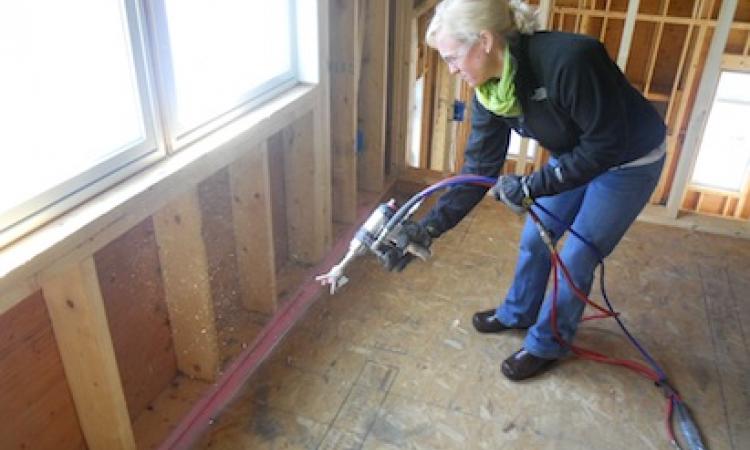 One of the most cost-effective ways to increase home efficiency is with proper air sealing and insulation. Between framing and routing for wiring and plumbing, hundreds of seams, gaps, and holes exist in a typical home, which can let air in and out. In fact, according to the U.S. Department of Energy (DOE), together these leaks add up to as much air loss as having an open window.
A high performance air sealing system, however, can reduce air infiltration by up to 70 percent in new homes and lead to a savings of up to 33 percent for new construction and up to 20 percent on existing homes for homeowners.
A two-part system that provides a flexible seal technology will help ensure cracks and penetrations are sealed from floor to ceiling, dramatically reducing air infiltration. Combined with insulation batting, the result is a high-performance air sealing and insulation system that will keep homeowners comfortable and save money on energy bills in their homes for years to come.
Another contributing factor to increasing efficiency and reducing utility costs in the home is ensuring the building's interior air handling system is configured and installed correctly. Ductwork is an important component of a home's comfort system. Uninsulated sheet metal ducts can be thermally inefficient and allow unwanted household noises to spread through the duct system between rooms. When properly chosen, insulation materials — including duct board, wrap, liner and flexible duct — will work together as a complete air handling system to provide outstanding thermal performance, virtually eliminate air leakage in the HVAC system and help absorb noise.
When selecting the most appropriate materials for a project, several factors must be taken into account:
Location, Location, Location
Location — both in the home and geographically — plays a key role in the selection of insulation materials. For example, when ducts are located in an attic or other unconditioned space, during cold or warm weather, R-8 labeled duct insulation will help to reduce unnecessary energy loss. Duct insulation can also aid in controlling condensation issues in humid climates.
Green Building Requirements
Another important factor to consider is whether there are any green building requirements that need to be met. A multifamily development, for example, may require additional acoustic insulation to control noise. Remodelers looking to achieve LEED or other green certifications will also require more careful material selection upfront.
Avoiding Installation Mistakes
One of the most common mistakes specifiers make during the material selection process is cutting back on the thickness of material (ex. installing one-inch thick foam sheathing vs. the recommended 1.5-inch thickness). While a half inch may not seem like a big difference, reducing the thickness of the recommended product can actually alter the way a home operates and may require the entire HVAC system to work harder, resulting in greater operation costs and energy use.
According to estimates from the DOE, the average home can lose up to 60 percent of its heated air before it reaches the register if ducts aren't properly insulated. Poor duct insulation can also result in uneven temperature pockets throughout the entire home. To ensure maximum efficiency, it's important that contractors follow the manufacturer's installation guidelines. This will help protect the building's heating and cooling system to avoid any major problems for homeowners down the road.
In addition, compressing, leaving gaps or not completely filling a cavity with insulation, either unknowingly or to save costs, compromises performance, resulting in decreased efficiency, as well as an increased risk of problems down the road. Compressing insulation reduces its thermal resistance (R-value) and the overall thermal performance of the assembly into which it's placed.
In the same way, gaps or incompletely filled cavities or an incomplete fit around duct work can negatively impact the R-value and is likely to result in thermal gaps somewhere in the system. For best results, the insulation should completely fill the spaces in walls and around piping, wiring or electrical boxes or completely surround duct work with no compression, gaps, or voids. In addition, any utility or other penetrations through the assembly or cavity should be sealed with an air impermeable and, when required by code, qualified fire blocking material. PR
Richard Gebhart is the technical manager, Commercial Industrial Products, for Owens Corning. Building Science content is provided by Professional Remodeler in partnership with the Energy & Environmental Building Alliance and its National Education Partners. For more information on building science education, visit eeba.org.