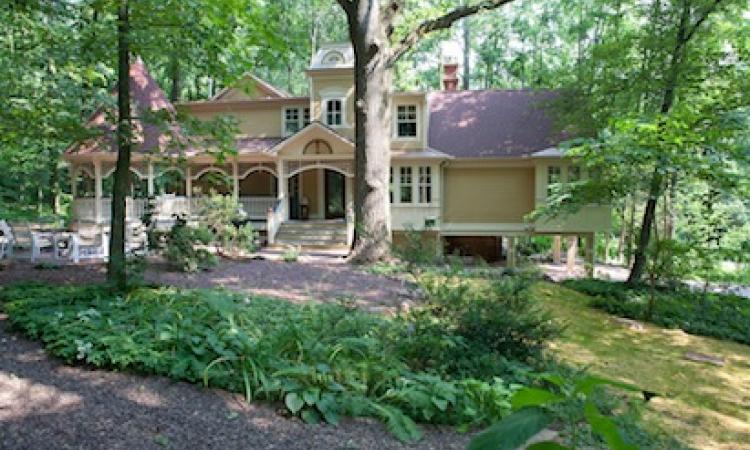 While the devil is in the details, for the Leitzel home remodel, so is the joy. Ceylon and Karen Leitzel bought their rural Mt. Gretna, Pa., house not for what it was—a plain Jane, 1970 two-story with dull rooms—but for the ornate, luxurious, Victorian-style "Painted Lady" they envisioned that it could become.
In fact they knew the house could make the leap in design, and they had just the architect to put the transformation into motion. Karen's uncle, architect Don Klinger of Value By Design, Millersburg, Pa., had designed several houses for them over the years, including a small house remodeled in glorious, gingerbread-bedecked Victorian style. In 2008 they called him, described the house they planned to buy, and asked him if he could turn it into a larger version of that small Victorian beauty, incorporating such features as a deluxe master bedroom suite, an airy family room-kitchen area, and views of the surrounding woods. Ten minutes later he faxed over a sketch illustrating his concept for the remodel. It was exactly what the Leitzels wanted. "Let's do it," they said.
Having built numerous Value By Design projects, it was no surprise that Klinger put Carlton B. Geesaman Building and Remodeling, Inc., Hummelstown, Pa., on the list of contractors recommended for this extensive remodel. "Ceylon liked Geesaman," recalls Klinger. After some discussion, Geesaman co-owner Carlton "Cobbie" Geesaman met Leitzel's price point and won the contract. Work began in early 2009.
Bring 'em on
Wrapped in bland aluminum siding, the existing house packed four bedrooms, two baths, a small kitchen, and a living-dining area into about 2,000 square feet. Klinger added 800 square feet of living space, including a high-ceilinged family room and, upstairs, a large master bedroom suite with round tower, a bedroom/office, and an interior balcony overlooking the family room. A porch and exterior balconies expand the house by another 400 square feet. Where possible, Klinger specified low-maintenance, energy-efficient products that would benefit the homeowners without compromising the traditional styling. Specialty contractors handled the kitchen remodel and driveway reconstruction; Geesaman did rest of the work.
The house is a veritable candy store of decorative interior and exterior trim and color. Victorian architecture is rich in decoration, which is one of its appeals for the Leitzels. On top of that, "I'm a detail person," says Ceylon Leitzel. He recognized that achieving the comprehensive remodel—incorporating everything from architectural features to vintage-look light switches, vanities, bath fixtures, and mantels—would be demanding. He says, "I like a challenge," and he remained actively involved as the remodel took shape.
Klinger provides very detailed designs. He explains, "We want what we want," and precise drawings give contractors the specifics to achieve it. Geesaman welcomed the challenge of the project. Complex remodeling work, such as the rounded forms and intricate gingerbread ornamentation specified for the Leitzel house, "entice me," he says.
Rough road
Geesaman delivered a showpiece of construction and craftsmanship, though the "challenge" of the project encompassed unexpected hurdles as well as the creative opportunities he anticipated and relished. The insulated windows became an issue when they arrived defective. Geeseman felt at a bit of a disadvantage because he could not use his regular supplier, who doesn't carry the line. Weeks went by before an astute representative of the manufacturer diagnosed the problem: The stops had been put in backwards during factory assembly. Finally Geesaman was able to complete the window installation and move forward to put up the siding.
The fiber cement siding Klinger selected comes pre-finished, but the factory reported a four-week backlog. To receive the siding in the custom color the Leitzels wanted would have delayed delivery a full 10 weeks. Geesaman solved the problem by purchasing raw siding and spraying it with custom-mixed paint that carries the same 50-year warranty as the pre-finished product.
While Klinger specified a concrete side porch floor with tile surface, the Leitzels ultimately decided to go with tongue and groove that would look more traditional. Having prepped for concrete, Geesaman tore out two courses of blocks and framed the porch for easy–care pvc 1x4 tongue and groove decking.
Creative solutions
Klinger recommended low-maintenance composite products for the house's interior and exterior trimwork as well. He designed beautiful pieces in the Victorian mode that, Geesaman discovered, did not precisely match off the shelf components. Pre-cut profiles did not duplicate Klinger's designs, he says, and custom orders would be costly. Pvc strips available for Geesaman to use to cut custom profiles came as wide as 1 ¼ inch, when he needed 2-inch. Turning a conundrum into a creative challenge, Geesaman glued pvc strips together to form thicker pieces. Skilled craftsmen in the Geesaman shop turned each piece of custom millwork—spindles, posts and rails—on a lathe, utilizing an apparatus they fabricated to hold the laminated "boards" straight and steady.
Geesaman's skilled carpenters crafted many of the house's other elegant and tricky features in the shop or on the jobsite, including copper flashing, fluted columns, built-in shelving, window seats, corner blocks, crown molding, stair riser trim and shutters. An object of particular pride for Geesaman is the gambrel roof with a hip for the bedroom tower. A copper hip roof with circle top windows and eyebrow trim, it's a work of art. "We built that entire roof in the shop, then covered it with copper, trucked it to the site and installed it with a crane."
By May 2010 the long, complicated project had wound to a close. For all three detail-oriented team members—Geesaman, Klinger and Leitzel—it passes muster. "At the end of the day, the job speaks for itself," despite the difficulties, says Geesaman. He adds, "We really enjoyed it." Leitzel's assessment: "It was a long project, but it was worth the wait. It turned out absolutely gorgeous."
And Klinger? That 10-minute sketch he drew back in 2008 is framed and hangs on the wall in the remodeled house. Though almost the same as the drawing, he says, "the house looks better than when I envisioned it."