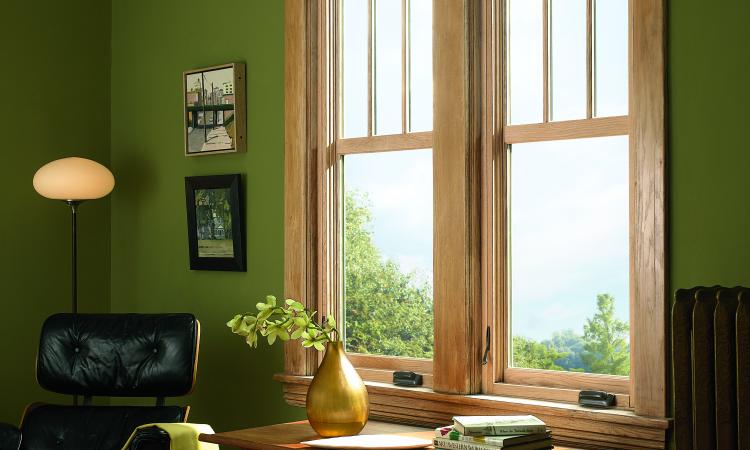 Window styles can be tailored to suit a home in any region, be it on the beach, in the forest or in the city.
Windows are an important feature in any home. They provide a visual connection between the interior and exterior of the house; help regulate sunlight and temperature changes within the home; and enhance the aesthetic appeal of the exterior.
Even when remodeling slowed down over the last few years, windows continued to be a popular project for homeowners. Now that business is starting to pick up again, manufacturers are finding that homeowners are asking more from their window products.
"We really need to bring our A-game right now," says Berit Griffin, public relations coordinator for Marvin. "Consumers are stretched, builders and remodelers are stretched. If you have a product out there, you need to be constantly improving it."
Going green — and staying there
Sustainability continues to be a prominent concern for manufacturers in dozens of industries, and windows are no exception. A deceptively simple term, sustainability encompasses several related ideas. Chief among them, perhaps, is energy efficiency. As energy codes continue to expand (and become more strict), manufacturers are working hard to keep up with — and hopefully anticipate — the changes.
"Windows can really help out with energy efficiency," says Griffin. "If you still have your old single-pane windows from who knows when, it's going to be very helpful for you to get today's modern windows." 
Keeping tabs on Energy Star regulations has helped manufacturers with that anticipation. "What we see happening is that Energy Star really sets the bar for premium-level energy performance," says Chris Pickering, vice president of marketing for Ply Gem. "Typically what happens is the code cycles follow Energy Star."
The bar will be raised again in 2013 or 2014, when Energy Star is expected to release Version 6.0 of the residential windows, doors, and skylights standard. One of the major changes that Pickering expects is lower required U-values for resistive heat protection. "It's really going to raise the bar a little bit beyond what you can achieve with a traditional dual-glazed insulated glass," he says.
As a result, Ply Gem is one of several manufacturers already rolling out triple-glazed models. Marvin is another, offering triple-glazed windows via its Integrity Windows and Doors brand. The company has two offerings, with krypton or argon gas, and a U-value of .18 to .20.
Andersen has taken a slightly different approach with its SmartSun glass, available in all 400 Series windows. With a solar heat gain coefficient of .28, it allows maximum sunlight in while simultaneously blocking 95 percent of solar heat.
Many homeowners take even further steps to minimize their home's environmental footprint, such as buying products made from sustainable materials. All of Jeld-Wen's wood windows, for example, are certified sustainable by the Forest Stewardship Council and the Sustainable Forestry Initiative, according to Elizabeth Souders,

director of product marketing for Jeld-Wen.
Vinyl is another energy-efficient material surging in popularity right now, according to numerous manufacturers. The 350 Series from Pella is a perfect example. These vinyl windows offer up to a 35 percent savings on consumer energy costs, says Kathy Krafka-Harkema, corporate public relations manager.
"They're highly energy efficient," she says, "and they feature the low-maintenance aspect of vinyl."  
Putting down the hammer
A discussion of durability in window products provides a perfect transition to another major trend that manufacturers are seeing right now. With the housing market still recovering from its massive downturn, homeowners are staying in their houses longer, either unwilling or unable to sell. This has translated into more remodeling opportunities as they ensure durability and try to increase future value.
"You might be there for a long time," says Griffin, "so it's important to make a house livable for a variety of ages."
Ply Gem has kept that focus on exterior home renovation with what it calls The Designed Exterior. Using this process, remodelers and dealers work together with the homeowner to enhance the home's curb appeal. "So as we're seeing greater emphasis on exterior design, windows are a great accent feature," says Pickering.
"We're definitely moving away from anything that requires high maintenance," agrees Andersen's Stacy Einck. For homeowners in coastal regions, for example — who have to contend with wind, salt and sea spray year-round — Andersen now features Stormwatch protection on A Series and 400 Series windows. No shutters are required for vinyl or composite windows, according to Einck, and they are virtually maintenance-free. 
Marvin's Ultimate Casement takes the hassle out of window cleaning via Wash Mode, a new feature that allows users to turn the sash inside out. "It's a really cool feature that allows you to stand inside and wash your window," says Griffin.
Any way you want it 
When asked to pinpoint specific colors and window styles that are popular right now, many manufacturers say it's difficult if not impossible. "It really depends on the style of the house you're talking about," says Griffin.
For the most part, styles and colors seem to depend on regional tastes. Arizona and other places in the Southwest prefer browns and other earth tones to complement the desert atmosphere, according to Krafka-Harkema.
No matter where you are, though, many homeowners still seem to gravitate toward neutral or natural colors. "For the most part, white is still hard to beat, and variations of white," Krafka-Harkema notes. She also points to tans and putties as other universally popular choices.
The conclusion, then, is that customization and giving homeowners infinite choice is the key. Whether they want to match a regional style or make their home unique, ultimately the decision is theirs.
That thinking has inspired offerings like Andersen's Architectural Collection, released earlier this year. The collection is divided into two segments: A Series and Eagle/E Series. The A Series gives users access to the Home Style Library, which helps pick home products to match a particular house style, with everything from Tudor to Spanish Colonial to Modern designs.
The E Series is all about customization, according to Einck. Windows are available in 50 standard colors, with the ability to create custom colors. Selectable window features include grille types, glass options, and extruded aluminum cladding choices.
"The most important thing here," says Einck, "is that it's easy to design, easy to specify, and easy to install." PR