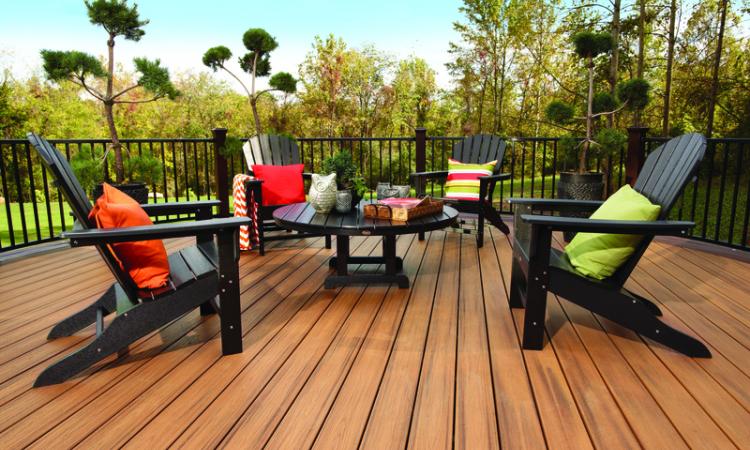 Outdoor living is no longer a new concept. Homeowners are choosing to create outdoor spaces that complement the inside of their homes now more than ever.
In 2013, residential decking and railing demand increased by 4.8 percent from the previous year to a factory gate price of $3.75 billion, according to the North American Deck and Railing Association (NADRA) Regional Market Data.
The factors for such an increase may be attributed to the economy but also to a heightened desire to spend more time outside.
"People are getting more comfortable spending money especially on an investment like their house," says Charlie Jourdain, president of the California Redwood Association. "Maybe people aren't going to do a $100,000 addition or remodel, but they might be interested in a $20,000 to $30,000 project to improve their outdoor living space."
With a desire to spend more and a larger amount of discretionary income, some manufacturers have found homeowners are not just adding decks but really becoming invested in the design and decision-making process.
"People are spending more money and building the dreams they have for their decks moving forward," says Adam Zambanini, vice president of marketing for Trex. "We see a lot of people doing curved railings, curved deck boards, added lighting, furniture, and pergolas."
Out with the old
The growth of the decking industry is not expected to slow anytime soon, and demand is estimated to exceed $4 billion by 2015, according to NADRA. Manufacturers already have seen a pent-up demand for new decks.
PRODUCT GUIDE

---

AERT (MoistureShield)  www.moistureshield.com
AZEK  www.azek.com
California Redwood Association  www.calredwood.com
Kleer  www.kleerlumber.com
NyloDeck  www.nylodeck.com
TimberTech  www.timbertech.com
Trex  www.trex.com
Viance Treated Wood Solutions  www.treatedwood.com
Wolf www.wolf.com
"There were a lot of decks that were built 15, 20, 25 years ago," says Jonathan Wierengo, vice president of marketing for The Tapco Group, which manufacturers Kleer Decking. "As those are coming due, we've seen customers do a lot of research and spend more time on the website learning what the options are."
There are 40 million decks in the U.S. that are more than 20 years old, according to NADRA, which points out the safety concerns that come with these aging decks.
In addition to safety concerns, many decks simply were not built to last more than two decades.
"Twenty or 30 years old is about the lifetime for an outdoor project that's exposed completely to the weather no matter what it's made out of or what climate it's in," Jourdain says. "They either need serious maintenance or a lot of people want to replace them as part of a remodel."
Unique railings
Railings are one aspect of the deck people really did not give much thought to when building or remodeling even a few years ago.
"When I came into the business eight or nine years ago, railing was really on the beginning steps. If we had it, that's what you could get," says Tony Bostwick, director of product management for CPG Building Products, which distributes Azek and TimberTech lines. "Railing is now really leading the fashion business because it is the first thing you see with the eye from a neighbor's perspect or walking up to the deck."
The railing can not only help differentiate a deck from others in the neighborhood, but it can also provide an advantage for the homeowner or visitors.
"There's a trend toward a complementary rail that's either metal or glass or cable, so you're not just looking at the rail," says Craig Jacks, vice president of sales and marketing at NyloBoard. "You're looking at the view beyond the deck into your lake or wooded setting or whatever the case may be."
Trex has expanded its aluminum baluster line and instead of just offering black, round, aluminum balusters like in the past, the company now has both square and aluminum balusters that come in bronze, white, and black.
"The aluminum has been really popular in terms of people who want an open view versus the chunkier balusters," Zambanini says.
Homeowners, however, often have different tastes based on their geographic location.
"In the Northeast and Central regions people like to see the thicker, more colonial, look," he adds. "Then as you move out West or down South, you see people using some of the skinnier balusters."
The CableRail infill system has really started to grow, says Bostwick. Between TimberTech and Azek, homeowners have seven different colors and six different infill options to choose from.
"You can really begin to design and develop a railing system that's not only structurally sound and code approved but has the design elements you're looking for," Bostwick says.
Wood without the wood
Although the majority of decks are still wood, the alternative and composite (notably capped composite) segments are increasing their share of the market.
Homeowners still want the look of real wood when turning to options that promise lower maintenance and moisture resistance. To emulate the look of real wood, some manufacturers are making sure each board is different.
"Because of our process, every single board is truly unique, just like in nature," Jacks says. "It's something people look forward to because you don't see a repeat pattern that you might get from a stamp or something that has a process that just repeats over and over again."
Variegated colors instead of just one solid shade or hue can also contribute to a more natural-looking product. TimberTech's Legacy line, new for 2014, uses a type of embossing that has a hand-scraped texture.
"What the Legacy decking product has done is really take that handscraped, cross-cut texturing that has become very popular for indoor flooring and transitioned that to the exterior," Bostwick says.
Many homeowners are requesting decking products that resemble tropical hardwoods.
"People love the look of a tropical hardwood, so we find that to be very popular," Zambanini says. "It's harder to get ahold of these exotic hardwoods like Ipe. There's only so much supply in terms of the rainforest, so it seems like the industry has hit a niche in terms of some of the deck boards that are out there."
Entertaining, not maintaining
People may want to spend more time outdoors, but this does not mean they want to work at keeping their decks in tip-top shape.
"As people are working more hours and entertaining more, they don't want to have to go outside every time and power wash or clean [their deck]," says Brent Gwatney, senior vice president of sales and marketing for MoistureShield. "They'd like to just be able to go outside and enjoy it."
Low maintenance also means people don't want to have to worry about fading or staining. Many manufacturers have increased their fade and stain warranties to give added comfort to homeowners in case something does happen.
"They've got this investment in their deck and they want to make sure that if something does spill, they'll be able to easily clean it up and not have to worry about replacing boards or anything along those lines," Wierengo says.
Homeowners want their decks to maintain the same appearance and durability as they did when they were installed, even after years of weathering the elements.
"We have extremely low expansion and contraction rates with temperature change, which means if you do unique designs, the boards are going to stay where you put them," Jacks says. "What's a nice, tight gap one day is still going to be a nice, tight gap the next day if the temperature drops."
Wood products may offer more maintenance than a lot of synthetic products on the market, but Jourdain says when it really comes down to it, the material maintenance does not differ much.
"The composite decks, plastic decks, and wood decks all require pretty much the same level of cleaning. Once or twice a year you want to hose it off," he says. "What we have learned is alternative or synthetic products still require some level of maintenance."
Jourdain, however, does recommend refinishing or restaining the wood every couple of years to maintain its life.
"We don't really consider it to be a tremendously costly or labor- or time-involved process if it's something you do on a regular basis every year or two," he says.
Personal preferences
No matter which material a homeowner chooses or how much maintenance is required, all types can offer the outdoor living environment people are embracing.
"People are looking to not just get outdoors but really entertain outdoors," Gwatney says. "Before, decks were a relaxation area, but now we're seeing they want a place to relax but also get out, entertain, and have fun."
The features in everyone's dream deck are different, so the amount of options are key as people continue to build.
"I think you get more of a blank canvas on the remodeling side then you tend to in new construction," Wierengo says. "On the remodeling side we're seeing a lot more creativity with styles, colors, sizes, shapes, and decking."
Just like inside the home, owners can create whichever spaces they want—kitchens, living areas, eating spots—all on one deck.
"The consumer is really the one driving and dictating what designs, colors, and textures they desire," Bostwick says. "Today decking is truly driven on how the homeowner sees their backyard and how they want to use their backyard." PR