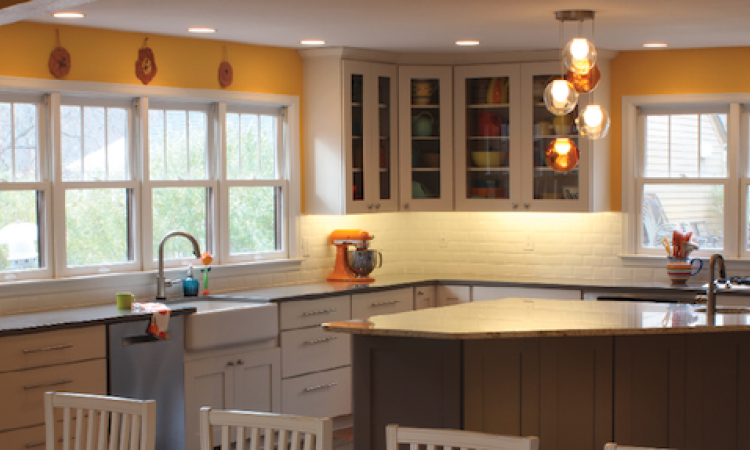 Photo: courtesy Fleming Construction
A few years ago, I took a course from Robert Criner, the NAHB Remodelers chairman in 2015. In that class, he talked about the importance of local public relations campaigns. Criner's words stuck with me and were the inspiration for a great program that we've started for Remodeling Council members in greater Des Moines, where I have my remodeling company.
Our council has put on a home tour for the past 16 years. It's a standard visit of remodeled houses for the public, and this year 12 companies participated, showing 16 projects. The tour has always been successful, but we've had three ongoing challenges that have remained a problem—until this new program.
1] We wanted to learn how people find out about the tour, so we can better target our marketing efforts. Visitors are happy to tell us verbally, but we needed more than informal anecdotes; we needed actual data.
2] We wanted homeowners who go on the tour to sign up for the Remodeling Council's e-newsletter.
3] The tour is good publicity for remodelers, but we wanted to grow attendance and make it a better opportunity for the companies that participate
So, the executive team decided to create an annual People's Choice Award for the home that draws the most votes from people who go on the tour. Pella Windows & Doors came onboard as a sponsor, and the tour went so well that Pella immediately renewed for next year.
Here's how it works: After taking the tour, homeowners are invited to vote online for their favorite project. The vote is part of a three-question survey. We've done surveys in the past and have even offered prizes, but no one ever responded. The People's Choice Award changed that. We had about 700 survey responses. That's more than seven times our 2014 numbers.
The survey had three questions:
How did you hear about the tour?
Which home do you want to win the People's Choice?
Would you like to receive our e-newsletter?
It turns out that most of the people attending heard about the tour of homes via word of mouth. We're currently trying to refine that and get more specific data, but what the survey did tell us is that a lot of the money we were putting into TV and radio marketing isn't working, so we're now trying to figure out where to put our marketing dollars for 2016.
My company was lucky enough to win the People's Choice Award for a kitchen remodel on the tour. There were a lot of great projects, and I'll admit that the selection of a winner is subjective. But I've used the award to market my company, and it's been wonderful. Also, with the tour being so busy, I've filled my entire first quarter for 2016 with appointments with homeowners I met on the tour as they walked through my projects.
As for the e-newsletter, about half of the survey respondents opted in, versus 8 percent from 2014. And they'll probably stay on the list, since we only send them stuff four times a year.
That one award has been an amazing initiative for us. It created revenue, provided great PR, helped us with data, and grew attendance for our tour.
---
Zak Fleming is the president of Fleming Construction, in Des Moines, Iowa, and a 40 Under 40 winner in 2014.