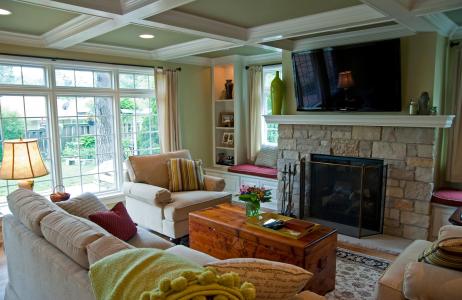 Choosing a paint color or scheme often can be difficult as there are many variables to consider—décor, style of the room, and other aspects of the space. Members of the Milwaukee/NARI Home Improvement Council took a deeper dive recently into paint and color wall options to explain this year's trends.
"We're finding colors that appear to be dipped in gray, a soft caulky appearance, are quite popular," says Cheri Ware, Ware Design, Delafield, Wis. "On the flip side, graphic colors are being used more and more, mixing lights and darks together to create strong edges and contrasts. For example, a person with a contemporary taste may mix bright colors with strong neutrals."
Although neutrals have always had a presence in rooms, there seems to be a shift to "strong neutrals." These colors are more saturated—khaki, deep tans and taupes, and more. "More importantly, homeowners should choose colors that bring all the elements of the room together—furnishings, finishes, and other décor," says Greg Luettgen, East Shore Painting, Wauwatosa, Wis. "Colors that are chosen by customers are often site specific and based on personal tastes. People seem to be experimenting more with colors than they did in the past."
A popular painting technique is an accent wall. "We often see people choosing a monochromatic scheme, using different shades of the same color," says Ware.
"It's common to see homeowners pair warm and cool colors such as red with green, but it's important they're the same tone," says Luettgen.
6 paint and color trends popular in 2012

---

1. Color

2. Accent walls

3. Layering

4. Finishes

5. Paint and primer

6. Wallpaper
Bold decorators may consider layering for more saturation. "Layering tones of the same color with a metallic cover can add depth and sophistication to a room," says Ware.
It's important to choose a finish that's appropriate for the various room details. "Ceilings will often have a flat finish to hide imperfections and reflect light evenly, and we're seeing a lot of homes with an eggshell finish on the walls. It doesn't have too much sheen and is washable," says Luettgen. "The trim should have a satin finish because it's washable and creates a contrast from the wall."
Many homeowners choose to add a unique touch to their homes; they want to add texture or customize a space. "There are a lot of fantastic faux finishes available," says Ware. "There's everything from reptile prints to beautiful French baroque motifs."
Many locations are offering two-in-one paint products to help homeowners save a step. "We're seeing a lot of places carry paint and primer in one product," says Luettgen. "I'm not sure if this is a trend, but it's definitely popular right now."
Wallpaper is not as popular as it used to be, but there is still room for it in your home. "People are getting away from so much paper, but we do see it in little spots throughout the home.  Homeowners often mix wallpaper with paint," says Luettgen. For instance, wallpaper could be mixed with a complementary paint color to create a focal point or variety in a space. PR