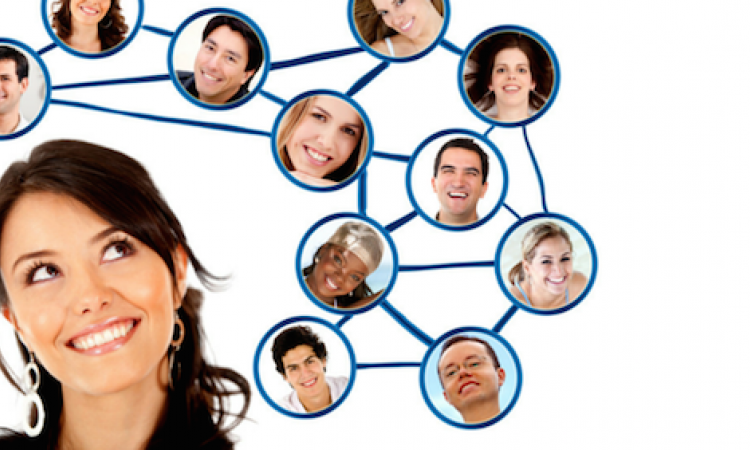 Traditional marketing is a one-way street. Your advertisement is designed to attract the attention of qualified buyers, but the message is a monologue about you and your company. Interaction occurs only if a prospect decides to pick up the phone.
Social media, on the other hand, is a dialogue. It acknowledges that prospects want a lot of information and do a lot of research before they're ready to talk with a salesperson. Plus, it gives your audience a place at the table where they can ask questions, express likes/dislikes, and explore preferences in an environment that is "safe" from a sales pitch.
These days your prospective customers are using a variety of media, including social channels, to find your company. Google Analytics can help you discover which ones are most effective. In this example (below), Houzz is the top referring site. To communicate with your Houzz audience, I recommend posting a "thank you" for all positive reviews, "following" your local followers, and starting conversations by asking questions. You can also use a special Houzz feature called IdeaBooks to share styles and details of specific projects. Check often to see which project photos visitors are adding to their IdeaBooks.
Google Analytics can help you discover how prospective customers are finding your company.
Facebook and LinkedIn also offer data on users via their own reporting features. On Facebook, you can identify the types of posts that are generating the most traffic by tracking the number of "likes." Then you can create more posts of that type and respond to as many "likes" and follower posts as you can. A "thank you" is good, but a question is better because it generates dialogue. On LinkedIn, create posts that encourage interaction. For example, you can ask people to vote for a kitchen style or ask them to name a favorite room in their home.
Dos and Don'ts
Remember that, just as every remodeling company is different, so are its target audiences. Here are some dos and don'ts for social media interaction:
Do pay attention to mentions and posts about your business. Search for your company name on Twitter and read direct messages. Check Houzz for questions and activity and respond accordingly.
Do create compelling content. Offer advice and guidance, such as: "No remodeler should be able to give you an exact price without measurements, final design, and selections. You should expect broad budget ranges." Remember, it's not about you, it's about your audience.
Do ask questions. A simple question such as "What's your favorite kitchen countertop material?" will get the ball rolling.
Do be specific. When answering questions on Houzz, share detailed information, like appliance brands, paint colors, cabinet manufacturers, etc.
Do listen. Pay attention to what people are saying about the services you offer.
Don't talk or brag about yourself. Humility is key. Social media isn't the place to announce that you just won a design award. 
Don't auto-schedule tweets or posts. People expect social channels to provide genuine and timely information on a regular schedule.
Don't assume you think like your audience. You are often too close to your business to be objective.
Don't automate content distribution. It's frustrating to see the same posts on both Facebook and LinkedIn.
Don't forget to check analytics. Sometimes a special social media post can drive a spike in referral traffic. Keep your eye on that.
While social media is a constantly changing landscape, one thing is clear: it isn't going away. Learn to embrace it.
---
Joaquin Erazo, CEO of The Marketing Wing, has 20 years of experience in marketing within the remodeling industry.