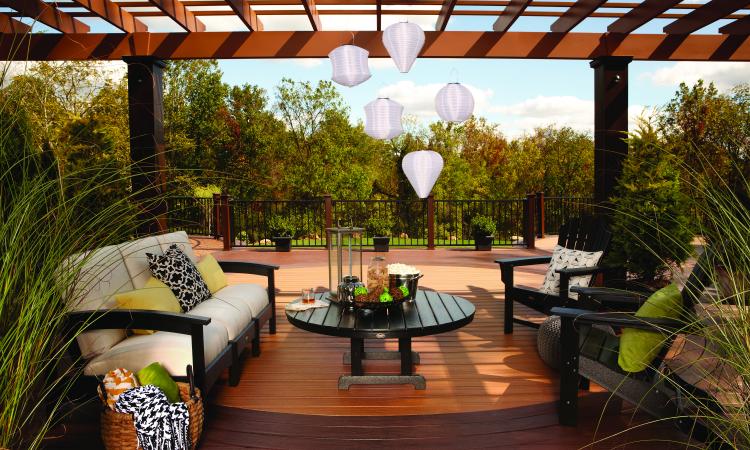 Decking companies such as Trex are becoming more outdoor-living focused by providing furniture and pergolas to complement decks.
Decks were often seen as add-ons when building a new house, but many homeowners now view decks as additional square footage to their living spaces.
"Contractors can essentially create an outdoor room, small or large, to extend the comforts of indoor spaces to the outdoors," says Paul Bizzarri, vice president of innovation for TimberTech Decking and Railing. "Decks can now serve a multitude of functions, from family meals cooked in outdoor kitchens, entertaining on a small or large scale, and everyday relaxation."
In recent years, the decking industry has largely been driven by this desire to treat outdoor spaces as an extension of the home.
Homeowners want a product that resembles the color and appearance of indoor hardwood while satisfying both high performance and low maintenance amid outdoor elements.
Some of the recent trends in the decking industry include improving upon composites, hidden fasteners, wood-like colors and appearances, integrated materials, and recycled resources.
Beyond composites
"The old technology composite decking was essentially a blend of some kind of plastic and wood fibers," says Craig Jacks, vice president of sales and marketing for NyloDeck. "It didn't hold colors well, it faded dramatically, and a lot of it tended to support the growth of mold and mildew."
Resources

AERT (MoistureShield) www.moistureshield.com

AZEK www.azek.com

ChoiceDek www.choicedek.com

Deceuninck www.deceuninck-americas.com

Duradek www.duradek.com

DuraLife www.duralifedecking.com

Endeck www.enduris.com/decking

Fiberon www.fiberondecking.com

Kleer www.kleerlumber.com

Latitudes www.latitudesdeck.com

NyloDeck www.nyloboard.com/products/nylodeck

Perennial Wood www.perennialwood.com

Royal www.royalbuildingproducts.com

Trex www.trex.com

Viance www.treatedwood.com

Western Red Cedar Lumber www.wrcla.org

Wolf www.wolfleader.com
Many manufacturers today are looking to improve upon these older composites and provide a wood-alternative solution that is fade-, stain-, and scratch-resistant. Capstock decking is one option playing a larger role in the market now than ever before.
Capstocks have a hard, outer shell that surrounds the composite and provides added performance at the surface without added costs for the core.
"We can get better performance by putting all the technology on the outside of the board, which visually can be seen and where all the performance has to occur," says Dominic Pileggi, senior vice president of product development for Wolf. Wolf's Prairie Collection uses an ASA plastic cap to surround a less-expensive PVC core.
Other manufacturers, however, believe capstocks are not the best way of improving upon the original composites.
"We're not convinced that the capped-composite technology is going to work," says Jack Delaney, national sales manager for Kleer Lumber. "We think there are incompatible materials between the cap and the core, and there are going to be problems over the life of the product."
One of Kleer Lumber's solutions is a 100-percent PVC deck that has similar materials in both the core and the cap.
"The market is moving in two general directions; if the consumer doesn't want to spend a whole lot of money on a deck, then they're going treated lumber," Delaney says. "And if they don't want treated lumber, and they want a lower maintenance alternative, they are going all the way to a capped composite or a PVC deck."
Perennial Wood offers a modified wood alternative that maintains some of the authentic wood appeal along with some of the low-maintenance benefits.
"It's modified wood, so it's more weather-resistant and gives you a lot better performance than standard wood," says Jim Flickinger, brand manager for Perennial Wood.
Whether choosing capped composites, PVC decking, or modified wood, homeowners want high performance and low maintenance.
"Where a lot of terminology was low-maintenance decking in the past, now it's considered ultra-low-maintenance decking, and homeowners are expecting not to have to do much of anything at all except for light cleaning and that's basically it," Jacks says. "Their expectations are that the deck is going to perform over the life of their home."
Wood-like colors and appearances
As homeowners choose wood alternatives for their decks, they still want to get the authentic look of the hardwood that is often present inside their homes. One of the ways to get a more realistic wood grain is with complementary colors.
"We're seeing a trend to the streaked products, variegated products, where you have a nice warm, earth-tone base color with streaking in it to make it look like a tropical wood—a mahogany, an Ipe, or something like that." Delaney says.
He also explains how Kleer Lumber changed its embossing pattern because it was good for gripping if the product was to get wet, but people didn't like the deep appearance. By lightening up the embossing, it more resembles inside hardwood, according to Delaney.
8Colors are also changing in the decking industry. "Whether it's an exotic brown or a solid brown, we're seeing more people going to different tones of browns versus reds that have been real popular in the past," says Brent Gwatney, senior vice president of sales and marketing for MoistureShield. "People really like the cocoa browns and the darker browns and the very rich colors."
MoistureShield recently launched Bridle, a color resembling the bridle of a horse, for its Vantage Collection to cater to homeowners who want a new brown hue.
Perennial Wood has also seen a return to browns and earth tones in its lineup. Flickinger says more people are seeking for natural-looking wood, and more people are requesting uncoated boards than in the past.
Hidden fasteners
Many homeowners no longer want to see nails or other fasteners on their decks. Instead, they want a seamless look much like that of their indoor flooring.
"People don't want nails and surface fasteners," says Edie Kello Wilson, director of marketing communications for Fiberon. "Hidden fasteners give you a smooth floor under foot and it's visually a nice segue to the outside."
Many manufacturers such as Trex are turning to inline grooving for this smooth finish. Hidden fasteners may be more expensive, but Adam Zambanini, vice president of marketing for Trex, says they are here to stay. The Trex Hideaway hidden fasteners use stainless steel to give them the ability to weather the harshest conditions.
Hidden fasteners also eliminate surface screws that can rust and split pressure-treated or modified wood decks.
Integrated materials
Deck size no longer seems to be the biggest concern for homeowners. Instead, they are focused on more complex designs, even if that means giving up some square footage.
"More and more people are putting more elaborate features on their decks," Zambanini says. He has noticed an increase in "deck envy," in which people are looking for new and innovative ways to separate their deck from their neighbors' decks.
One of the newest ways is through integrated materials and features beyond just the deck boards. "Deck lighting is very popular. When it gets dark out at night, people don't want a big light shining from the back of their home, so they are using deck lighting," Zambanini says. "It adds character to the deck."
These lights are used to illuminate unique features and can be installed in many different forms, such as post-cap lights, recessed lights, and stairwell or baluster lights.
"We're seeing a lot of material integration—a lot of homeowners now want to do wood deck boards and railings but maybe glass handles or metal inserts and those kinds of things," Flickinger says. 
Pileggi has noticed more people using mixed materials as well. He has seen an increase in homeowners choosing deck stones, in which contractors cut out a portion of the deck—underneath the grill, for example—and put in natural stones. This technique has a functional purpose because embers fall on the stones, but he says it is mainly a neat look.
"My experience hasn't been larger decks; it has been people are spending more money on materials," Delaney says. "The complexity is definitely different: multi-layer decks, inlays, different color decks."
Recycled resources
Green and environmental concerns are playing more of a role in the decking industry, mainly through the use of recycled materials.
"Green used to be a tie-breaker years ago, and more and more consumers are becoming more conscious," Zambanini says. "They are also smarter about it."
Trex is one manufacturer with a green story. Trex decking is made of 95-percent recycled material, and that has been the case since it first entered the business. The company says it keeps 400 million pounds of plastic and wood scrap out of landfills every year.
NyloDeck also keeps materials out of landfills, but the company uses recycled carpet. Carpet fibers combine with VOC-free resins and structural components to produce NyloDeck's composite decking.
MoistureShield recycles its plastic, and Gwatney says that post-consumer materials allow the company to get even better performance than it would with virgin plastic.
"The benefit for us is that we're able to blend our plastic—linears and low density and high density—and get a blend that has the best characteristics of all three," Gwatney says, "and that's why we recycle."
It is hard to determine exactly how important environmental concerns are to homeowners, though.
"I think appearance is No. 1," Delaney says. "People are going to buy what they like. If there's a green aspect to it, I think that's terrific, but if they find something they like in appearance and performance, I think that decision significantly outweighs the green aspect."
Do it for me
With more complex decks, manufacturers are starting to see a generational change in the do-it-yourself route. Gwatney has noticed that more people are turning in their tool belts.
"The younger generations are more do-it-for-me, and that's really something new that's starting to hit the industry," he said. "As 30-somethings start buying houses they are more inclined to hire someone to do their deck." 
With a do-it-for-me mentality, some manufacturers say people are more comfortable adding new features such as hidden fasteners and integrated materials. No matter who does the design and installation, however, decking is trending toward high performance and low maintenance that appears more like indoor wood flooring.
"They used to be 'stick-em on decks.' It was just a rectangle box on the back of a kitchen," Kello Wilson says. "Now they really add a quality to your house, value to your home, and they allow you to have bigger eating spaces, relaxing space, meditation space, and any other space you want." PR