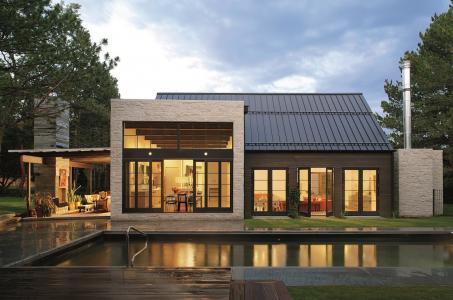 Marvin Windows and Doors' Architects Challenge 2013 Best In Show winner, the Folly Farm project by Dale Hubbard.
For the sixth year in a row, Marvin Windows and Doors is honoring the best in architectural creativity with its Architects Challenge. Accepting submissions now through May 2, 2014, architects are encouraged to enter their best Marvin projects for the chance to win national recognition for their work, as well as other prestigious prizes.
Similar to last year's Challenge, 10 winners will be chosen by a jury of well-respected experts in the field of architecture.  All juried winners receive a VIP winners' weekend in Minneapolis and Warroad, Minn. (this trip will count for AIA continuing education credit). Additionally, of the 10 winners, one project will be chosen as the grand prize "Best In Show" winner, who will have the opportunity to partner with Architectural Digest magazine to produce two videos of the winning project. The "Best In Show" winner will also have their project featured in an upcoming advertisement in Architectural Digest.
"Being a winner of the Architects Challenge in 2013 was a great honor," said Daniel Russoniello, AIA, LEEP AP, Principal of Archer & Buchanan Architecture in West Chester, Pa. "Receiving the recognition of my peers and the chance to publicize our firm's project with the help of Marvin was invaluable to our business. I'd absolutely encourage other architects to take advantage of this program—it's a great way to get your name out in front of a large audience."
The public will also have the chance to choose their favorite design projects as part of the Architects Challenge Showdown. All entries will automatically be a part of the Showdown, which will move through several rounds of knockout-style voting to reveal who is the public's choice. This winner of the Showdown will receive an all-expenses paid trip to the Reinvention Symposium in Washington, D.C., on Dec. 13. Voting for this phase of the challenge begins June 2, 2014.
"Being able to judge architectural projects of this caliber is extremely rewarding," said Adele Chang, AIA, Principal of Lim Chang Rohling & Associates and 2014 Architects Challenge judge. "The way Marvin products are creatively used in each entry, and the care and detail that architects put into these projects, are inspiring to the entire architectural community."
Christine Marvin, Director of Marketing at Marvin Windows and Doors, concurs: "In 2013, Architects Challenge entries spanned the gamut from commercial buildings to large and small residential projects. There were new constructions, additions and historic renovations from all over the country and internationally, too. The Architects Challenge really shows the depth of experience that Marvin has and the solutions it delivers. We're looking forward to another great year—we know architects and homeowners alike will be able to discover some creative ideas from this year's winners and Showdown entries."
To enter the Marvin Architect's Challenge and see past winners, visit www.marvin.com/architects-challenge. PR