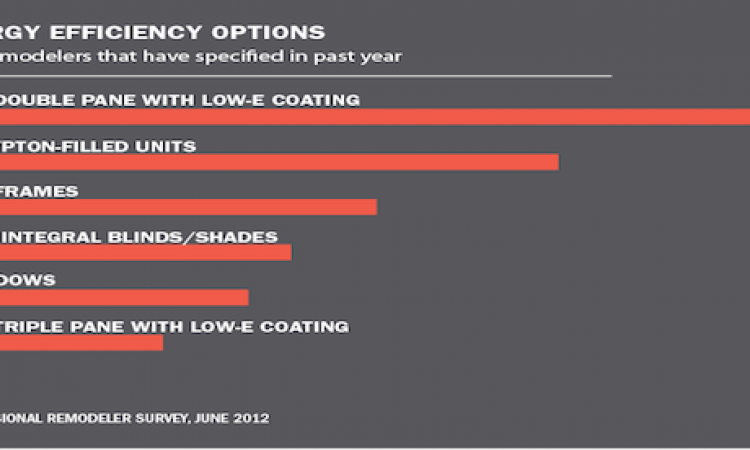 Remodelers are still feeling the hangover from the expiration of tax credits for window replacements, although the effect seems to be moderating since last year, according to the latest Professional Remodeler window trends survey.
"We have seen a significant decrease in window replacement inquiries," said an Ohio-based full-service remodeler. "I attribute this to market burn with the tax credits."
The $1,500 tax credit, included as part of the stimulus package, expired at the end of 2010. Last year, more than half of remodelers reported a decrease in their window business from a year earlier. This year, only 34 percent said their window business was off from 2011 and 27 percent said it was up.
Changing window market

---

We also asked remodelers how the window market has changed over the past year. Here's some of what we heard:

"Price is a greater factor now than in years past due to appraised values."
"When given a side-by-side choice clients are choosing a basic model more than in years past."
"Owners are interested in high-quality replacements."
"A little harder to justify the price since the tax credits have expired."
"Homeowners are more aware of quality and energy efficiency than anytime before and are asking more detailed questions."
"Loss of credits have had a significant impact to the negative."
"We have to offer less expensive products. The cost of EPA lead safe work practices has deterred some customers from purchasing from us."
"People are not inclined to go with energy upgrades now that the tax credits have been eliminated."
"Clients are moving toward the higher end window."
"Loss of credits has quieted the replacement market."
"Clients are considering the window's appearance more important than the window's efficiency."
Still, that is in marked contrast to other exterior work, such as siding replacement. Our recent siding research found that only 13 percent of remodelers are doing less siding work than a year ago and that projects are getting larger.
Most remodelers are still doing at least some window replacement work. Ninety-eight percent of remodelers said at least some of their projects over the last 12 months included replacing windows, and 20 percent are getting at least half their business from window replacement.
Energy sells
When homeowners do choose to replace their windows, they are often looking for energy savings. Almost universally, remodelers said clients are coming to them looking for more efficient windows.
"We show the value of energy efficiency and it sells," said a Florida remodeler.
Still, there is price sensitivity, as a Texas remodeler pointed out: "Basics, but with high energy features seems to be the key. They want the most bang for the buck."
Price seems to be playing as big a role as ever in the window market, especially without the incentive of a tax credit judging by the responses of the remodelers we surveyed.
Across the board, more remodelers are installing windows with energy-efficient features (see chart, top right). Each type of feature was installed by more remodelers than in 2011, led by insulated double-pane windows with low-e coatings (95 percent) and argon- or krypton-filled units (61 percent).
Remodelers in the South and West were slightly more likely to install windows with some sort of energy-saving feature, probably due to the warmer climates that low-e coatings and such can assist with. The only exception were triple-pane windows, which were installed more often by remodelers in the Midwest and Northeast, where the extra insulation certainly helps with more severe winter weather.
Vinyl, wood lead the way
When it comes to materials, wood and vinyl are the clear favorites as they have been in previous window surveys. Twenty-one percent of remodelers reported installing vinyl windows on all of their projects and 71 percent use it on at least some projects. Wood was installed by 76 percent of remodelers on some projects over the past year and 16 percent used wood windows on every project.
Fiberglass, composite, aluminum, and steel frames were used much less frequently.
There were some regional differences, however. Wood was the top frame material used in the Midwest and West, with 98 percent of remodelers using it on at least some projects. Vinyl was the top frame material used by remodelers in the South (96 percent) and Northeast (91 percent). At least 80 percent of remodelers in all four regions used both materials over the last 12 months.

Other regional trends:
Aluminum was used most by remodelers in the South (67 percent) and West (59 percent), with those in the Midwest the least likely at 40 percent
Composite frames were most popular in the Northeast at 67 percent and least in the South (50 percent)
Remodelers in the West were the most likely to use fiberglass frames (71 percent), followed by the Midwest at 63 percent. Only 48 percent of remodelers in the South have used them over the past year.
Steel frames were most common in the West (28 percent), while only 3 percent of remodelers in the Midwest had installed them over the past year. PR