Harth Builders started with just me and my dad, but now we have 35 people. About a year and a half ago we realized we were bringing employees on faster than we could onboard them. 
It used to be that me or my dad would walk a new hire through the process. I'm not available to do that anymore, and neither is my dad, so we developed a new process; though, I should say, it was a group effort—and not only between us and our team, but also with our peers in Remodelers Advantage, a peer-to-peer intra-industry networking and support group. The community of members in RA have been integral to our development as a business in many ways—frankly, joining RA is the single biggest reason we have grown in profitability. However, as it pertains to our onboarding process, my RA colleagues helped my dad and I by reviewing our onboarding materials and processes prior to implementation. We took what they had to say and worked with our team to build it into what it is today: a two-part process that includes, first, an interactive presentation that allows new hires to get to know our company, and second, something we call our "Onboarding Passport." 
Staying On Message
When you bring a new person on, either they adapt to your culture, or you adapt to theirs; and I assure you, a single, strong personality can influence a company's entire culture. 
Consistency, we've found, plays a big role in ensuring that a company's culture persists undiluted. For us, that begins with the telling of Harth's story. As we involved more people in the onboarding process we realized that our messaging was being muddied because people tell stories differently—some would emphasize certain points over others, or omit parts. \
We started using the online presentation platform Prezi, because it offers something more than a slideshow, which is pretty much what you get with programs like PowerPoint. We wanted the employees to be able to navigate, at their own pace, our company's history and its values, as well as what role they'll play and what they can expect to get out of their employment. Prezi allows us to arrange the information in a game-like structure. We start with four "units"—Getting Started, Harth Processes, Harth Culture, and Harth Perks—and from there, each unit expands into sub-units that go deeper into the specifics of the original category, depending on how far the hire drills down into the information. 
Consistency, we've found, plays a big role in ensuring that a company's culture persists undiluted.
For instance, by clicking on Harth Processes, employees see a brief explanation of our processes and prompts to three sub-units for more information: Smartsheet (which explains the program Smartsheets, a sort of high-octane Excel), Communication (which breaks down even further into three sub-subgroups), and Design/Build Philosophy, complete with an embedded video on the subject.  
The platform is available via a very affordable monthly subscription. 
Encouraging Entrepreneurialism 
I call our "Onboarding Passport" the second step of the process, but really it's happening alongside step 1. What it is, in a nutshell, is a series of tasks (some of which employees get additional information on through Prezi) our new employees are asked to complete within the first 90 days of their start date. The tasks—of which there are eight overall—are designed almost like a scavenger hunt, taking the employee through things as boilerplate as the paperwork that comes with any new hire, all the way to scheduling trainings and one-on-one meetings with members of our leadership team. We know our employees want a high-level of autonomy, and our passport gives it to them without sacrificing a clear reporting structure. We're saying, "We trust you to get this done."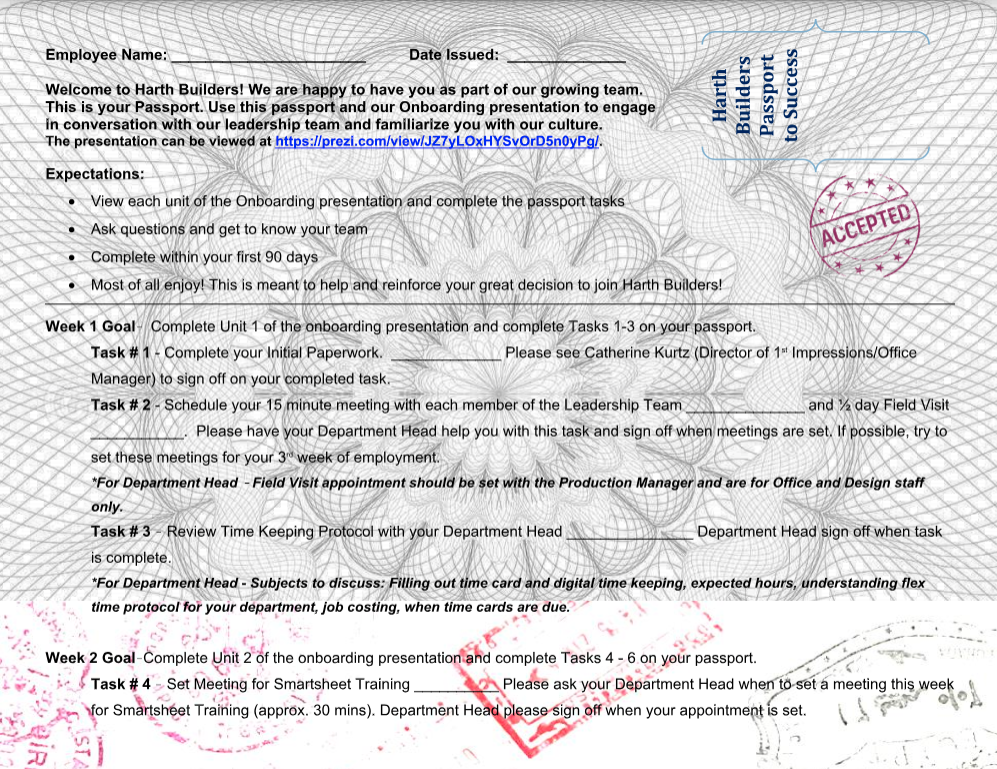 As a secondary benefit, the passport, which very much requires a certain level of entrepreneurialism, serves as a kind of litmus test for self-starters and future leaders. You get to see who takes initiative and who waits for that push to keep going. 
Remember: Progress Takes Time 
The truth is, we don't expect to get much in the first 90 days—and if you're putting together your own onboarding process, you shouldn't either. Those first three months are for getting acquainted with our company. And honestly, we don't expect all that much productivity for the first 12 months. We empower our employees to make decisions in our absence, and for them to reach that level—to know and understand our workflow and the expectations of them—it takes time. 
---
---