There's a bucket brigade being formed throughout the building industry. This determined group has assembled to extinguish the fire that is the construction industry's labor shortage. Over the past few years, individuals, corporations, lobbyists, and associations have coordinated their efforts to address the problem. 
"[During the recession,] I was going to various governors and lieutenant governors warning there was a growing lack of labor in the building industry and that this would slow any hope of an economic recovery," says Gerald Howard, chief executive officer of the National Association of Home Builders (NAHB). "But they had bigger fish to fry then. Now I talk with roughly 150 people a day about this crisis, and you know what? They are all listening intently." 
More than two-thirds of construction firms in nearly every state are having trouble finding skilled labor, according to a survey by The Pew Charitable Trusts. "Every single person is important to forming a solution," Howard says. "We not only want to rebuild the industry, we want to also build a better society in the process." 
While the sentiment may sound lofty, the NAHB, along with the Home Builders Institute (HBI), is aiming to replenish the construction industry's labor pool by targeting three specific groups: immigrants, former military personnel, and ex-offenders. 
Targeting the Immigrant Community
According to Howard, one of the first demographic groups that needs to be brought into the field is people who immigrated to the U.S. looking for opportunity. "It took a great deal of labor to build this country," Howard says. "The first rung of the ladder has always been the immigrant community." 
Research conducted by the Joint Center for Housing Studies of Harvard University found that immigrants are entering the trades at a faster rate than nearly any other demographic group. According to the report, in the past six years the number of foreign-born workers that have flowed into the construction labor force has grown from 29,000 to nearly 60,000. To that end, the NAHB expects the Latino population to account for almost three-quarters of the growth in the remodeling workforce well into the year 2020. As a way to capitalize on this trend, the NAHB turned to Ricardo González, executive director of Bilingual America, an organization dedicated to enhancing business relationships between Latinos and non-Latinos. "I don't believe there is a labor shortage in the building industry," González says. "There is a shortage of companies that know how to recruit and retain the huge numbers of Latinos that are available right now. We are working with the major building and remodeling associations and owners of firms on how to grow and scale this labor force."
According to González, to successfully attract and retain this population, non-Latino managers must better relate to first, second, and even third-generation Latinos. "I see it all the time," he says. "An underdeveloped mid-level workforce will quash the efforts of the low-end laborer and even make their lives miserable. Juan will get mad and leave the job and tell Ramon, who will in turn tell his friends and family. One construction firm owner came to me because his company lost 18 workers in one day. I told him, 'No. One guy left and he took 17 friends and family with him." 
González counsels remodeling professionals to follow his "Triangle of Truth," which he uses to illustrate the connection between communication (the tip of the triangle), language, and cultural management skills (the two base points of the triangle). "Leaders need to learn Spanish or they can't communicate with their workers," he says. "I encourage owners and workers to take [a course in] Spanish for adult professionals, or English for Latinos in leadership." 
In addition to improving language skills, it's also important for remodeling leaders to better understand the Latino culture and to then strategically leverage this information. (See "Four Strategies for Successfully Recruiting Latino Workers," below.)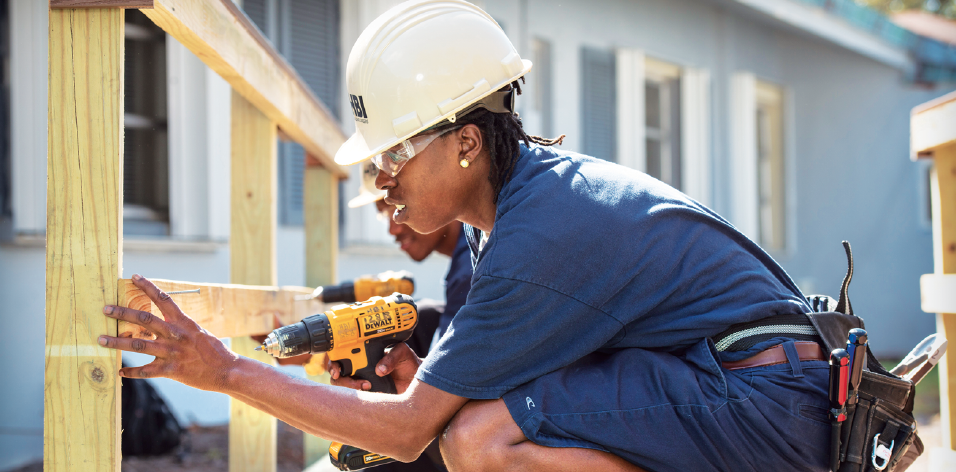 Students in St. Petersburg, Fla., participate in HBI's Building Construction Technology program, which provides them with training and experience working on active jobsites and community service projects. Photo: courtesy Home Builders Institute
The Military Veteran Factor
Finding workers is one thing, but finding skilled labor is something else entirely. "The first thing I hear when I travel around talking with home builders is they need labor that can come onboard and work from Day 1," says HBI's president and CEO John Courson. "It used to be that remodelers were willing to do on-the-job training, but not anymore." 
Courson explains that one of the best places for developing a skilled labor force is within the U.S. military community. In 2015, HBI entered an agreement with the Department of Defense and Fort Stewart, Ga., to help transitioning soldiers more smoothly enter civilian employment. By incorporating HBI's Pre-Apprenticeship Certificate Training (PACT) within a transitioning military setting, thousands of exiting soldiers have earned credentials that are recognized by the Department of Labor and the NAHB. They have also received OSHA training and certification at no personal cost to them. HBI has a 100 percent placement rate for student soldiers who have participated in these programs. 
One soldier who has benefited from PACT is Kristy Stringer, a U.S. Army veteran who served for nine years and transitioned out of the military nearly two years ago. "I was eight months from leaving the military and had no idea of what to do," Stringer says. "I was always interested in construction, so I entered HBI's Building Construction Technology program. I really loved it and have recommended it to so many people in the military."
Today, Stringer is a field operations technician with Georgia power supplier Southern Company and credits the HBI construction program for her successful transition into civilian life. 
Working With Ex-Offenders
Nearly 2 million people are incarcerated in either state or federal prisons, according to U.S. Bureau of Justice Statistics. Even if you disregard the half of that population that consists of habitual offenders, that's still a lot of incarcerated people, which is why HBI has also been working with state prisons to help train non-serious and ex-offenders. 
By teaching skills through the HBI PACT for Adults program, Courson believes that prisons can transform justice-involved individuals into skilled workers who will have stable, well-paying careers after they leave incarceration. "The states are really looking for help with 'behind the wall' training. We are not just training justice-involved individuals, we are actually placing them into jobs," Courson says. "We want to turn tax users into taxpayers." 
Upon successful completion of the program, graduates earn pre-apprenticeship certificates, signifying to employers that they're trained for entry-level construction work. HBI has provided services and/or training to more than 4,300 justice-involved adults and youth since 2012, according to Courson. One of those individuals was Henry Johnson. "I was
always involved with remodeling and building, but I never had the paperwork to back it up," says Johnson, an HBI PACT graduate from the Sheridan Correctional Center, a medium-security prison in LaSalle County, Ill. 
Today, Johnson is a full-time employee of a large construction firm specializing in high-rise residential buildings. "They saw something in me that I didn't even know I had," Johnson says. "Now I'm getting hands-on experience with some great carpenters. They let me try things and they're teaching me things I never knew. I even know electrical, some plumbing, and demolition. I made mistakes, but now I've got a career." 
Scott Eike, construction program director for Sheridan Correctional Center, explains that recidivism among HBI's pre-apprentice program graduates is just 27 to 30 percent compared with 50 to 60 percent among those not enrolled. "Henry came in here and honed his skills and then put them to use," Eike says. "When the opportunity for that job came up, I immediately thought of him. He worked hard all the time while he was in here, and I knew he would do the same thing out there. We still keep in touch."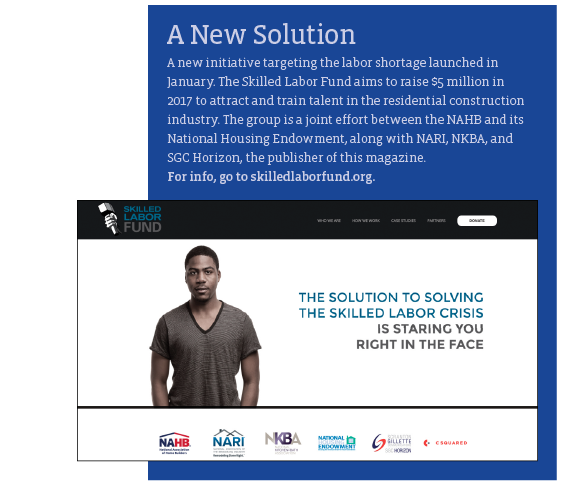 Ricardo González is fluent in Spanish and English, but he's also fluent in a more subtle language: culture. He is the CEO of cultural and language training institute Bilingual America, and for the past six years has been a consultant to some of the nation's largest companies. His specialty is helping business leaders navigate Latino/non-Latino business relations. 
As a member of the Home Industry Leadership Board and a consultant to the National Roofing Contractors Association and the National Kitchen & Bath Association, González is all too familiar with the current labor shortage. He is adamant that one of the biggest problems for non-Latino company owners is that they don't know how to effectively recruit Latino workers. 
With that in mind, González offers these strategic tips on how remodeling professionals can find and recruit Latino workers. 
1. Be culturally aware within your business: One of the biggest mistakes companies make, according to González, is that they don't look at their business from a cultural perspective. "I see people publish a job ad in a Spanish publication and have a callback number where a non-Spanish speaking person answers the phone," he says. "Before you go outside, really look at how the company is set up internally and try to resolve any potential cultural issues." 
2. Seek workers in church communities: According to González, one of the best places to find great workers is through local churches. "Get to know the priest or pastor," he says. "These are very influential people in the Latino community, and there's not one minister who doesn't want their parishioners to do well." 
3. Tap into the farm labor pool: Another great place to recruit workers, according to González, is the National Farmworker Jobs Program: "The members of this organization are all documented and have outstanding work experience. By moving them to a construction environment, the building and remodeling industries can access an amazing amount of potential labor."
4. Look outside your area: One of the qualities that makes members of the immigrant community so successful in the U.S. is their flexibility. "Advertise outside your area," González suggests. "Latinos are extremely adaptable and are willing to relocate for a better life." —V.A.
---
---