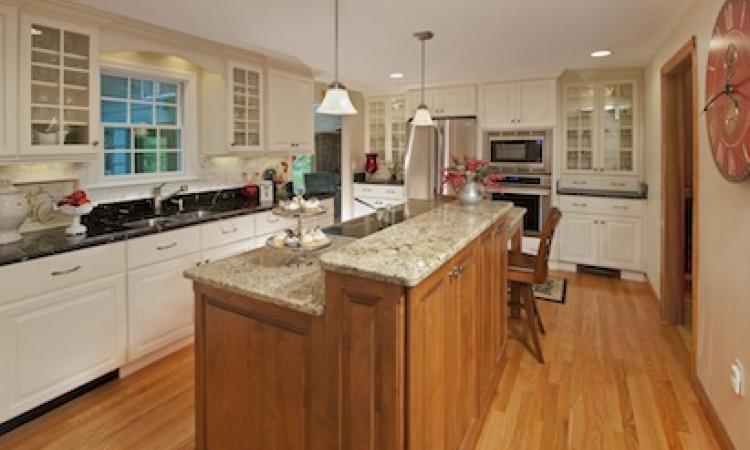 Remodelers continue to see growing business from kitchens as homeowners shift toward smaller projects.
That's according to the latest Professional Remodeler research, which found that 96 percent of remodelers said they had generated at least some of their business from kitchen remodeling in 2011. Fully 32 percent of remodelers generated at least half their business from kitchen remodeling last year. That number is up slightly from 2010, when 28 percent of remodelers said kitchen remodeling accounted for more than half of their remodeling volume.
More kitchens, but smaller projects
Nearly half of remodelers reported that their kitchen remodeling increased in 2011, with 43 percent experiencing an increase in kitchen business last year. Only 20 percent said their kitchen business had decreased — and that followed a 2010 when 75 percent said kitchen work had increased or held steady.

The downside of that increase in kitchen work is that it seems to be coming about because homeowners are more often opting to remodel the kitchen only or to undertake the kitchen project without expanding the home's footprint.
"Clients want to utilize their existing space more efficiently," said a full-service remodeler from Arkansas.
Twenty-six percent of remodelers said they are often remodeling just a kitchen, up from 10 percent in 2010. Forty-one percent said they are often remodeling a kitchen as part of a whole-house remodel or addition, down slightly from 2010's 43 percent. On the other hand, 55 percent said they often remodel a kitchen as part of a larger interior remodel that is not a whole-house or addition. That was up from 43 percent in 2010.
Prices point up
The average price tag for kitchen remodels ticked up slightly in 2011. For nearly two-thirds of firms, the average price fell between $10,000 and $50,000, with 31 percent reporting a price from $10,000 to $25,000 and 35 percent pricing jobs between $25,000 and $50,000. Still, 28 percent of remodelers said their average kitchen project price was more than $50,000 in 2011, up from 22 percent in 2010.
Forty-nine percent of remodelers said their average kitchen project price went up in 2011, while only 20 percent said it went down. In 2010, 37 percent reported higher prices and 34 percent experienced a price decline.
"There's less price pressure than 2009-2010, with larger projects coming back," said a design/build remodeler from California. "Clients are very responsive to the design/build process."
Remodelers in the West experienced the weakest market, with only 33 percent of remodelers there saying average price increased; an equal number experienced a decrease. The Northeast had the best price growth, with 54 percent of remodelers reporting average price went up and only 18 percent saying it went down. Forty-eight percent of firms in both the Midwest and South saw prices go up.  
As seen in previous Professional Remodeler research, there also seems to be some benefits to focusing on kitchen work. Average price went up in correlation with the percent of business a firm derived from kitchen projects. For example, 92 percent of those firms that had kitchens account for less than 25 percent of their work in 2011 reported an average price of less than $50,000. On the other hand, companies that generated more than half of their 2011 revenue from kitchens saw higher average prices: 52 percent had an average price of more than $50,000.
Why and what homeowners are remodeling
More than any other factor driving remodeling, homeowners are choosing to renovate their kitchens in order to update its appearance — 44 percent of remodelers said that was the top reason their clients decide to remodel their kitchens.
Twenty-nine percent said the top driver was to improve the functionality of the kitchen and 12 percent said a desire to replace/upgrade appliances was the top reason. Only 10 percent said homeowners were looking to create more space and 6 percent cited a need to prepare the home for resale.
So, not surprisingly, cabinets and countertops are the top features clients are choosing to update, with 51 percent of remodelers saying cabinets were the target for upgrade and 30 percent citing countertops. (Eighty percent of remodelers said countertops were one of the top-two features clients wanted to address, while only 69 percent said that of cabinets.) Flooring was the least likely to be replaced, with only 4 percent saying it was the top target for homeowners.