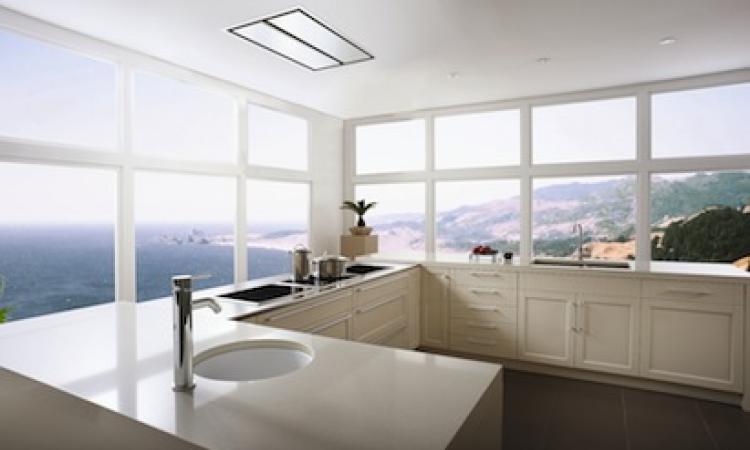 The kitchen has become more than a place to prepare meals. For many people, it is the heart of the home, a central living area for family and friends.
"While home sizes have shrunk, relative kitchen sizes have increased," notes Brian Wellnitz, marketing manager, kitchen ventilation, at Broan-NuTone. "This goes along with the trend that consumers are doing more in their kitchens besides cooking. The need for integrating function, style and entertainment is a new critical direction for the kitchen."
"People are in their kitchens more," agrees Travis Rotelli, a Kohler Co. interior designer. "Many floor plans now make the kitchen part of the relaxing space, connected to the family room and dining room. It's an area where people can gather. Sometimes in remodeling, walls are removed to open up the kitchen and make it a more inviting space."
"People seem to be shying away from the overly traditional and leaning toward a more transitional look that will age well with the home," notes Merillat Designer Kristin Stanton. Sleek and contemporary styles are also still popular.
Perhaps as a result of the increased time spent in the kitchen and its open access to other rooms, homeowners want quieter appliances. As people become more tech savvy, they may also want convenient, automatic operation and monitoring of appliance function via smartphones, Wellnitz points out.
Color and style trends in the kitchen
Homeowners are looking for warmer neutral colors in the kitchen. In addition to 20 existing colors, Kohler now offers its enameled cast iron sinks in Dune, a warm gray that complements both modern and traditional designs, and Suede, a clean looking brown that works well with brown, cream and gold toned countertops in traditional kitchens.
Stanton says two-tone kitchens are a current popular trend, perhaps with an island in a contrasting shade from the cabinets for an interesting focal point. Combining Merillat's Kona, a dark brown wood stain, with their white Chiffon painted finish creates a dramatic two tone look, with new Desert and Tuscan glazes on Chiffon tying into the darker wood color.
When it comes to wood species, Cherry and Maple are the two most requested, with Oak and other busy wood grains less popular than more uniform, wavy grains. "People still like the look of wood," she says, "They just want it toned down a bit."
"Staggering the heights of cabinets also adds a bit of flare without adding much to the budget," Stanton notes. For homeowners who request moldings stacked to the ceiling, she suggests Merillat's easy- to-install stack starter molding combined with contemporary crown molding for a dramatic look that is not too traditional.
"Trends we are seeing involve use of polished materials, stainless steel and a continuation of the use of glass in designs," says Wellnitz. "Stainless steel still remains the dominant high-end finish, while painted black seems to be increasing in popularity."
"While timeless in design, apron front kitchen sinks are a hot design trend," says Rotelli.
These sinks, available in both enameled cast iron and stainless, have always been in the Kohler portfolio but are getting more traction now. The Whitehaven comes in both 7-inch and 9-inch apron front models. Remodelers whose clients prefer to retain existing cabinets can install the 7-inch option in a standard 6-inch base cabinet by cutting out the dummy drawers and sliding in the sink.
"Before, installing an apron front sink required custom cabinetry," he adds. "The Whitehaven's self-trimming design works with existing cabinetry and makes installation easy."
Installing a new faucet and countertops that complement the existing cabinetry provides a whole new look at a lower price. Made from durable Kohler Enameled Cast Iron, the Whitehaven is available in 18 colors and carries Kohler's lifetime limited warranty against cracks, chips and burns.
Just like the Whitehaven, Kohler's new stainless steel Vault sink features self trimming design and 7- and 9-inch apron front options with the Smart Divide half saddle. "This divider comes only halfway up," Rotelli explains. "It's for people who want large basin functionality with the benefits of a divided sink."
Consumers asked for deeper sinks, so Kohler introduced Riverby, a 9-inch-deep single basin cast-iron sink. Available for drop in or undermount installation, a built-in ledge all the way around accommodates accessories. These include a cutting board that can be set in and glides back and forth, a utility rack with a soaking cup and a colander with a small cutting board.
"For kitchens with limited countertop area, this maximizes workspace right over the sink," says Rotelli. "With the drain positioned near the sink's back corner, storage space below, normally minimized by plumbing, is actually maximized."  
The interior of Merillat's CoreGuard Sink Base is made of engineered polymers that can help prevent damage under the sink from water leaks and spills. Raised ribs on the cabinet floor help keep stored items dry. Available in 30- and 36-inch widths, it installs like any cabinet and has a wooden cabinet face and door.
To enhance the open kitchen concept, "the BEST Cirrus range hood was brought out to address designers' wishes for a powerful range hood that didn't have to be exposed, freeing up sightlines in the kitchen," says Wellnitz. "The Cirrus range hood blends into the ceiling, opening the full vista for viewing."
For cabinets with drawers, Merillat's deluxe option provides full extension concealed undermount glides with a soft action, soft close feature to prevent pinched fingers, beneficial for families with children. Examples of transitional to more modern cabinet door style looks include Merillat's Labelle, Portrait and the new Tolani doors.
Kitchen faucet trends
Style and increased functionality are typical of new kitchen faucets. "The kitchen faucet needs to serve as more of a tool in today's kitchen," Rotelli says.  
Kohler's Purist Bridge Kitchen Faucet, a style previously available only for bathrooms, comes in polished chrome, polished nickel, stainless and matte black finishes. It has a simple, clean aesthetic without overdetailing with an optional side spray.
Both the Bellera and the Cruette pull-down kitchen faucets offer more traditional, affordable styling in a currently popular single hole pull-down option. They feature single-handle integrated design with a high-arching spout offering superior clearance for large pots and easy to use three-function sprayheads that toggle from fill to spray. Bellera has a strong, streamlined aesthetic while Cruette's graceful, curved lines complement contemporary kitchens.
In 2012, KWC America will unveil the KWC ONO Touch Light PRO, a new concept in electronic faucet operation. In addition to a permanently mounted electronic control, it features an optional wireless, portable, touch-operated remote control that can be positioned on a nearby worktop, wall, appliance or to the sink or faucet base plate.  
A powerful, integral magnet keeps the remote firmly in place until the user moves it. The remote features a colored light ring to show water temperature. Users operate the faucet by simply touching either control. The KWC ONO Touch Light PRO's mixer unit can be installed under the countertop or in-wall. With a separate mixer, installers have flexibility in locating the spout and hard wired electronic control.
"Homeowners today are keeping their homes longer and therefore opting to change out their old faucets for these user-friendly technologies," explains Darryl Jones, director of U.S. sales for KWC.
KWC's new highflex kitchen faucet hose technology is featured on the KWC ONO and KWC SIN faucets. This proprietary liquid silicone spring-hose technology eliminates the friction that plagues metal or fabric pullout and pull-down spray hoses as they move in and out of the faucet body. Colored black or silvery gray to complement stainless steel or any sink color, the highflex hose's shape memory always returns the hose to its original position.
"This feature will not only maintain a more attractive overall look, even after years of heavy use, but it will also keep the hose from getting in the way of work around the sink," Jones says.
Greening the kitchen
Environmental concerns continue to influence kitchen trends. "Energy Star qualified products are becoming more the norm," Wellnitz says. "Consumers are willing to pay for Energy Star products as long as they can understand how the product will impact their savings." Homeowners also want products to help them support sustainability like pull-out dual wastebaskets for recycling, Stanton points out.
The California Green (CALGreen) Building Code recently mandated a maximum flow rate of 1.8 gallons per minute for residential kitchen faucets.
"We see this type of regulation migrating to other parts of the nation," notes Jones. "State and local governments everywhere are increasingly focused on conserving water and energy."
"KWC's entire lineup of kitchen faucets come standard with flow rates of 1.8 gallons per minute, less than the 2.2 gpm federally mandated maximum" and satisfying the CALGreen Code, says KWC product services manager Brian Hinson.
Another code change affecting kitchens is the IRC 2009/2012 code which now requires range hoods capable of exhausting in excess of 400 cubic feet per minute to be equipped with an interlock that can operate a make-up air damper.
"BROAN has introduced a make-up air damper specially designed to support this requirement and is the only known manufacturer on the market offering a packaged solution to address the new IRC provision," notes Wellnitz.
Kitchen planning
In designing the kitchen, remodelers should coordinate all of its elements visually while considering how they will be used. The style and finish of appliances, cabinets, sinks and faucets should complement each other. It is desirable to select products made of premium materials with excellent fit and finish and long-term warranties.
"I always tell customers, design your kitchen to fit your needs!" Stanton stresses. "Make it something you will be happy with, a place where you will enjoy living." Remodelers should work with homeowners to develop a list of things that happen in the kitchen everyday and design the kitchen to accommodate them.