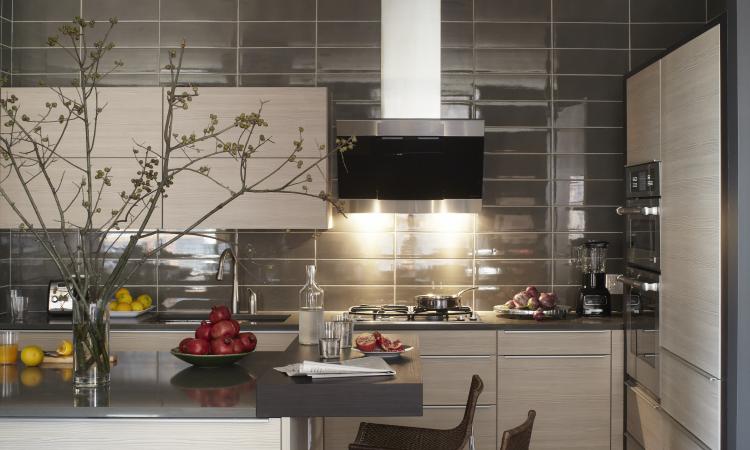 In addition to evaluating a surface material for a specific application and understanding the installation requirements, designers should also consider the sustainability aspects of the materials. Photo courtesy of Jenn-Air
In addition to cabinets, appliances, fixtures, and fittings in residential kitchen and bathrooms, another key ingredient of a successful remodeling project is the selected surfacing materials specified for the floors, walls, wet wall surrounds, countertop areas, and backsplash verticals.
 
Before selecting any of these surfaces, you must first understand the importance of a proper substrate material. The Kitchen & Bath Residential Construction and Systems volume of the NKBA Professional Resource Library covers the basic construction elements of a well-planned kitchen and bathroom. Once the proper substrate has been specified, the functional and decorative surfaces can be selected. 
 
Unusual, innovative, and proprietary materials are continually being introduced. Design professionals should include time during their business schedule to research new products and regularly visit key suppliers to be current with newly introduced products as well as regional specialty offerings.
 
In addition to evaluating a surfacing material's appropriateness for a specific application and understanding the installation requirements of these surfacing materials, designers should also consider the sustainability of the material and the responsible management of the manufacturing company. 
 
Solid wood counter surface countertops are made from laminated or solid wood products. In addition to full countertops, insert blocks are often installed in the kitchen work surface. 
 
Unfinished wood requires oiling wood throughout the counter surface life span on a four-to-six-week maintenance schedule. This method is most desirable if the entire counter surface will be wood and local fabrication of seams or miters is required. Prefinished tops hinder proper adhesion of seams and must be refinished if any sanding will be done.
 
Prefinished wood finish includes a penetrating sealer and a nontoxic lacquer finish. The combination of sealer and varnish prevents moisture penetration. No oiling is necessary, and a damp cloth may be used to wipe the board clean. Chopping on the surface may not damage the finish. This type of finish is appropriate for countertop sections, such as island tops or sandwich centers. 
 
Wood sealed with polyurethane sealer is used on unfinished wood tops that will not be used as chopping surfaces and will not come in contact with food. The finish is very good on tops that will be exposed to moisture and liquids. 
 
Ceramic tile is a favorite surface product for many kitchen and bathroom designers. 
 
Tile for any surface other than decorative vertical areas should be selected after careful investigation into its appropriateness for the planned installation. As you consider a tile for a specific installation, first refer to the manufacturer's literature for usage recommendations. Second, check the porosity of the tile. Third, check the availability of trim (curved shapes for smooth corners, edges, and coves). Fourth, think through your grout selection. Finally, make sure you have specified the recommended installation method for the tile you have selected. 
 
Some decorative tiles create a design that flows from tile-to-tile to give designers great flexibility for a unique, one-of-a-kind wall, border, or backsplash. Others are one-of-a-kind art pieces that should be showcased within the field of plain tile. 
 
Decorative glass tiles are a popular alternative today as manufacturers and artisans experiment with colors, materials, and techniques. One of the main attractions of glass tile is the way light reflects off them, drawing the eye to their sleek surfaces. Glass tiles come in textures from mirror slick to rough, and in a variety of colors from deep and muted to multicolored with iridescent options. Glass tiles are available in clear glass all the way through or with a backing finish designed to camouflage the rough wall surface. 
 
Glass tile installations require special expertise. Because of the translucency of many tiles, manufacturers recommend setting glass tiles in white adhesive that should be smoothed carefully to prevent notched trowel lines from showing through. Additionally, a typical tile saw will not cut glass tile; a diamond wet saw will be required for cutting. Although glass tiles are more difficult to work with, they are extremely durable because they are hard and nonporous. Some can actually be installed in exterior environments. Because they can scratch easily, they are not recommended for kitchen counters or floors unless they are etched and embossed with a textured surface. 
 
Mosaic tiles are distinguished from other kinds of tile by their small size, which must not exceed 6 square inches (2.45 by 2.45 inches if square shaped). The most common types are natural clay and porcelain, in which the color is throughout the tile rather than being applied on the surface such as a glaze. However, glazes may be applied as well. Porcelain ceramic mosaic tiles are always vitreous (natural clay) or impervious (porcelain). Therefore, they have a very low water absorption rate of less than 0.5 percent. They have a harder, denser body than non-vitreous wall tile. Glass mosaic tiles are also available. 
 
Mosaics are usually sold face-mounted with paper, back-mounted with a mesh or plastic tab backing, or mesh-backed in 12-by-12-inch or 12-by-24-inch sheets. Mounted sheets facilitate installation and control the evenness of spacing. 
 
Quarry tile is made from shale, clays, or earth extruded to produce an unglazed product that has color throughout the tile body. There is a great variety of quality levels within the broad term "quarry tile." The earthen clay tiles may be very soft and irregular in shape. Other types of quarry tile are so porous they require a penetrating sealer to protect the surface. Before such a sealer is applied, the tile and grout must be allowed to cure. New sealer products have been formulated to minimize the cure time. Depending on the product used, this curing process can take as little as 48 hours or as long as two weeks. Other so-called quarry tiles must be stained and sealed. If such extra steps in the installation process must be completed, the designer should include the extra costs incurred in the estimate. 
 
Certain manufacturers' quarry tiles meet the standards of the American National Standards Institute (ANSI) and are considered stain-resistant, although not stain-proof. Thus, application and renewal of a sealer is optional. To achieve the subtle patina or rich glow of natural quarry clay, seasoning the tile with oil-based cleaner is preferred to sealing. 
 
Concrete is a specialized countertop surfacing material. Molded into shape, it is seamless. Concrete can also be dyed just about any color. Concrete countertops can be fabricated at the manufacturing facility or poured in place. Because it begins in the form of a slurry, concrete can be transformed into virtually any shape that becomes a solid mass. It can be polished, stamped, or stained. Objects can be embedded in it. While it has a rougher appearance than granite or solid surfacing, with hairline cracks and surface imperfections, these qualities make it appealing to many. Like granite and other natural stone materials, upkeep is minimal, but it must be sealed to prevent stains. 
 
At first glance, designers might consider a glass countertop only for the most dramatic of areas. Manufacturers of glass countertops present the surface as a maintenance-free, nonporous, hygienic countertop appropriate for actively used kitchens. The glass countertop manufacturing process will affect its heat resistance and durability against cracking from thermal shock if it is exposed to extreme temperature changes in a short time. 
 
Tempered glass countertops come in a variety of textured finishes and thicknesses, ranging from 1½ to 4 inches. Colors and patterns can be included in the glass. Edge treatments can be polished, brushed, or textured. If the glass top is clear, a finished substrate must be below it. Wood, aluminum, or stainless steel can be used. Glass tops can also be back-painted as well as accented with LED lighting.
 
Several manufacturers offer counter surfacing materials manufactured with tempered glass, post-consumer recycled glass, and semiprecious man-made stones. Some companies make counter surfaces out of recycled glass bottles. These tops are very specialized and warrant careful review of the source manufacturing information, as well as job site preparation guidelines and installation recommendations. PR
 
Beachstone Sustainable Surfaces
Made from 85 percent recycled glass and concrete, Beachstone Sustainable Surfaces offer environmentally friendly countertops. Beachstone surfaces can be standard sized or custom made to order, without the long lead times typically required with other concrete cast products. Product color lines include Pearl and Maine series, with nine colors in each product line.
 
Fairfield Tub and Shower Mixer
Inspired by the Arts and Crafts and Aesthetic movements, this tub and shower mixer from Samuel Heath's Fairfield collection can convert a simple bathtub into a multipurpose shower or bath. The fixture can be deck-mounted or floor-mounted when used with standpipes. Available finishes include Antique Gold, Chrome, Polished Nickel, City Bronze, Country Bronze and Satin Nickel.
 
LUXE Pattern Grate Linear Shower Drain
The linear patterns on these new shower drains from LUXE Linear Drains helps create curbless or barrier-free entry showers with a contemporary feel. The classic square-hole pattern grid is offered across six standard lengths - 26, 30, 36, 40, 48 and 60 inches - and two finish styles. Custom sizes, patterns and finishes are available upon request. Installation is fast and easy due to the welded 2-inch central diameter outlet that replaces the strainer and flange.
 
Moen Banbury Bath Suite
Moen has added an 18-inch safety grab bar to its existing Banbury bath suite, featuring rubber grip pads for a better grasp in the tub or shower. The high-quality, corrosion-resistant material can withstand weights up to 500 pounds when mounted with a stud. Also added are a glass shelf and pivoting mirrors in Chrome, Brushed Nickel and Mediterranean Bronze finishes. 
 
Clark Architectural Solid Surfaces
Clark Architectural's Solid Surfaces division offers high-quality bathtubs, sinks and custom shower bases that emphasize both form and function. All pieces are composed of Lucite, a liquid acrylic resin unique to Clark Architectural, and aluminum trihydrate for a distinctive finish. A variety of shapes and sizes are available; all products can feature a matte or polished finish.