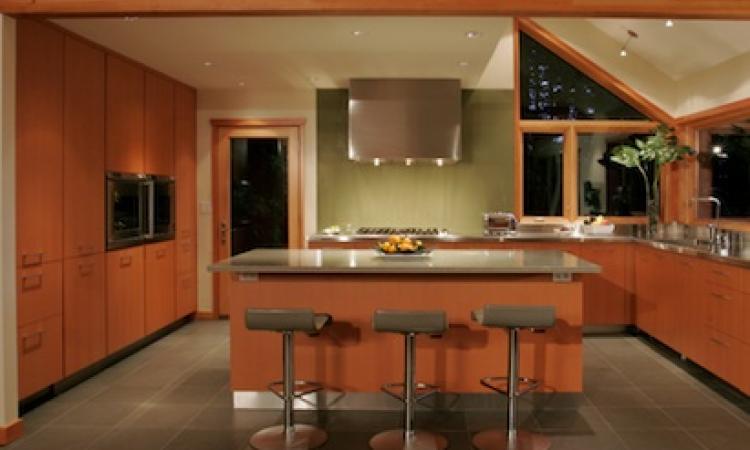 What clients want in their kitchens and baths is different than it was just a few years ago. It's not about showing off anymore — it's about finding a comfortable, livable solution.
One of the biggest trends we have noticed in kitchen remodeling is that the "Trophy Kitchen" has gone by the wayside. Not completely extinct, but a rare creature indeed. Most popularly requested now is the "Kitchen Update" — where homeowners want to protect their investments, however precarious, by keeping their homes updated and well maintained, but are not so much looking to blow the budget to impress friends and family.
In bathrooms, especially master baths, we are finding our clients may be a little more inclined to pamper themselves, in a more discreet way. We refer to this as "stealth wealth" — where well-to-do homeowners may not want to be conspicuous consumers, but may feel like adding a little luxury to their most secure and private spaces.
While it's still important to entertain friends and family in a gracious manner, they are not looking for the great monuments to posterity, rather spaces that exude comfort, livability and security. How does that pan out to the confused designer/remodeler?  
Contributing to the "comfort" requirement is good space planning that places appliances and equipment in locations that make sense to the end user. Understanding how they use their kitchen or bath is essential information needed to create spaces that work for them. Flexible work spaces for more than one cook and planning for use by multiple generations can make kitchens and bathrooms perform better for homeowners who may need these features.  
Combining spaces (kitchens and dining rooms being a most common choice) is clearly a consumer preference these days. Creating that "great room" for the family to gather and spend time together seems to be increasingly popular every year.
Comfort also relates to a more intangible concept of how the space makes them feel while working in it.  One kitchen designer I know uses the evaluation of "Looks Good – Feels Right" as his guide to good design. Not only are we charged with creating beautiful spaces in our clients' homes, we need to design them so they "feel right" when actually living in the spaces we create. This can mean paying extra attention to good lighting, including task, ambient and indirect lighting. Is there good natural light? Often times, in bathrooms we don't have the luxury of existing natural light, so is it a good investment to add a ventilating skylight, or maybe even a light tunnel to get natural light in there?
"Livability" translates to ease of use, and ease of maintenance. The desire to find that "bullet proof" countertop continues to be important today, perhaps even more so. The reality is, there is no such thing as maintenance-free and bulletproof, but the clear winner in this category is turning out to be manufactured quartz countertops. They are getting more competitive in price, and  they do offer a better maintenance track record than natural stone. Not susceptible to acid etching, non-porous, and extremely resistant to cracking and surface scratching makes this material popular. Since they are composites, they are resource responsible, in that there is very little waste and in fact, they utilize pre-consumer waste from stone fabrication processes.  
Also, many of our clients have vacation homes they don't live in full time, so keeping tabs on what's going on with those properties just makes good sense. Fire, flooding, freezing pipes, and burglaries are all scenarios that keep them awake at night.
Swapping out that old tank water heater for a tankless model not only makes good energy use sense, it eliminates the worry of a tank failing and flooding when no one is there. Upgrading insulation and running plumbing so that it is not susceptible to freezing is basic good design that brings real value to each project. Try to look at a kitchen or bath remodel as an opportunity to address any "low hanging fruit" that could easily be added to the project and would help home owners reduce their energy bills makes them feel prepared for rising energy costs. Super efficient windows, in-floor radiant heat, energy efficient lighting (are those recess lights in sealed housings?) all add value and confidence in your clients' minds that you have their best interests at heart.