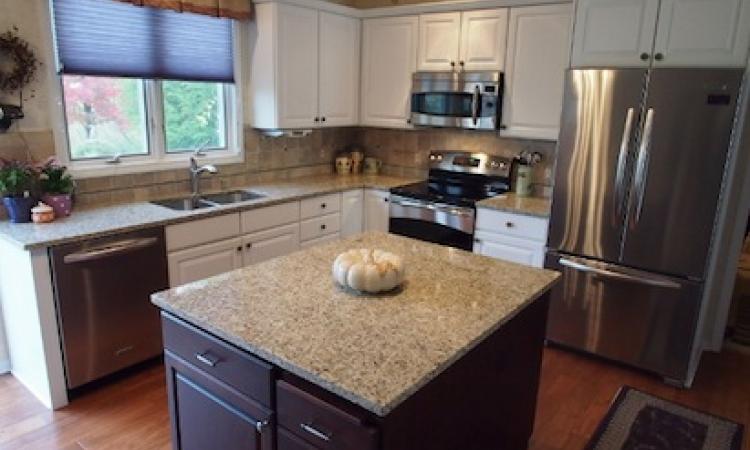 Kitchen remodel by Thompson Remodeling
Pinpointing trends in kitchen and bath design continues to get more difficult as homeowners look to put their own stamp on their projects.
In fact, that desire to have the unique room — along with a need to have it done on a budget — may be the most important trend today.
"They have a vision in their minds of what that kitchen or bath should look like," says Bill Shaw, CGR, CAPS, president of William Shaw & Associates in Houston. "For every single one of them, that's a unique vision."
Matching budget with dream
Unfortunately, that unique vision often has no relation to the budget, especially with members of generations X and Y, Shaw says.
"Younger clients are knowledgeable about what's out there, but they're clueless on what things cost," he says. "They've been brought up on HGTV … and everyone telling them they can have this beautiful stuff, but it doesn't cost anything."
And unlike in years past, that budget is not just a number, with many homeowners unwilling or unable to go beyond it.

Thompson Remodeling in Ann Arbor, Mich., works hard to give clients options at multiple price levels, says company president Ben Thompson.
Clients need to "feel like they can really be in control over what the product is," he says. "We are still always doing complete prices, but at the end we're giving them those upgrade options … that modify the project."
A recent Thompson Remodeling client had a $35,000 budget for their master bath and the company presented multiple options to meet their goals, with the lowest at $42,000. In past years, that $7,000 difference might not have been a hurdle, but it put a halt to the process today.
"They said, 'We have to have a $35,000 option before we go forward,'" Thompson says.
To help his clients meet their goals, Shaw asks his clients to create a "need/want/wish list." The idea is that the process gets clients to identify their core needs in the remodel and separate those from the nice-to-haves.
"What are the big agitators? Where's the pain? What are the key things that are not working? Let's identify what those are first and what they cost," Shaw says. "Then we identify a design that just focuses on what those things are."

Function over flash
Homeowners are opting to remodel kitchens and baths to improve the way they live, and that means making smart choices about products. While there may still be an eye toward resale, it also means that clients are picking and choosing where they invest, with their enjoyment in mind.
For Blackdog Builders in Salem, N.H., many of its clients are choosing to step down from the full commercial level appliances to something that is "commercial-esque," but less expensive, says company president David Bryan, CGR, CAPS.
"That concept kind of ripples through the rest of what people are doing," Bryan says. "We still want to deliver a very attractive finished product, but are looking for creative ways to design a great space that does not have as many bells and whistles."
In today's market, Blackdog has found itself in competing with other companies on more projects. While it's usually not a competitive bidding situation, homeowners are talking to more remodelers. The ability to come up with creative solutions that are also affordable has made a big difference for the company.
"That's always been our core — to create kitchens that look and function great, but don't cost a lot," Bryan says. "If clients see you can give them a creative project and it's not costing them anymore — we're not asking them to buy more expensive products — clients are all over that."
Blackdog's clients are also prioritizing projects and focusing on their core needs. For example, a typical project for the company has been a kitchen remodel with a bathroom or small powder room remodel. Clients are much more likely to reduce or forgo that bathroom project than sacrifice their dream kitchen.
While clients are, in general, being more cautious and taking longer to make a decision, the company has seen a marked improvement in the market over the last few months.
"I think homeowners are more enthusiastic, more eager to pull the trigger," Bryan says.
Elite Remodeling has been experiencing a similar shift. The Frisco, Texas, company deals almost exclusively in kitchens and baths, but had seen the project mix go from 60/40 kitchens to 60/40 baths during the downturn. Starting last year, that ratio began a shift back toward kitchens.
Elite's clients are especially concerned with creating a more welcoming space in their kitchens, says company president John Todd, CGR, CAPS. Typically, that means removing peninsulas that served to separate the kitchen from the rest of the home and installing islands instead, along with opening up the room.
"They want more of an inviting feel," Todd says. "Where before it was a message of 'stay out,' now it's more of message of 'Welcome to my space. Come in and help.'"
That's one trend that doesn't seem to be changing, says Shaw.
"That's a key feature that has never gone away," he says. "It's only one dynamic part of the family and entertainment module. They want that all in a network together, functioning around how they entertain."