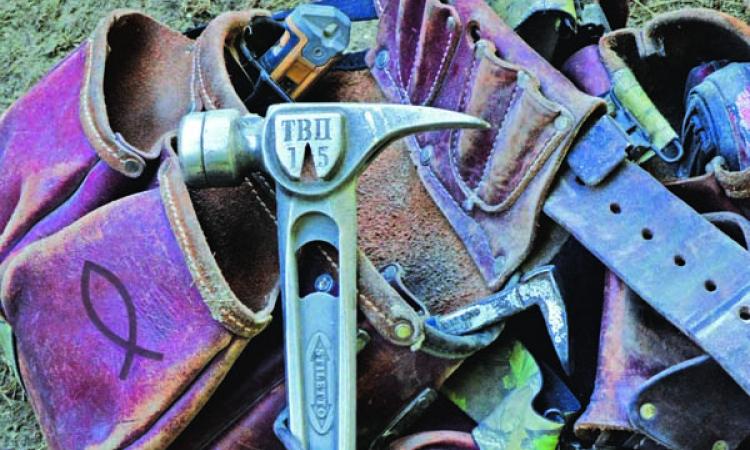 Photo: courtesy Dan Morrison
Chick-fil-A, Forever 21, Timberland, Interstate Batteries, Tyson Foods ... the list of companies goes on. There's a wealth of American businesses that are known not only for their products but also for the religious beliefs that guided their founders.
According to the Pew Research Center, as of 2014, more than 70 percent of Americans categorize themselves as Christians, with an additional 5.9 percent identifying as another religion such as Judaism, Islam, or Hinduism. It's no surprise then that remodeling companies that highlight religion can readily be found in all 50 states. 
However, whether it's breaded chicken or contracting services, religion is a polarizing subject fraught with controversy. So how do remodelers successfully incorporate faith into their businesses without running the risk of alienating potential clients as well as employees? The approach may vary from company to company, but it's clear that religion can be found at the core of thousands of remodeling businesses nationwide.
What Makes a Faith-Based Company? 
Faith can be indicated by something as simple as a small fish symbol on a website or more boldly stated as part of the company's actual name. It may be expressed by targeting a specific clientele or highlighted in management or business practices. But, of the faith-based firms we interviewed, all emphasize three elements: high ethical standards, strong corporate citizenship, and a belief that they're accountable to a higher power.
ProVia, an award-winning manufacturer of door systems, windows, and vinyl siding, has woven faith into its business model for more than 30 years. The company opened its doors in 1977 in Ohio's Amish heartland and has used two deep-seated religious values as the foundation for its business success: "Love thy neighbor," and "Do good deeds." Today, ProVia's core messaging is tied to values inspired by faith. Those ideals stand front and center on the About Us page of the company's website, which also features a quote adapted from the Bible.
"We are a faith-based business," says Joe Klink, ProVia's director of corporate relations. "We don't put it out there for marketing purposes, we put it out there for accountability. We never want to say, 'You need to do business with us because we're Christians,' but anybody who does business with us understands our founding principles." 
The ways in which that faith manifests itself depends on individual company owners. Remodeler David Turner, for example, centers his business around helping people who are trying to change their lives. "I'm a recovering drug addict and alcoholic, but I was always good at remodeling," says Turner, who is the owner of Christian Faith Ministries, a Knoxville, Tenn.-based remodeling company. For Turner, the act of serving God is intertwined with his business, so much so that his website reads, "As a family owned and operated business, we are free to focus on merging faith and ministry with home renovation and repair services."
Today, he employs both skilled and unskilled workers with troubled pasts to help on remodeling projects, as a way to aid them in building a career. "It is my mission to provide those in need with an opportunity to grow in faith while also building a more prosperous future," Turner says. "I'm in this business because I believe it's possible for clients to enjoy the home of their dreams while also helping others obtain a fresh start. I like to say I am restoring not only homes, I am restoring lives." 
We pay people when we promise we will pay them ... so many in this business rob peter to pay paul, and innocent people get caught in the middle. we don't preach. we show our faith in the way we treat others, including prompt payment.  
 —Rob Jackson, Servant Remodeling
Another example of how faith can be defined is through fiduciary responsibility. Rob Jackson, president of Servant Remodeling, a design/build firm in Dallas, explains that prompt payment to employees, vendors, and subcontractors represents a critical value in his faith-based company. "We pay people when we promise them we will pay them. … So many in this business rob Peter to pay Paul, and innocent people get caught in the middle," Jackson says. "We don't preach. We show our faith in the way we treat others, including prompt payment."
Benefits and Challenges
One of the most commonly cited benefits associated with running a faith-based remodeling company is the unique bond that can form with clients. This mutual trust and respect can be a rich recipe for long-lasting business relationships and the source of many repeat referrals. "I've always tried to run my business the way God would want me to run it," Jackson says, "and in that way I can show my real character. … People aren't stupid. They are very perceptive when it comes to actions."
Yet there are complications inherent in combining business with religion, or even publicly declaring faith as part of a company's identity. Some of these challenges are relatively small, such as constantly being targeted for charitable donations. "We get calls on a daily basis for donation requests, and while we wish we could accommodate them all, the truth is we just can't," says Nate Yoder, marketing director for Mullet's Aluminum Products, in Sarasota, Fla. However, other challenges are more serious.
Protecting Against Discrimination
Tajuddin Sabree is a practicing Muslim and the owner of Sabree Inc., a Washington, D.C., company that provides construction, remodeling, engineering, and environmental services. For Sabree, discrimination is not common, but he has seen it. "I see a lot of ignorance and discrimination, but it doesn't bother me," he says. "I tell myself that I must rise above it and try to teach others to be excellent in what they do. My faith is sometimes under attack, and so I must spread my best messages through my actions, and always demonstrate my highest level of work standards."
I would caution against relying solely on a faith-based business model—or any single point of differentiation. while it's one way to market, it may not be the reason that tips the scale in favor of your firm.
—Kristin Keen, Hinge Marketing
Other challenges associated with faith-based business practices can be downright litigious in nature. Just ask Stuart Walker, lead broker for Emery & Webb Insurance, which serves clients throughout New England and Pennsylvania. Walker specializes in underwriting insurance coverage for faith-based enterprises, including churches, and says that more than at any other time in history, companies that emphasize faith as an overt business philosophy now run the risk of being targeted for discrimination lawsuits. "If you are a faith-based company [of any kind] and you want to emphasize faith but are concerned about liability, then you are right on the money," he says. "Recent Supreme Court decisions have many people in the insurance industry very concerned. You may think it's OK to emphasize religion and faith, but society may say something very different."
In the past, the most common type of liability insurance used to protect faith-based businesses was called Employment Practices Liability Insurance. EPLI coverage insures against lawsuits filed by employees, former employees, and even employment candidates relating to their relationship with a potential employer. This coverage is crucial because it protects the firm and its officers, as well as current and former staff. EPLI policies also extend to seasonal employees as well as independent contractors. 
... [companies] have to make sure that the representation of their faith is relevant. what about faith makes their services different or better than the competition?  
—Chris Denby, Markitecture Consulting
"However, these days, even a straightforward EPLI policy will not protect companies against religious discrimination lawsuits," Walker says. "It really just protects employers from employee lawsuits. What has become common today for faith-based businesses is to add a 'third-party' inclusion to the EPLI." The third-party EPLI is a separate insuring agreement contained within the policy that covers liability claims brought by nonemployees, including customers, clients, and vendors. "I would tell any business today that wants to emphasize faith to consider the third-party EPLI. It is money well spent, believe me," Walker says.