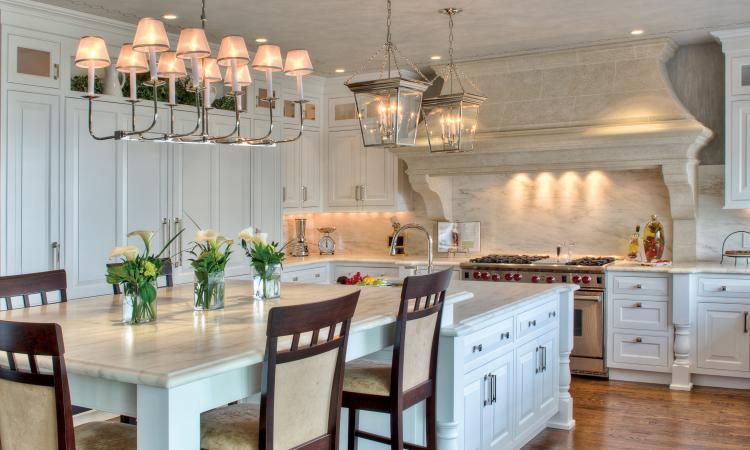 Dark base cabinets are teamed with white upper cabinets to produce a popular two-toned look. Light counters balance the dark cabinet colors, and wood flooring adds warmth to the scheme. Design by NKBA Members: Nicholas Geragi, CKD, CBD, co-designer Damani King.
The variety of tiles made from mineral sources is abound in color, pattern, and size. Ceramic tiles are made of various colors of clay, fused into a solid under high temperatures in a kiln. Unglazed tiles are preferred for floors because of their better traction—an especially important feature in baths. Cement tiles are made in much the same way as concrete, by combining Portland cement with water and a fine aggregate. Stone tiles of granite, shale, bluestone, and other species are increasing in popularity.
 
Several types of manufactured tiles augment the list. Most all mineral-based tiles install on floors in one of two basic methods:
Thinsetting them into a special thinset mortar compound troweled over the substrate.
Mudsetting them into a mortar bed.
Thinsetting works well for all but shower floors, which must be sloped for drainage. The best solution for shower floors is to set them in a full mortar bed. The mortar bed slopes a minimum of ¼-inch per foot toward the drain, which usually requires a mortar bed thickness that varies from 1-to-2 inches for an average-size shower.
 
Framing below the mortar bed must be recessed by the maximum thickness of the mortar if the finished floor surface is to align with the adjacent floor. Concrete slabs simply can be recessed by the required maximum mortar thickness.
 
To support the heavy weight of the mortar and tile, the joists in a framed floor should be doubled or engineered for the load. After the subfloor has been installed, a 6-millimeter polyethylene or felt cleavage membrane is applied over it to allow the wood structure to move without cracking the mortar and tiles. A waterproof shower pan consisting of 40-mm PVC or copper goes on next, upon which the mortar bed is laid.
Color and finish trends
Two-toned look: Canadian and U.S. designers are finding the two-tone look popular. This may include painted finishes in two contrasting colors or a painted surface paired with a natural wood or stone surface.
 
White and neutrals: White and off-white are still prominent. The neutral palettes, including browns as well as beige and bone, are popular. Warm earth tones are used for counters and backsplashes.
 
The new black: Gray is the new black and is especially popular in Canada.
 
Vibrant colors: We are seeing a stronger commitment to color with dramatic "pops" of color, such as neon and jewel tones, showing up on walls, as accents, and in appliances.
 
Texture: Tactile and visual texture is adding interest to the kitchen through the use of line, colors, patterns, mosaic tiles, and glass tiles.
 
International inspiration: Inspirations from Africa, India, Peru, and Turkey incorporate bold pink, orange, turquoise, and green colors into kitchens. Bold patterns are paired with earthy and neutral accessories. Distressed finishes are on the decline.
 
Tuscany: Design motifs from Tuscany—with their earthy color palettes, multi-style cabinetry, and inclusion of different countertops, materials, and colors—are demonstrating not everything in a kitchen needs to match.
Material trends
Natural stone: Ceramic and porcelain tiles, along with natural stone, are desired surface finishes. For the more rustic designs, honed granite or marble creates a beautiful contrast against brick and raw-stone walls.
 
Glass: Designers are using more glass than ever and in many different applications, including glass appliance fronts, glass counters, glass tiles for the backsplash, and glass shelves in cabinets.
 
Easy care: Easy-to-clean finishes are a must.
 
Mix and match: Designers are incorporating multiple counter materials—one for the island and a different material for the other surfaces.
 
Green products: Many consumers are interested in materials that are considered green. These materials are produced with little embodied energy, are easy to care for, durable, and often made from recycled or reclaimed components.
 
This article is excerpted from the NKBA Professional Resource Library volumes: Kitchen & Bath Residential Construction and Systems by Jerry Germer; Kitchen Planning, Second Edition by Julia Beamish, PhD, CKD, Kathleen Parrott, PhD, CKE, JoAnn Emmel, PhD, and Mary Jo Peterson, CKD, CBD, CAPS, CAASH. Copyright: 2013 National Kitchen & Bath Association; published by John Wiley & Sons, Inc. This material is reproduced with the permission of John Wiley & Sons Inc.