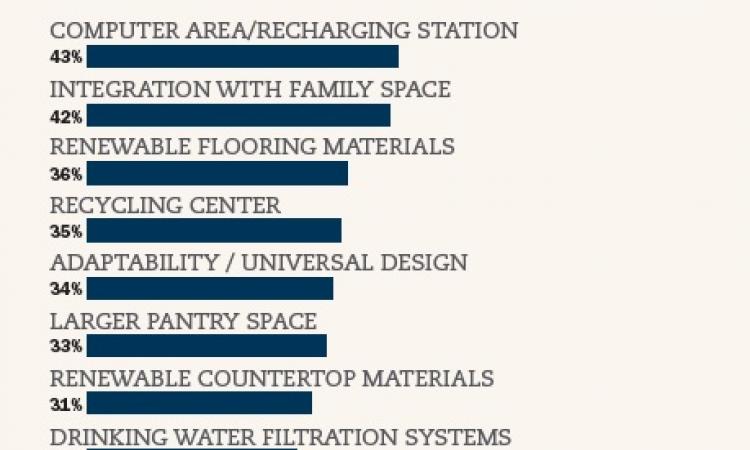 After several years of declining interest, kitchens are taking an increased importance in remodeling and renovation projects, as well as new construction.
That's according to the American Institute of Architects' latest Design Trends Survey, which also found that bathrooms, which did not decline as sharply as kitchens in the downturn, are holding steady in demand.
"During the lowest points of the housing downturn, kitchen design fell as a priority," says AIA Chief Economist Kermit Baker. "However, this space is once again the real heartbeat of a home, with open design and integration with other living space."
The trends architects are seeing today tend to be those that remodelers and builders will see in the coming months, so the AIA survey can be an important indicator of future growth.
The AIA's member architects reported the greatest strengh in the remodeling market, with the index score for kitchen and bath remodeling at 44 (computed by subtracting the percent that say the market is declining from those who say it is improving). All new construction indices were in negative territory.
Integration leads kitchen trends
More than anything, homeowners are looking for kitchens that reflect the way they live today, with integrated computer areas and recharging stations. Some of the top growth areas for kitchens (score computed by subtracting those who say demand is decreasing from those who say it is increasing):
Computer area/recharging station: 43
Integration with family space: 42
Renewable flooring materials: 36
Recycling center: 35
Adaptability / universal design: 34
Larger pantry space: 33
Renewable countertop materials: 31
Drinking water filtration systems: 29
Natural wood cabinets: 14
Overall, only 11 percent of architects said that kitchen size was decreasing, compared to 23 percent who said it was increasing and 66 percent that said it was holding steady, reversing the downward trend of the last few years.
Water, energy savings lead bath trends
In the bathroom, architects are reporting a high emphasis from homeowners on environmentally friendly features, such as LED lighting and dual-flush toilets. The top bath trends as reported by AIA:
LED lighting: 57
Water saving toilets: 53
Accessibility / universal design: 51
Dual flush toilets: 47
Doorless showers: 44
Radiant heated floors: 41
Hand showers: 33
Linen closet / storage: 21
Just 7 percent of architects said the number of bathrooms was decreasing, while 18 percent said it was increasing and 75 percent reported it was holding steady. Fifteen percent said the average bathroom size was decreasing, 19 percent said it was increasing and 66 percent reported it was stable.