Automatically detecting and avoiding potentially devastating leaks is the job of LeakSmart's leak prevention system, and has been since its introduction in 2016. Until now, the system's motorized Cut-in valve has required installers to cut into the home's main water line. With LeakSmart's recently unveiled Snap product, installation requires only your two hands.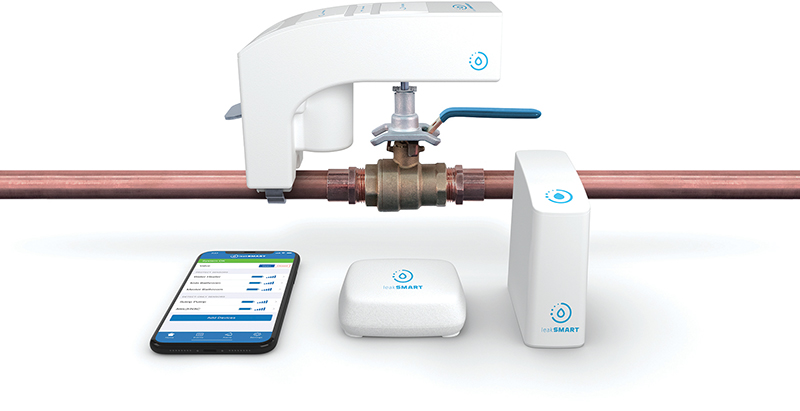 "Our Cut-in products work on a variety of different pipe sizes, and can be installed outside or inside—so there are some advantages to it over the Snap," says LeakSmart product manager Andrea Arzaga. "Snap has to be indoors and can fit on ¾" and 1" pipes." 
But Snap is a lot easier to install. 
It works just like the Cut-in, a system that connects a series of water sensors with a hub. The sensors are placed in leak-prone areas, such as near a washer, under a sink, or near the water heater. If a leak is detected, the system alerts the homeowner (via an app) and turns off the home's main water valve automatically, all within five seconds. The Snap is unique in that the installer doesn't need to be a plumber.
"We created the product for remodelers, HVAC guys, guys who aren't plumbers," says Arzaga. The install is as simple as the name: You just snap it onto an existing ball or globe valve. "The valve calibrates its torque to whatever's required to shut off the home's main water supply. It's strong enough to open even the toughest valves." 
Another innovation in the system is the new Zigbee 3.0 protocol. It ensures the system remains active during power outages. "The only thing the system will use the internet for is communicating with cell phones," says Arzaga. "Communication between the sensors and the valve is essentially done through radio signals." So even when a homeowner can't be alerted to a leak, they can feel secure in knowing if there is one, the valve will still shut itself off. 
Like most smart products, updates are continually being rolled out, and so even after the system's purchased and installed, users can expect to gain additional capabilities. Recently, Arzaga says, LeakSmart partnered with Nest, integrating its smart thermostat data so that when temperatures plunge and threaten to freeze pipes, homeowners can be alerted. It can also pair with Alexa and Google Home. "We're currently trying to partner with other smart thermostats, like Honeywell, and our next smart speaker compatibility will be Apple Home." 
---