Many exterior paint and product manufacturers offer color selection brochures and sample books as well as interactive visualization tools. (One example is Sherwin-Williams' Color Visualizer). 
On their websites you can find trending colors organized by geographic location and architectural style; recommended facing and trim color combinations; opportunities to communicate directly with color experts; and the option to upload photos of houses you're remodeling to see how they would look in different colors. 
But be aware that although looking at colors on your computer is helpful, it's not accurate enough for final decision-making. 
Once you've narrowed the field to several possible color choices, get samples and test them on the property. The larger the sample, the better. Jackie Jordan, director of color marketing for paint manufacturer Sherwin-Williams, suggests holding up color chips or painted testers against other finishes on the house. LP SmartSide's marketing manager, Michelle Forchetti, recommends taking a 4-foot-by-8-foot siding panel, dividing it into four sections, and painting each with a different color that's under consideration. Looking at the samples on different sides of the house in different light throughout the day will allow them to show their true colors.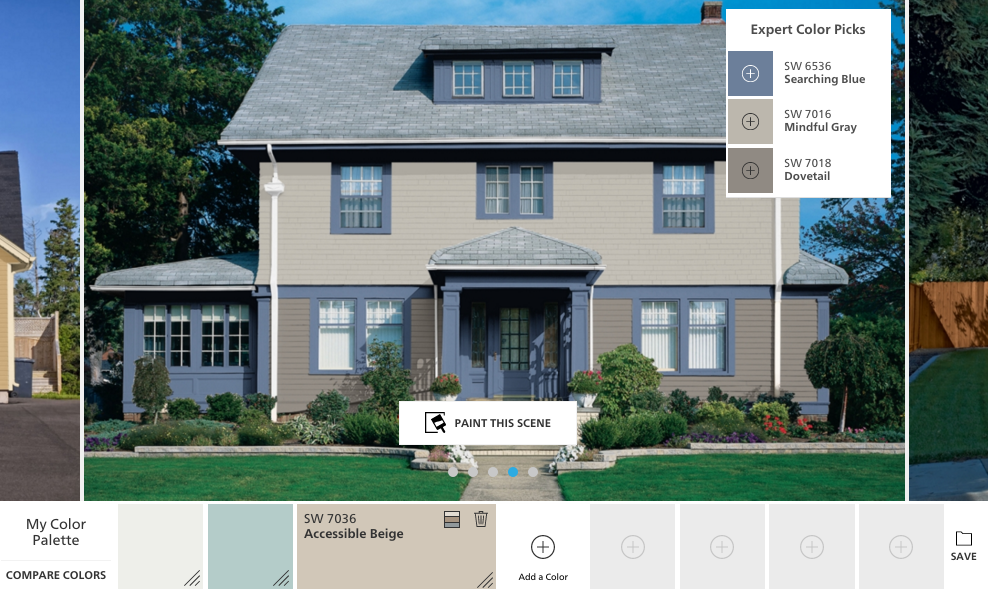 Sherwin-Williams' Color Visualizer (shown here for exteriors) lets users paint the facade in the colors they want, using a simple drag-and-drop tool. Siding, trim, shutters, and other details, can be customized so that homeowners can see how various paint color combinations will look.
Regional Palettes
Working with color experts, siding and exterior paint manufacturers have developed color recommendations for different sections of the country. While rooted in time-tested color families, these suggestions also reflect subtle new preferences that are emerging. 
Neutrals and earth tones are mainstays, for example, but they've been updated with fresh, nuanced shades. Forchetti, of LP SmartSide, says that beiges with peach or pink undertones have been replaced by newer-looking beiges featuring subtle yellow and green undertones. The new grays have blue, purple, or green undertones. LP SmartSide siding recommends these regional colors: 
Northwest: grays, light neutrals
Mountain: earthy stone, tans
Southwest: saturated earthy colors, yellows, oranges, browns
Midwest: midrange earthy colors, beiges, browns, greens
Northeast: whites, grays, yellows, reds, blues, historic or vintage colors
South: beach/coastal colors, pastels
Other Tips
Fresh exterior color treatment not only adds curb appeal, it makes the whole house look crisp and well-maintained. 
Higher-grade paints tend to have better color retention.
Products with factory pre-finished color may be more fade-resistant and the color more consistent than products painted on site.
Exterior surfaces should be thoroughly prepped before the coating is applied. They must be clean, dry, intact, and free of mold and mildew. "The coating is only as good as the surface on which it's used," Sherwin-Williams' Jordan says.
Read more about selecting exterior colors
From regional palettes to new visualization tools, here are some handy tips for selecting exterior colors
---