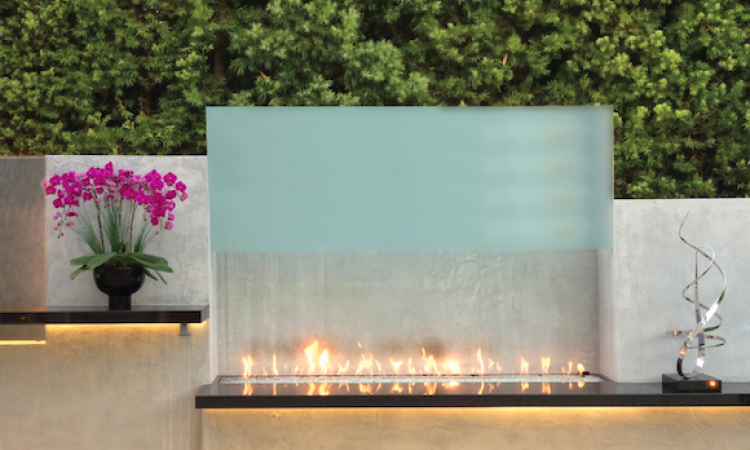 Photo: courtesy Spark Modern Fires
Fireplaces have long been a staple of outdoor room design, but more manufacturers are now making gas fireplaces for exterior use, dramatically altering the look of the space from rustic or transitional to a modern aesthetic. 
When Gary Rochman installed a see-through panel fireplace into a home's exterior wall so that it looked out to the hot tub, he didn't anticipate that the concept would become a trend, but it did—a decade later.
The owner of Rochman Design-Build, in Ann Arbor, Mich., attributes the emergence of this concept to globally recognized brands such as Starbucks, which has in recent years incorporated a similar feature into some of its coffee-shop locations so that the fireplace overlooks outdoor seating areas.
"People have a good emotional reaction to a fireplace because it feels like the heart of a home," Rochman says. "For a Starbucks, that's the feeling the company is trying to evoke. A fireplace means, 'sit by me and hang out.' So just like when people travel to a nice hotel and come home saying 'I want my bathroom remodeled to look like the one where I stayed,' people are saying they want their fireplace to look like the one they saw while on vacation or at the coffee house."
Photo: courtesy Rochman Design-Build
A design concept that remodeler Gary Rochman brought to life 10 years ago illustrates a now emerging see-through fireplace trend. Whether in the bedroom or on the patio enjoying the hot tub, the owners of this home are able to appreciate the ambiance a fireplace brings to an interior room or an exterior environment.
But commercial use isn't the only thing fueling the gas fireplace trend. State regulations, lifestyle choices, and a rebounding economy also are creating a new emphasis on sleek, modern products and a variety of installation options.
Commercial Appeal
Seamless, contemporary gas fireplaces with linear burners have been around commercially for several years. But now the style is growing more rapidly in the home, says Becky Scribner, director of brand marketing for Heat & Glo products, which are manufactured by Hearth & Home Technologies, a maker of several decorative and heat-producing brands of fireplace. "These were first seen in Europe and in trend-setting urban markets like San Francisco and New York," Scribner says, "but now they're really coming into the mainstream."
This year, in response to that growing demand, Heat & Glo launched the Primo series, one of several products the company offers that reflect the move toward a more sophisticated look. "We're seeing fewer lines and less seams," Scribner says. "If we can eliminate the trim around the fireplace, the more modern and high-end it appears to be."
Heat & Glo isn't alone in trading in the exterior trim for products that can be installed with a clean face that butts up to the masonry or drywall. Other manufacturers are launching new designs to keep up with this trend as well.
In January, fireplace manufacturer Travis Industries released its fourth fireplace brand, DaVinci, a line of modular, customizable linear fireplaces. Although they are mainly decorative, the fireplaces can be modified to include a heat exchange system. 
Some homeowners even are taking the commercial look literally, as was the case with a recent project completed by Gary Cerek (below). His client wanted to stretch a fireplace across the bottom of his television and needed to select a product large enough to fill the space. In the end, he chose an 80-inch-wide, 100,000 Btu output, commercial-grade, gas-operated unit from Montigo. 
Photo: courtesy Gary Cerek
"He didn't even care that it could probably heat half his house," says Cerek, who is a project manager for Normandy Remodeling, which serves the Chicago area. "He told me he would keep his door open in the dead of winter if he had to," Cerek says. "He was really just looking for that 'wow' factor." 
Legal Ease
Recently several regional and national regulations have helped to propel gas fireplaces to the forefront of the category. And numerous jurisdictions are banning wood fireplaces altogether. In an effort to create cleaner air and to prevent wildfires, California banned the installation or remodeling of wood-burning fireplaces in 2008. New York City banned their installation effective July 1, 2014, and Montreal is enforcing the removal of all wood-burning fireplaces by the end of 2020. 
"There are pockets all over the place that now restrict wood, and it cast a funereal effect on our industry," says Tom Healy, co-founder of Spark Modern Fires. "Now people are really starting to embrace gas fireplaces. They are cleaner, more efficient, safer, and more flexible in design, so they're winning on multiple fronts." 
In many instances, inefficient wood-burning fireplaces, and even some of the original gas-burning models introduced more than a decade ago, are being torn out and replaced with today's updated models, often using the existing chase for direct-vent installation, notes Kurt Rumens, president of Travis Industries. "More than ever, we are seeing tear-outs of fireplaces that are 15 and 20 years old," he says. 
Rochman concurs. Nearly one third of his remodeling jobs that have fireplaces will be done using the existing firebox, he says.
Regulations have also affected the design of the fireplaces themselves. As of January, the American National Standards Institute (ANSI) and its Canadian counterpart require that vented gas fireplaces include a safety barrier screen as a standard feature to prevent people from being burned by the glass panels. Certain manufacturers, such as Travis Industries, have modified their lines to include a nearly invisible mesh screen. The company recently also patented its Safe Touch Glass, which will be available on all of its DaVinci brand products by June. This May, Heat & Glo also will begin shipping product with a double-pane glass that will stay cool to the touch and satisfy the standard, according to Scribner. 
Life Styles
As homeowners continue to opt for the "staycation," the focus on outdoor living has sharpened, with remodelers extending the interior beyond the walls of the house. Today's backyards feature everything from extensive kitchens to covered patios with comfortable seating. And gas fireplaces are quickly being worked into these exterior designs. "More and more gas units are going outside, which seems to be a logical extension," Healy says. "Once you see all the benefits inside, it stands to reason that customers are happy to see them outside as well." 
Rumens agrees. In fact, he's so confident that gas fireplaces are becoming a staple of outdoor design that his company worked with a lab to achieve a damp rating on all of its gas fireplaces, he says. 
"A good friend of mine—a renowned furniture designer—once told me that it doesn't matter how comfortable or how beautiful it is outside, the moment people get cold, they are gone. So adding fireplaces to the outdoor space is natural," Rumens says.
Meanwhile, on the inside, living spaces are evolving as well. Much like the interest bringing the sophistication of commercial design into the home, clients are creating elaborate entertainment rooms with large flat-screen TVs to replicate a theater experience, Rochman says. But they also want to work a fireplace into the equation. 
"People really want the television and fireplace to coexist," he says. Of course, to achieve the right height for the TV and to ensure the integrity of the electronic devices, experts caution that installers do their research before embarking on such an installation. "Each manufacturer has its own specifications on chase clearances, where the firebox can be near combustible materials, the pitch of the vents coming off the units ... There are a lot of details to be aware of so that there are no issues for the client down road," Cerek says.
On the Rebound
A rebounding economy is stimulating more than just an uptick in remodeling. The fireplace market has been experiencing positive growth, particularly during the last 14 months, Rumens notes.
And homeowners aren't only focusing on one fireplace. They are working multiple units, two or more, into their homes, which is a trend that first presented itself prior to the recession but has since reemerged.
"Because of the ease of use and because gas [units] are a fraction of the weight of a wood-burning fireplace, there is greater versatility in terms of applications," Healy says. "People are putting gas fireplaces in the bedroom, library, and kitchen. They find them aesthetically pleasing, and they've become the ultimate zone heating: You only turn it on when you are in that room."  PR
---
Hunter Madison is a seasoned construction journalist who has written for numerous trade and consumer publications. He lives in Southern California with his wife and two children.