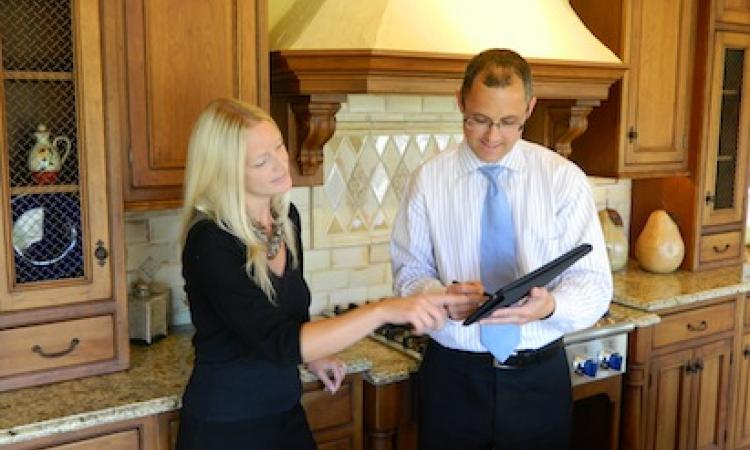 The showroom is an important tool in any remodeler's sales arsenal, particularly in the kitchen and bath segment.  It gives clients an opportunity to see and interact with the newest products available, giving them an idea of what's possible with their project.
If the goal is to show off the new and improved, your sales techniques should continue that theme. Remodelers nationwide are starting to incorporate more technology into their showrooms, which is proving to be a boon to sales in many cases. Here's just a few advances remodelers are using for sales purposes.
Tablets
Tablets are becoming more and more common in business practices, and kitchen and bath showrooms are no exception. If nothing else, they are a quick and easy way to display project photos, as opposed to pulling out and flipping through large photo albums.
The devices can also act as a showcase for CAD or BIM-produced renderings; the 3D models themselves can't be viewed on most tablets, but they can be converted into PDF files, which are readable across multiple devices.  
Vince Weber of Normandy Remodeling in Hinsdale, Ill., is one example of a remodeler that is combining the two advanced technologies. Weber says using an iPad to show project photos and renderings gives Normandy additional credibility while conveying an organized operation.
He believes it can also make design meetings shorter.
"Time is important for me," he says, "but I also know, if I can shave a half hour off a design meeting … where a lot of that time is sitting around waiting for me to look something up, I think that's helpful."
Mobile wi-fi access is another strong selling point for tablet use in showrooms. Even if your product offerings on-site are extensive, you still won't have everything in your suppliers' catalog. This means that at some point, you'll likely end up surfing their website with a customer so they can see all of the options available to them. With a tablet, you can do so from anywhere in the showroom, giving you the freedom to smoothly transition from one area of the showroom to the next. 
3D modeling software
While advanced BIM and CAD software is often viewed in a design capacity, the technology definitely has a place as a sales tool.

 
Jeff Hurst, CR, president of Hurst Total Homes in Centerville, Ohio, calls it a critical component of his sales processes.
"Visualization is probably the strongest selling tool anybody can have," he says. "People come in thinking they're at a certain price point; when they start going through the design process, they're a little more comfortable escalating their budget because they can see what they're going to get for it."
Flatscreen monitors
This may not seem all that impressive next to cutting-edge technology like tablets, but a simple flatscreen monitor or two can go a long way toward aiding a showroom sales presentation. Most remodelers use them as a larger screen for showing project photos and renderings. Many of today's models can also connect directly to a laptop, which means you can surf your suppliers' websites with your clients on the big screen. That's how Dennis Gehman, CR, CAPS, CLC, CKBR, president of Gehman Design Remodeling in Harleysville, Pa., uses the technology.
"Many times they can do that themselves at home," Gehman says, "but they don't always understand how everything goes together. We're picking a lot of parts and pieces that have to coordinate, and that can be overwhelming for consumers."
Somewhere between an iPad and a flatscreen, Gehman also features digital photo frames throughout its showroom. Once the images are loaded, the frame can be set to cycle through them intermittently, providing a backdrop for all the activity. Gehman says it exposes customers to some ideas they might not have considered  
In the end, whatever technology you use to help sales, it should be centered on two concepts, according to Hurst: efficiency and results.
"When I use these tools, I get results. It helps my bottom line and consumers like what they get," he says. "It's a win-win result."