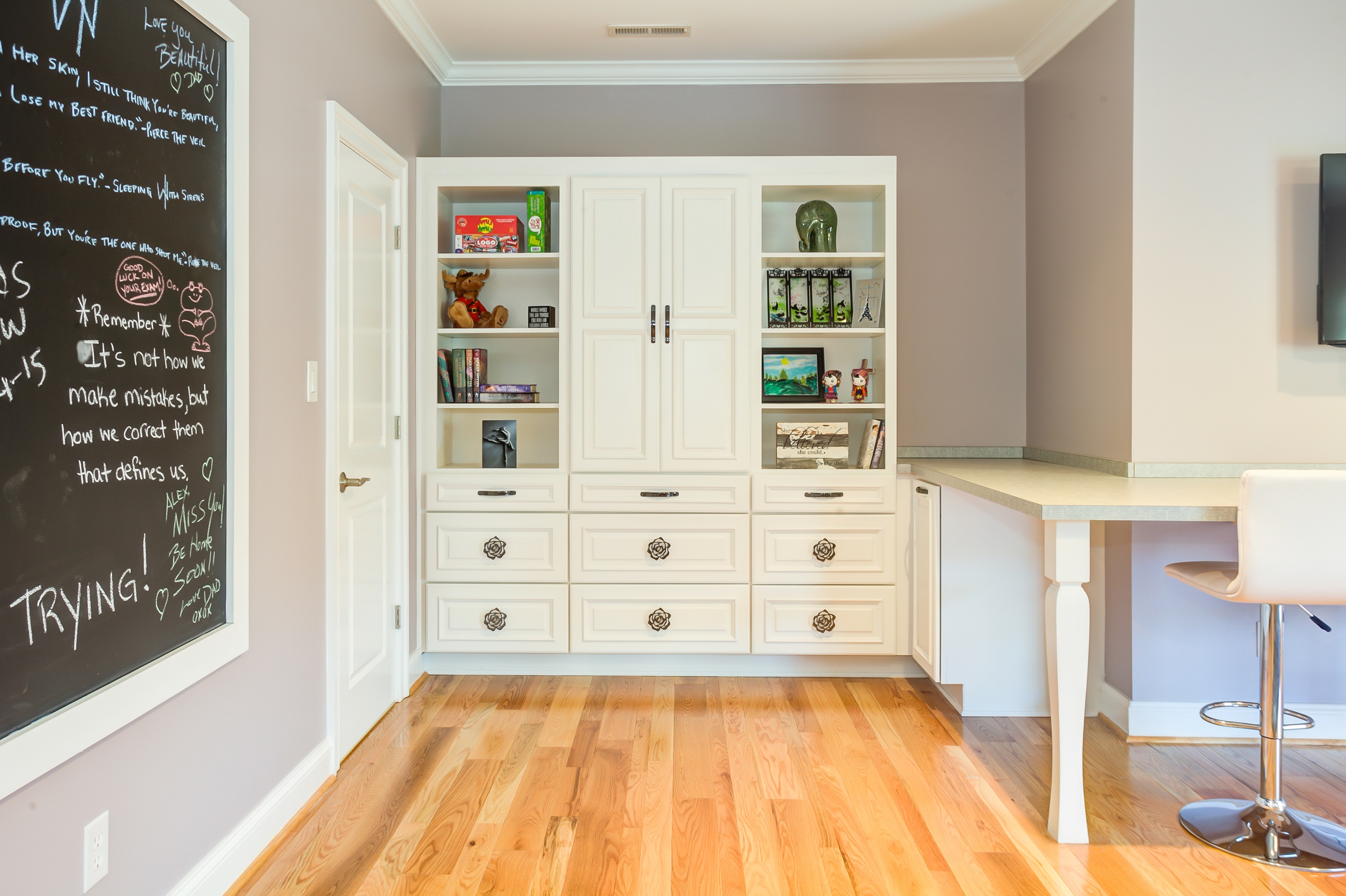 Photo Credit: Bill Storer Photography 
The Perrault family of Keswick, Virginia built a new house when their two daughters were 6 and 3 years old. By the time the girls were 14 and 11, they were growing out of their pink and green playroom. They needed something that would serve a new set of needs and grow with them.
As young girls, they needed a playroom that would store toys. As teens, they needed a multi-purpose room with a television, storage, craft area and a place to hang out with friends. It was imperative that the room still had a sense of playfulness.
The family consulted Amy Hart of Albemarle Cabinet Company in Charlottesville, VA., to re-envision the space. Due to the room's generous size, Amy was able to incorporate everything they wished for, including a large chalk board and fireman's pole. The cabinetry was kept a classic white which will age well and accommodate any décor that comes and goes. The specialty hardware adds a touch of whimsy.
Photo Credit: Bill Storer Photography 
Classic Wellborn Belmont cabinetry in Glacier serves as storage and display. The pull-out trash cabinet bridges the space between the cabinetry and the craft counter. Across the room is the lounging loft with pillows above and below. Under the window is a small platform where they can sing karaoke, or stage a scene from their favorite play.
In addition to demo, framing and drywall work, Contractor Eric Hart of Ghost Pine Contracting Services changed out the carpet to solid wood floors which will wear better.
For more information about Wellborn Cabinet, Inc. and their offerings, visit Wellborn.com.
Albemarle Cabinet Co., located in historic downtown Charlottesville, Virginia, is a full-service design/build center and dealer of cabinetry, countertops and fixtures for kitchens, baths and every area in the home or office. Led by award-winning designer Amy Hart, we work with Homeowners, Builders, Contractors, Realtors, Designers and Property Managers to make dreams come true.