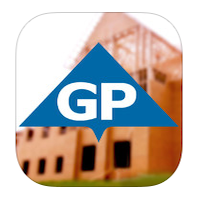 Georgia-Pacific Wood Products has launched an app for their structural panel products to deliver content in a convenient, on-demand, and easy-to-read format. The GP Panel Guide app is a free download, available in the PR App Center, App Store for iPad and iPhone, and the Google Play Store for Android devices.
"We recognized an industry need for more concise, complete information regarding structural panel products, and this app was created to meet that need," said Jeff Key, senior manager of marketing communications for Georgia-Pacific. "This app is perfect for answering customer questions and helping with product selection in the store aisles, on the job site, in the dealer yard, or at home."
The simple, colorful GP Panel Guide app is divided into two sections: Applications and Products. The Applications section introduces colorful dots indicating where each product should be used on a home, while the Products section allows users to navigate by brand.  
Applications include roof sheathing; wall sheathing; sub-floor; interior panels; exterior siding; and projects. Correlating products featured in the app are Plytanium sheathing; BlueRibbon sheathing; Thermostat radiant barrier; Plytanium Sturd-I-Floor panels; DryPly Plywood; Blue Ribbon Sturd-I-Floor panels; DryGuard Enhanced OSB; DryMax High-Performance OSB; Plytanium siding; Ply-Bead panels; and Plytanium sanded panels.
Within each product information area, users will find a short product summary followed by links to product specifications, installation tips, warranty information, product sustainability facts, and third-party certification information. Finally, there is a section on how to read an APA grade stamp, which is the stamp put on nearly all Georgia-Pacific structural panel products and is the manufacturer's assurance that the product is manufactured to industry standards.
"We believe the installation instructions we've included can help cut down on common mistakes that may lead to call backs. We've also enhanced the offering with short, easy-to-understand videos," continued Key. "We want our customers to have the information they need, when they need it, and in a format that is easy to navigate and understand. We feel like this app delivers." PR