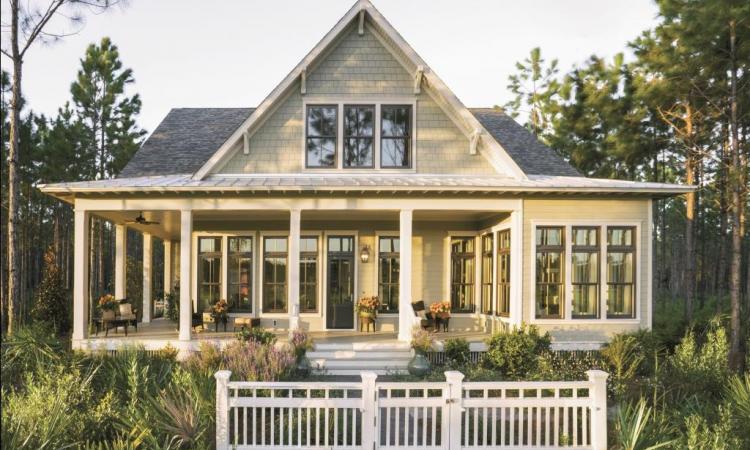 Jeld-Wen Siteline EX Wood Double-Hung windows made with AuraLast wood.
The United States boasts about 125 million single-family homes, the majority of which were built before energy-efficiency developments.
This, according to 2012 survey data from the National Association of Home Builders (NAHB), suggests a considerable market for green remodeling—described by the trade group as incorporating sustainable and durable design in the renovation of existing homes.
More often than not, consumers who opt for green remodeling projects cite energy efficiency as their primary motivator, according to NAHB's research. The development of increasingly stringent energy codes--coupled with rising utility costs--has influenced more homeowners to invest in high-efficiency upgrades, even if it means paying a little more upfront.
Replacing out-of-date windows with new Energy Star-rated alternatives can bring a home up to efficiency standards and save money down the road—a trend likely to stay at the forefront of the industry as advances in solar heating and insulation technology continue, and expectations of energy-efficiency products rise.
Raising the bar on efficiency
The Environmental Protection Agency (EPA) and the Department of Energy (DOE) created the Energy Star program in 1992 to recognize products that generally use at least 20 percent less energy than required by federal standards. As remodeling activity gains momentum following the housing downturn, more homeowners are focusing on getting the most for their money; and that means staying compliant with future efficiency standards and ensuring future energy savings.
"In replacement windows, an Energy Star performance in the window package is essentially a prerequisite," says Chris Pickering, vice president of marketing for Ply Gem. "You're really not selling any replacement windows that don't carry the Energy Star label."
As the EPA and DOE work on the next revision (Version 6.0) of Energy Star, Ply Gem is striving to ensure it has glazing packages available across all of its product lines and price points that will meet Energy Star requirements in each U.S. climate zone. "Most manufacturers around the country are able to easily meet current Energy Star levels with some type of glazing package," says Pickering.
Ply Gem's new glazing options will continue to use the "HP" designation for high performance in replacement windows that meets Energy Star specifications, including Version 6.0 when it is released, says Pickering.
Ply Gem HP glass packages combine soft-coat Low-E glass with gas-fill and warm-edge spacer options to provide balanced performance in multiple climate regions. The company has introduced numerous variations for regions with hot summer and cold winters (HP, HP2, HP Max); regions with significant cooling and glare reduction requirements (HP SC, HP2 SC, HP Max SC); and regions with increased heating requirements (HP SH).
Energy efficiency was the main driver behind Jeld-Wen's decision to develop a new wood window line, W-2500, which the company introduced at the 2013 NAHB International Builders' Show in Las Vegas, says Elizabeth Souders, Jeld-Wen's director of product marketing for windows.
"This window will be able to meet Energy Star in the northern [climate] zone without using dual Low-E [glass]," she says. Similar to Ply Gem's HP SH, the W-2500 can satisfy Energy Star specifications in climates with increased heating requirements by employing just one pane.
The double-hung W-2500 uses multi-chambered gas-fill to increase energy efficiency, says Souders. On it casement variation, a recessed sash moves the pane inward, which helps with the heat or cold transfer depending on the time of year, she adds.
Replacing clear, single-pane windows with double- and triple-glazed windows has become an increasingly popular option among homeowners seeking to improve energy efficiency and reduce heating and cooling costs. Often combined with argon or krypton gas fill, which make it more difficult for air to pass, these windows provide superior insulation in climate zones nationwide.
Marvin Windows allows its customers to customize their replacement windows by giving them the freedom to mix-and-match various glazing packages and gas-fill options. "We work with [customers] one-on-one to make sure that the solution meets their needs," says Christine Marvin, director of marketing for Marvin Windows.
The company's new Tripane glazing features two coated panes of glass with a third pane spaced between them, lowering the window's U-Factor and enhancing its ability to prevent heat loss. Marvin Windows offers 34 product types that will earn the designation of Energy Star Most Efficient, a new program that will recognize products with exceptional efficiency performance, says Marvin.
Current Energy Star specifications generally require U-Factors and solar heat gain coefficients below .30. Energy Star Version 6.0 and the Most Efficient program will likely push those numbers down past .25 and even below .20, meaning energy efficiency will
continue to dictate trends in window products for years to come.
Going green and proving it
Sustainability is not just about consuming less energy; it starts with buying products whose materials were extracted and cultivated responsibly, with the environment in mind. Many window manufacturers have found value in making sure the wood they use is certified and can be traced back to its original source.
Since 2008, Andersen Windows' wood products have received the Forest Stewardship Council (FSC) chain-of-custody certification, which is awarded to companies that meet FSC standards for traceability in their wood supply. Andersen also combines wood fiber mostly reclaimed from its manufacturing processes with vinyl composite to produce Fibrex, a proprietary and sustainable material the company developed more than 20 years ago, says Stacy Einck, manager of public brand relations and social media for Andersen.
Fibrex is twice as strong as vinyl and reduces VOC emissions because no wood preservatives or painting is required. Andersen uses the material in many of its products and almost exclusively in its 100 Series windows, says Einck. "Sustainability is a huge part of what we do, not only in sourcing material but in how we manufacture our products," she says.
Jeld-Wen carries dual certification from the FSC and the Sustainable Forestry Initiative (SFI). AuraLast, the company's exclusive water-based wood protection process, resists wood rot, termites, and water saturation, says Souders. Jeld-Wen windows made with AuraLast wood are guaranteed not to rot for 20 years.
"We're aware of the environmental choices at the time of manufacture all the way through the life of the product itself," says Souders.
Window manufacturers today understand the importance of leaving a minimal footprint in the environment, but they also realize they must guard against Mother Nature's ills.
Bracing for the storm
"With the devastation from storms like Hurricane Sandy still on the minds of those who live in coastal areas, many home and business owners are replacing windows with impact-resistant glass products," says Kathy Krafka-Harkema, spokesperson for Pella Windows.
The company now offers double-pane, impact-resistant HurricaneShield glass in its popular 350 Series premium vinyl line and its Architect Series wood windows. In HurricaneShield, two sheets of glass sandwich an exceptionally strong polymer layer, which holds the glass together if it is broken. As a result, HurricaneShield glass is able to withstand an impact equivalent to that of a two-by-four traveling at 50 feet per second.
In addition, Pella's HurricaneShield products meet Dade County (Fla.) code--the most stringent requirements in the country.
Andersen uses a similar concept called StormWatch in both of its A-Series and 400 Series window lines. StormWatch protection allows homeowners to customize the precise combination of glass and structural upgrades needed to meet the requirements of coastal building codes.
A-Series and 400 Series windows with StormWatch protection include more robust hardware and sashes, says Einck. Hidden structural reinforcements increase performance without sacrificing aesthetics.
The exterior of Andersen's StormWatch products is made of either composite or vinyl, meaning it will not corrode in coastal environments like aluminum-clad exterior. Aluminum requires continual washing and waxing in order to maintain the product's warranty, says Einck.
"If they're looking for low maintenance, who wants to go out and take care of the frame of their windows on a monthly basis?" says Einck.
For Andersen and many other window manufacturers, easy upkeep has become a point of emphasis across all markets, not just coastal areas.
Low maintenance a high priority
With NAHB's Remodeling Market Index as its highest point since 2005, Andersen has changed many of its tried-and-true products to make them ideal for remodeling scenarios. Providing straightforward replacement options to homeowners who want to upgrade their windows but might not have much time to spare for installation and upkeep has helped define the company in the remodeling market, says Einck.
"They want flexibility [and] they want low maintenance, so they're not painting and scraping windows every few years," she says.
Andersen's wash insert on its 400 Series double-hung windows is an apt illustration of the company's focus. If ordered as a remodeling insert product, the window comes with an installation kit containing nearly everything needed to complete the job: instructions, screws, shims, and backer rod. Homeowners are responsible for only the tools and some sealant to finish the job.
Andersen also offers a conversion kit for its Narroline windows, which the company began manufacturing in the mid-to-late 1960s. More than 50 million of these windows are now out in the market, Einck estimates, and the conversion kit allows homeowners to turn aging Narrolines into convenient, tilt-wash double-hung windows with high-performance Low-E4 glass. Otherwise, a more expensive, time-consuming replacement with a new full-frame window would be the likely alternative.
Pella has taken a similar approach to some of its window features. The company's convenient between-the-glass blinds and shades are protected from dust and damage and don't require constant cleaning, says Krafka-Harkema.
In addition, Pella's exclusive snap-in technology allows homeowners to easily change their window fashions whenever they want. A cordless design makes these blinds and shades safer for homes with children and pets.
The concept of design, once rooted in pure aesthetics, has extended further into efficiency and usability.
Not just colors and patterns
In developing its 9500 Series Bi-Fold windows, Western Window Systems sought to make walls disappear and create a life without boundaries, in which the back patio becomes an extension of the living room.
Engineered to fold away and stack against side walls, these windows have become popular for their ability to dramatically open living areas.
"Homeowners love the way these windows expand the livable space of their home while also transforming their backyard into a perfect place to entertain when the weather is beautiful," says Scott Gates, vice president and general manager for Western Window Systems.
Simonton Windows took a similar approach when it introduced the Asure window line.
"We're seeing a trend in allowing more natural daylight to come into the home," says Marty Davis, marketing manager for Simonton.
Asure windows sport a narrow frame that expands the viewing area, enabling plenty of sunlight inside. Multiple Asure windows can be mulled together for unique configurations that transform entire walls and really open up a room.
The demand for larger products that break down barriers and broaden sightlines influenced Marvin Windows' decision to roll out a new casement window that can extend up to 96 inches, says Marvin.
These above-and-beyond products help satisfy the growing contemporary market, she adds; but a more inclusive segment in which Marvin hears even more buzz is the market for universal design, an approach that makes it easier for homeowners to interact with their living space, regardless of age or ability.
Universal design was the impetus for Marvin Windows to re-engineer its Ultimate Glider window to include a low handle, one-hand operation, and automatic locking. The company also offers window screens that fold into the jam, eliminating the need to remove screens each winter only to re-install them the following spring.
Like energy efficiency, universal design will continue to trend as technology improves. PR