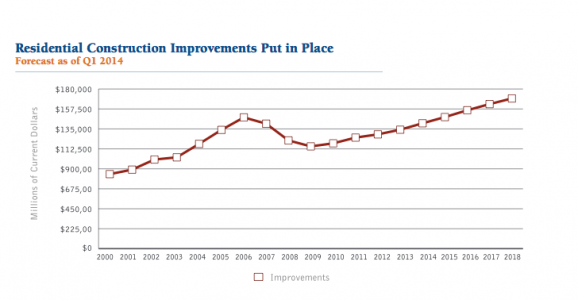 Residential construction improvements put in place is expected to increase through 2018.
FMI, a provider of management consulting and investment banking to the engineering and construction industry, releases its Q1-2014 Construction Outlook. The forecast continues to show optimistic growth. As a whole, construction-put-in-place is predicted for an 8 percent increase for 2014, with continued growth over the next few years.
Specifically, the residential market is forecasted to grow, but the pace is slowing, according to FMI. Forecasts show an 18 percent growth in single-family construction. However, multifamily construction will show a 27 percent increase in 2014, a drop from the 44 percent increase in 2013.
Most signs point to continued solid improvement in the growth of residential construction; however, the market will grow at a slower pace than it did in 2013. The current forecast calls for 18 percent growth in single-family construction and a sharper drop in the growth rate for multifamily from 44 percent in 2013 to a still strong 27 percent in 2014, with continued tapering in the longer-range forecast. Although mortgage rates are still low by historical standards, housing affordability is slipping somewhat, mostly due to increasing prices for existing homes. Employment figures are slightly better, but new jobs and pay scales aren't rising as fast as costs. This will keep the growth rate down for most of the country.
Trends worth watching in the residential markets include more scrutiny by investors looking to buy low and sell high, or rent distressed properties left over from the recession. Another related trend that could affect the market for years to come is the growing wealth gap, making high-end markets in major metro areas continuously more expensive while low-end markets become less affordable to the largest sector of the population. A recent report, "A Tale of 2000 Cities," published by the Demand Institute (February 2014) details this phenomenon and predicts what appears to be an inevitable future for the American dream.
According to CoreLogic, completed foreclosures were down 19 percent from January 2013 to January 2014, and "the seriously delinquent rate is just under 5 percent for the first time since November 2008." The February 2014 report, S&P Dow Jones Indices for its S&P/Case-Shiller Home Price Indices, slipped .08 percent from January rates for the 20-city composite.
According to the U.S. Census Bureau, "Privately-owned housing units authorized by building permits in January were at a seasonally adjusted annual rate of 937,000. This is 5.4 percent (±0.7 percent) below the revised December rate of 991,000, but is 2.4 percent (±1.0 percent) above the January 2013 estimate of 915,000." Also, "Privately-owned housing completions in January were at a seasonally adjusted annual rate of 814,000. This is 4.6 percent (±8.3 percent) above the revised December estimate of 778,000 and is 13.1 percent (±12.8 percent) above the January 2013 rate of 720,000." (January 2014). PR