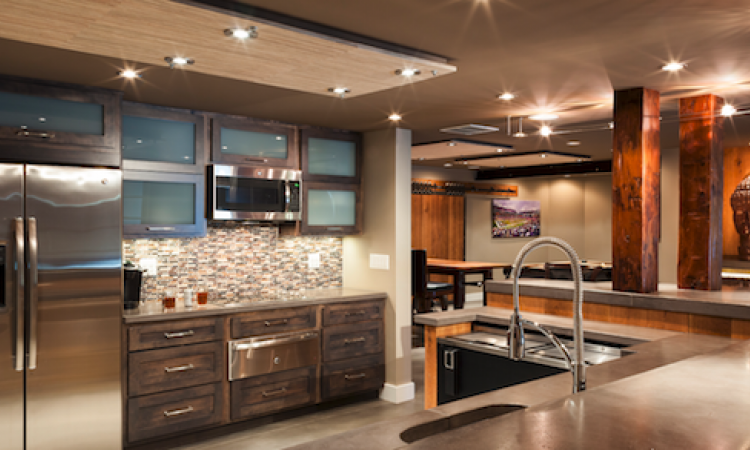 Photo: courtesy Owings Brothers Contracting
Until relatively recently, industrial design and reclaimed materials were mostly seen in converted factory buildings on the urban fringe. That's changing now, and the look is gaining popularity with homeowners in the suburbs, too.
The trend includes everything from new products created from recycled materials, to distressed surfaces, or utilizing materials such as concrete that were traditionally reserved for industrial and commercial applications, and incorporating salvaged items pulled from buildings slated for demolition. Industrial design elements like exposed brick, concrete floors, and open ductwork feel right at home in today's open floor plans and are increasingly being incorporated in homes of all vintages.
Here, we take a look at several projects that incorporate this trend.
A Higher Price Tag
Mike Owings, co-owner of Owings Brothers Contracting, in Towson, Md., recently won an award from the Maryland Building Industry Association for a 1,400-square-foot lower-level renovation his company did that features reclaimed materials and industrial elements (see main image, above). 
The 10-year-old home sits in a suburban Baltimore County subdivision. "The homeowner wanted to accommodate teenagers and large gatherings for Ravens football parties," Owings says. "So an open floor plan with sturdy finishes directed the design and materials selection." Reclaimed barn lumber is used throughout the space, with concrete countertops in the kitchen. The owner selected new lower cabinets with a distressed finish that plays up the industrial feel. 
Owings adds that new barn doors made from reclaimed materials are in demand with his clients. "This region is fairly conservative," he says, "and most homeowners won't commit to industrial design for a whole-house remodel. But we're finding that they're requesting this look for kitchens, baths, and lower levels and are willing to pay more for reclaimed, salvaged, and recycled materials."
Vintage Vibe
By combining existing architectural features with contemporary surfaces, design/build firms are adding industrial elements while maintaining the integrity of older homes. 
Allie Mann of Case Design/Remodeling, in Bethesda, Md., was tasked with a kitchen remodel in a single-family home. The designer kept a newer, dark brick feature wall, but aged it with a whitewashed finish, lightening the look and adding a homey, vintage feel that complements the simple white cabinets and granite countertops.
"I also incorporate reclaimed wood for flooring, stairs, beams, and mantels [in my work]," Mann says. To add character to concrete floors, she stains them with an acid or water-based stain. "Acid stains offer a subtle color selection, while water-based applications offer more variety and variation of color," she says. "It's a comparatively low-cost option for finishing floors." Photo: courtesy Case Design/Remodeling
Industrial Redux
Four Brothers, in Washington D.C., was asked to return to this home two years after the company had completed a kitchen remodel there. The homeowners were converting a semi-finished attic into a new master bedroom suite. The starting point for the project was a Kohler Brockway cast iron sink set into a custom steel and wood vanity. Oil-rubbed bronze fixtures and black pendant lighting provide industrial-style accents. The PaperStone matte countertop is created from FSC-certified recycled paper. Vintage charm was added with a bathroom door (rescued from a local salvage yard) that's mounted barn-door style on a track and painted orange for a pop of vibrant color. Photos, below: courtesy Four Brothers
For more about materials that have modern rustic appeal, take a look at these five products.
---
Tracy Mitchell Griggs is a freelance writer in the Philadelphia area.