Homeowners choose siding products primarily for visual appeal, but they know that the beauty will be short-lived if the siding isn't durable. To give your customers complete peace of mind, you need to use siding products that are both attractive and rugged.
SALA Architects, a Minnesota-based architectural design firm, has been creating elegant, energy-efficient designs since 1983. The company is now putting the final touches on a net-zero Victorian-era home remodeling project in Minneapolis.
Objectives
Homeowners Stewart and Linda Herman purchased a home that was built in 1907. Their intent was to remodel it in a way that would maintain its original beauty while conserving energy through a net-zero build.
"We are fully invested in tradition," says Stewart Herman. "We wanted the traditional look and feel, but we didn't want to have to pay the price that comes with older homes, like poor air circulation, cold spots and high energy bills."
To achieve these goals, the SALA team needed to remove existing siding in order to replace the insulation to create a tighter, more energy-efficient home. The new siding needed to be rugged enough to withstand Minnesota's snow and hail while matching the look of the original siding. SALA chose LP® SmartSide® Smooth Finish Lap Siding to provide the necessary beauty and durability.
Prior to using LP SmartSide products, SALA Senior Associate Marc Sloot had used fiber cement siding. But with the homeowners' objectives in mind, he sought an alternative. "I looked around to find a good way to preserve the traditional look that would be both durable and economical," he says. "I asked other industry professionals for their opinions on LP SmartSide siding, and they were all really positive about it."
Before
Implementation
Since SALA is a company that strives to use environmentally friendly building materials, the company found LP SmartSide products to be a good selection. They are sustainably sourced from Sustainable Forestry Initiative (SFI) certified forests or obtained using SFI certified fiber sourcing programs. "By using LP SmartSide siding, we could embrace and enhance the beauty that was already there," says Sloot. The design team didn't want the product's high-performance characteristics to stand out, but rather to blend seamlessly with the home's traditional look.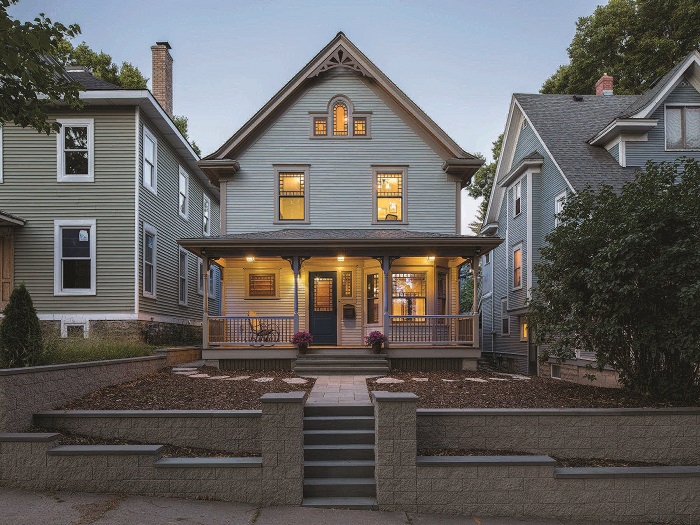 After
Outcome
SALA's skillful remodeling project gave the homeowners total peace of mind because their 111-year-old home now has enhanced exterior beauty that matches the original look—and it has durable siding material needed to withstand many tough Minnesota winters.
The Hermans now have the peace of mind of knowing that their remodeled home will look beautiful throughout their retirement years. "It looks like a brand-new 1907 home," they beamed.
LP and SmartSide are registered trademarks of Louisiana-Pacific Corporation. SFI is a registered trademark of the Sustainable Forestry Initiative, Inc.
(612) 379-3037
info@salaarc.com