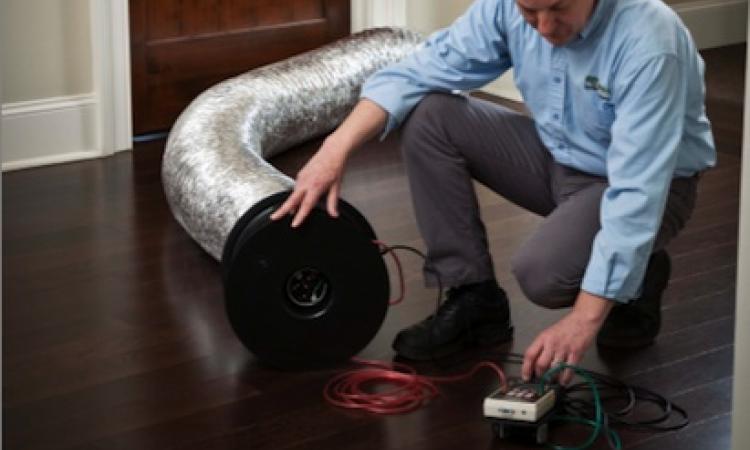 When it comes to selling green, energy efficiency is king. It offers the biggest immediate bang for the buck for homeowners, both in lower utility bills, and in rebates and tax credits from the government and utility companies.
So it's not surprising that energy audits or assessments have taken off as well, with companies looking to show homeowners how they can save that money.
Although energy audits are an opportunity to expand a remodeling business, low-priced competition can also make it tough to make a profit. Those who have successfully launched audit businesses say educating the homeowner on the value of an assessment is the key.
Selling energy audits
Renewal Design Build owners Peter and David Michelson launched Renewal System Solutions three years ago as a spin-off of the award-winning Decatur, Ga., design/build company. Renewal System Solutions conducts energy assessments, as well as performing energy retrofit work.
"We wanted to create a distinctive brand but build off of all the market awareness we'd built for the Renewal name," says CEO Peter Michelson, CAPS.
In the Atlanta area, there is steep price competition in the audit market, ranging from utility companies offering free audits to other contractors as low as $49 or $99. At $500 for an assessment, Renewal is the most expensive in the marketplace.
Despite that, the company has been successfully selling assessments and related work, generating more than $400,000 revenue (and a profit) in 2011.
The difference is that not all audits or assessments are created equal — something Renewal is sure to stress when meeting with clients, says general manager and part-owner Joe Thomas. Renewal spends four to six hours in the home for an assessment, as opposed to other audits that may be just a cursory walkthrough of the house.
"There's still confusion, but for the most part, people understand the difference," Michelson says.
The local utility offers a $200 audit rebate and Renewal credits the remaining $300 to the project cost if the homeowner hires the company.
That $500 price tag not only ensures that Renewal makes money on the audit, but also helps to eliminate "tire-kickers." About 70 percent of the assessment clients hire Renewal to perform the recommended energy work.
"I talk to other contractors," Thomas says. "Those companies that are [doing low-cost or free] assessments are doing eight or nine assessments for every job they sell. At $500, they're committed to doing the work."
Free assessments are more trouble than they are worth, agrees Scott Schnelle, an auditor with Energy Link in Columbia, Mo.
"Nothing gets done because they are just looking for what's inefficient about their house," he says. "Once you start charging somebody, they feel like they need to make those improvements to make their money worthwhile."
CEO Chris Ihler, who has worked as a remodeler and builder for years, started Energy Link in 2010 specifically to take advantage of increased interest in energy retrofit work.
Energy Link charges $150 for the energy audit — enough to cover costs, but the company relies on the related retrofit work to make a profit.
Even at that price point, there can be resistance, Ihler says.
"It's a pretty competitive business," he says. "We still feel like the perceived value by the public when they first learn about us is lower than it should be."
Homeowners are interested in energy efficiency and educating them about the value of a professional, in-depth audit is essential, Schnelle says.
"Per our research, the statistics of people searching for energy audits are low, but its very high on windows and doors, insulation, other energy efficiency topics," he says. "If we educate them just a little bit, they opt for the audits and they don't mind paying for it."
Energy Link has focused heavily on in-person marketing at home shows, expos and fairs, as well as reaching out to real estate agents, for its first 18 months in business. Talking to people face-to-face has been the best way to educate them about the value of an audit.
For those clients that are still unsure, the company offers a free 30-minute consultation at their home. It's a simple walkthrough with a clipboard, but no diagnostic equipment or testing.
"Helping customers decide if they should purchase that audit is as important as doing the audit and moving forward," Ihler says.
An integrated approach to energy audits for remodelers
Remodelers have a built-in advantage in the audit market because once they learn the skills to conduct the assessments, they can also offer the ability to do the retrofit work. That one-stop approach makes it easier for clients — and more profitable for the contractor.
"Typically, we find there's a disconnect between auditors and installers," Ihler says. "When it comes time to do the work, they may not be able to give the homeowner the information they need."
While it's possible to make money just doing audits, it's tough to build a large business on that model, Ihler says.
"You'd have to change the model, make it very similar to being a home inspector – one person, with his own company," he says.
That's how Joe Thomas started out before joining Renewal, running his own one-man shop. He found it difficult to get much traction doing that and says the Renewal model has been much more successful.
Remodelers also have an advantage over trade contractors, such as HVAC or insulation firms, when it comes to selling assessments because they can emphasize the whole-house approach, Thomas says.
"We don't have an agenda to sell that product," he says. "We are not motivated to sell one service over another and potential clients see that."
While one could argue that remodelers are still motivated to find a problem of some sort in order to sell more work, that's not a problem for most clients who have decided to make that investment in an assessment, Michelson says.
"People are calling us with a problem," he says. "They're hoping we're going to find something that's wrong and make it better. They're more motivated to have us follow-up and do the services than we are."
Building business beyond energy audits
Offering audits can also help remodelers land other work. Chris Bellanca, CR, president of The Avenue Builders in Alexandra, Va., says that about of his audit and energy retrofit clients later come back to the company for other projects, such as remodeling a kitchen or bathroom.
The company's emphasis on energy work on its website also helps drive potential clients its way. Bellanca says that from tracking the company's web traffic, he knows that many of his clients find The Avenue Builders come to the site through its energy audits section.
"People want to learn how they can make their homes better, whether that's more comfortable, saving energy, cutting greenhouse gasses — everybody's different," he says.
Energy audits have similarly paid off for Renewal, with Renewal Design Build getting about $500,000 in sales that have come from referrals from Renewal System Solutions.
"It's a super-hot lead because that's a solid referral," Michelson says. "They already respect the brand — and it goes both ways. Some of Joe's best leads come (Renewal Design Build) sales calls."