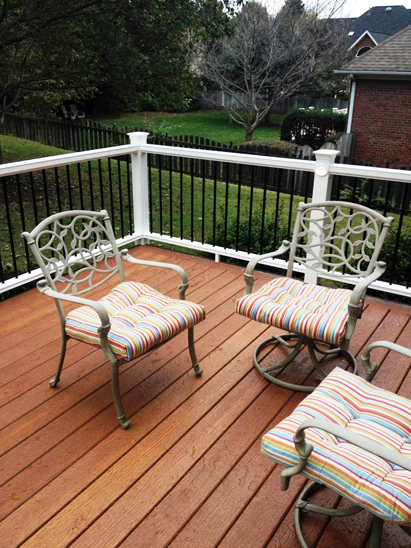 NyloDeck was selected in Desert Spice for this 14x22-foot deck in Greenville, S.C., using 24-foot lengths for a seamless look.
Located in Simpsonville, S.C., Deckstore of SC LLC is a locally owned business selling outdoor living supplies to contractors and homeowners. When owner David Elenbaum opened Deckstore last year, he had specific ideas about the types of decking materials his customers would want to buy.
"We wanted to create a one-stop shop for decking contractors that appeals to them and their customers in a way a typical lumberyard does not," said Elenbaum.
As a highly regarded contractor and deck builder himself, David spent years specifying and building with all types of decking materials to create beautiful-yet-functional and practical outdoor living spaces. His depth of experience and quality work has earned him a reputation as an expert in the field.
Narrowing Down the Best Decking
When it came time to stock his store with a range of decking materials, David had to select the best products for both contractors and homeowners. Although almost 100 different brands of composite decking are available, only a handful of composite brands would make the cut.
NyloDeck, often called the "non-composite composite" decking material, is one of the leading decking materials that David selected. David first learned about NyloDeck from both his and the brand's active participation in the North American Decking and Railing Association (NADRA) trade industry group. At a chapter meeting, he was introduced to samples of NyloDeck and its unusual story.
A Unique Complement to Other Options
"NyloDeck is a different type of composite decking material," said Elenbaum. "It's made using 100-percent recycled carpet fiber, contains no wood, and offers certain characteristics that make it superior to some other products in the market. Nylodeck's claim of being impervious to moisture, mold, mildew, and termites gives it additional merit in the industry."
"I was intrigued with NyloDeck's unique engineering process and totally different technology concept," Elenbaum continued. "I also checked out all its testing and code compliance to ensure NyloDeck would live up to its claims. So far it has without question."
NyloDeck for Contractors
David found that contractors love how easy it is to work with NyloDeck. Its exceptional composition makes it the strongest board on the market (but lighter than wood or other composites) with the industry's best thermal expansion rates.
"Nylodeck's ability to span 24 inches o/c framing makes it a logical choice when re-flooring an old frame that is 16 inches o/c in the job scope," said Elenbaum. "The 45-degree angles require a stiffer board, or the framing must be supplemented to close the joist bay dimension for use with other boards. This translates into design versatility and savings in time and materials."
"We've also had contractors select NyloDeck's 24-foot lengths for several decking projects so there are no seams. No other widely distributed composite product can do this."
NyloDeck for Homeowners
For homeowners, product options need to offer aesthetic appeal along with performance and durability.
"Homeowners appreciate NyloDeck's natural grain texture that's different on every board," said Elenbaum. "It delivers the great looks of wood but with outstanding durability and minimal maintenance."
In addition, a state-of-the-art coating process protects decks even in extreme weather conditions and allows for a 25-year Fade and Stain Warranty on top of NyloDeck's 25-year Limited Residential Warranty. NyloDeck is available in five popular colors and is compatible with leading fastener systems and railing combinations.
Visit: www.nyloboard.com
NyloDeck is compatible with industry leading posts, railings, fasteners and accessories, allowing for options in design creativity.