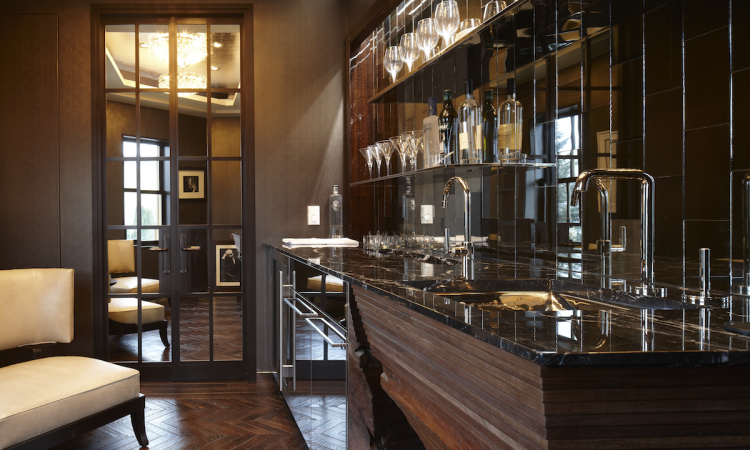 The new Mick De Giulio kitchen at the Kohler Design Center.
For those who've not yet made the pilgrimage to the headquarters of the Kohler Co., you are missing a first-class kitchen and bath design center, along with five-star accommodations. Leading designers from around the country frequently add new vignettes to the design center. Last month, one of the industry's most admired designers, Mick De Giulio, of De Giulio Kitchens, put his latest ideas on display there.
De Giulio frequently mixes old and new elements. Grand antique tables often serve as islands and food prep stations, while chrome and glass adorn cabinets and appliances. The combination offers a rich and distinctive feel. One common feature of De Giulio's designs is a sitting area used for relaxing, often around a fireplace or hearth. These kitchen living areas, De Giulio says, can be used for "low breakfast" dining. He often specifies a 27-inch table surrounded by comfortable furniture. De Giulio's new vignette for Kohler, shown above, offers his latest take on kitchen living.
With this in mind, Professional Remodeler reached out to leading designers to assemble a list of design considerations for incorporating sitting areas in kitchens.
Seamless Integration
Remodeler and designer Everett Pollard, CGR, AIA, of Northcape Design/Build near Boston, sees challenge and opportunity in attempting to integrate a sitting area into a kitchen.
"We have been including this element for years," says Pollard. "I see three challenges. First, it's nice to position the fireplace in the sitting area so that it can be enjoyed from the kitchen and the dining area as well. Second, we try to hide the television so that it does not dominate the sitting area and take away from the fireplace. Lastly, the real challenge is making the fireplace, TV and sitting area furniture arrangement work with the kitchen and dining areas. Add a view out to the lake or mountains and it makes it even harder."
Monica Miller, CKD, CBD, CR with J.S. Brown & Co. in Columbus, Ohio approaches these challenges with National Kitchen and Bath Association guidelines for clearances firmly in mind.
"Typical requests are seating for two to four people in comfortable upholstered chairs or a loveseat, a gas fireplace, a flat screen television, and a visual connection to the kitchen," says Miller, who offers an example project on the following page. "My first concern is placing the sitting area close enough so that conversation with the cook in the kitchen is comfortable, but not a hindrance to the work or traffic patterns in and around the kitchen. The NKBA planning guidelines recommend at least 44 inches of clearance between a table or eating bar and any obstacle. This allows for someone to be sitting in a chair or stool, and another person to walk behind them."
Miller goes with typical audio-visual guidelines of mounting televisions three to five feet off the ground. And if that is too close to the fireplace—she places them above the mantle, which may be not ideal for seated viewing, but the cook will certainly benefit. If space allows, she says, bookcases on either side of the hearth can be a good place to place a television.
Seamless integration can also be achieved with visual cues says Katie Hurst, CKBR, UDCP of Hurst Total Home, Inc. in Dayton, Ohio. "The fireplace is a cozy feature that really invites people to the kitchen. One way I incorporate it into the kitchen is by using the same surface from the kitchen tops on the fireplace hearth. Also, it's a nice touch to create a custom mantle from parts and pieces available from the cabinet company."
Brian Dalbke of Renovations by D&D agrees. "I like to tie in one area with the other. In a recent kitchen, we installed granite on the island and put the same granite on the fireplace facing and hearth. I made a cherry mantel to match the cabinetry and also used a piece of the crown molding in the mantel."
Avoiding Drawbacks and Backdrafts
There are many limiting factors involved creating these gathering spaces within kitchens. Several designers who chimed in on a social media discussion of the topic cited a need to bust through walls, or to join spaces, or to even build an addition to properly incorporate a seating area. In addition, a sitting room/kitchen combination can be a noisy place when a cook is running water and moving pots and pans, particularly when it includes hardwood floors, and a multitude of solid surfaces. Area rugs, books and other soft material help mitigate this issue.
Avoiding fireplace backdrafts was a design consideration mentioned by several remodelers. Jeff Toye, president of Promethean Remodeling LLC in Hackettstown, N.J. spelled out steps to avoid backdrafts. "The problem today is the commercial-sized ranges and cooktops with 600 to 1,200 cubic feet per minute exhaust hoods. A sealed gas fired fireplace with it's own fresh air intake is an option. Another option would be to use an electronic controlled damper for fresh air intake with a relay when the exhaust hood is turned on. Typically this would require a 6-inch duct, so it may be beneficial to have a heat exchanger in the system for winter months."
Karl Dropping of Norsk Design Build in Seattle says extra heat and dirt from fireplaces can also be a concern. "While a gas fireplace is not truly dirty like a wood burning fireplace, they still have that feel," says Dropping. "Kitchens are warm to begin with, and today's highly efficient gas units tend to put out too much heat. When my wife and I entertain, we tend to be looking for ways to cool the kitchen, not add an additional heat source."
In the end, all the effort is usually worth it, says Miller. "Whether you're entertaining or reading the morning paper, you're happier in a warm, casual, and comfortable room. With a little extra space and proper planning, a mini family room is created right in the kitchen." PR