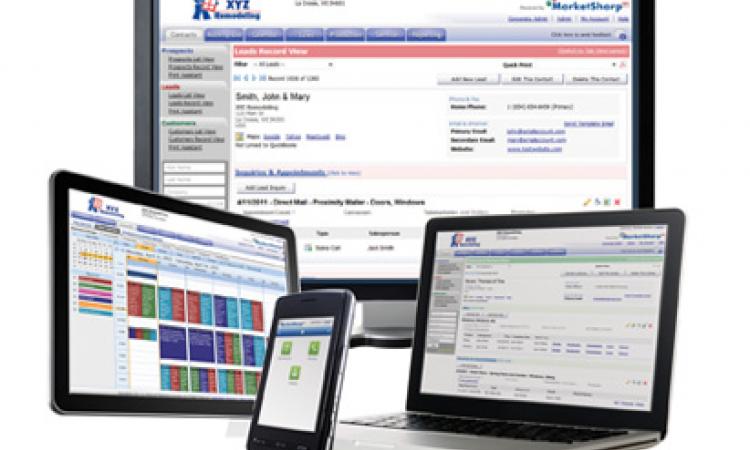 Let's face it: As a remodeler, you will try anything to help make your job easier. In an evolving marketplace, efficiency is critical to the success of your business.
Customer relationship management (CRM) solutions are one measure that remodelers can incorporate in their business to "stop important things from falling through the cracks," according to Tim Musch, Director of Business Development for MarketSharp Software.
According to Musch, data compiled by his firm shows that roughly 30 percent of remodelers are using some kind of true CRM solution. As for the other 70 percent, Musch says, "Many remodelers simply use QuickBooks, Excel, or a generic estimating systems to track their contacts."
"QuickBooks is a fine tool for simple CRM, but really falls short when it comes to what puts beans on the remodelers' table," says Gerald Gerber, Founder and CEO of Gerber Software Products. "It is a great and flexible tool for doing simple estimates, invoicing, and accounting compliance work."
WHAT IS CRM?
Over the years, CRM solution has evolved in a number of ways. Originally, CRM began as a contact management program that usually was locally installed software. The software has moved light-years ahead from those early days.
Currently, the most powerful CRM solutions are cloud-based programs that allow access at anytime from anywhere around the globe. The majority of cloud-based CRM solutions can integrate with hundreds of third-party solutions.
"This custom integration allows for a higher-end customer relationship management experience for the remodeler," says Musch. Remodelers take note: The custom CRM solution can include additional monthly fees for support and other services.
The standard CRM solution provided to remodelers uses technology to organize, automate, and synchronize business processes—sales, marketing, production, and customer service. The overall goals are to find, attract, and win new client services, retain current customers, entice former clients to return, and reduce the costs of marketing and client service.
"Additionally, most CRM solutions offer data analysis or reporting functionality which can help the owners/managers make better business decisions," says Musch.
Proper CRM solutions should also include managing the processes of specification writing, sub collaboration during bidding, as well as managing project expectations. While some CRM software address these ingredients, others don't.
"The remodeler of today requires a software system that helps to manage all facets of the project, from the client call-in to the final punch list," says Gerber.
INDUSTRY SPECIFIC VERSIONS
CRM solutions can be very effective for a remodeling business owner, but full implementation can be challenging and complex for some companies.
"For that reason, many CRM vendors offer 'industry specific' versions that are already tweaked for the given industry," says Musch. "This gives the implementing company a huge head start and track to follow."
Recent advances in CRM include the addition of social media and community support to more fully engage the contact. This new generation of CRM is accurately being called "Social CRM." Typically, Social CRM applications allow a remodeler to integrate social media on Facebook, LinkedIn, and Twitter with email marketing for online collaboration, document sharing, and sales information. Eventually, this information can be used to target new business, retain customers, collaborate with existing customers, and aggregate and act upon data collected via social media.
"In the end, finding the right CRM solution can have a huge effect on a remodeler's bottom line," says Musch.
Benefits include additional lead generation at lower costs, increased conversion of all leads, improved production processes, better customer relations resulting in more repeat and referral business, and easy access to key performance indicators.
The bottom line for a remodeler who uses a CRM solution: increased efficiencies resulting in higher profits. PR