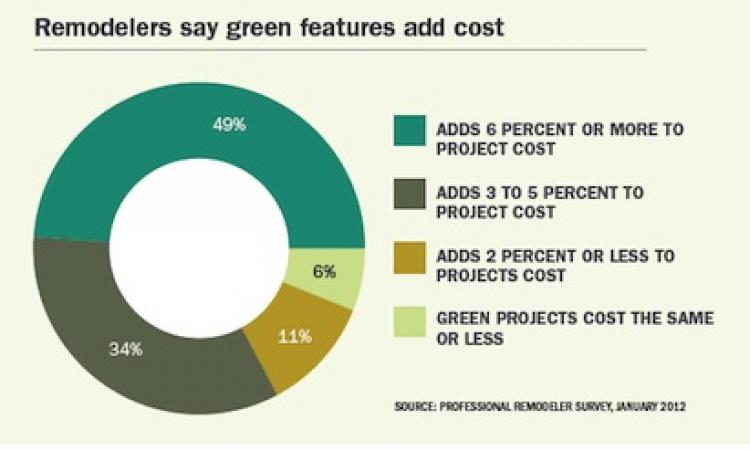 The higher cost of some green features and the challenge of showing a return on investment continue to be the big hurdles in selling green remodeling.
That's according to the latest Professional Remodeler green remodeling survey, the fifth study we've done on the subject since 2007.
As in every previous survey, homeowners' unwillingness to pay a premium for green features ranked as the top obstacle for remodelers. Sixty-three percent said it was an obstacle for them when attempting to sell green, and 34 percent said it was a "very significant" one. Insufficient return on investment was cited by 50 percent of remodelers as an obstacle.
"In this economic climate, most clients cannot afford to go green," said a Rhode Island remodeler. "It becomes a luxury item in most cases and the clients prefer to spend their money elsewhere."
Still, 45 percent of remodelers said that green features help them sell remodeling projects and 42 percent market their companies as "green," up from 26 percent in 2007.
Value vs. cost in green remodeling
The challenge, it appears, is not getting homeowners to pay more for green features, but instead getting them to pay enough. Nearly 75 percent of remodelers said their clients will pay at least a little more for green features, roughly steady with last year's 71 percent, but up sharply from 22 percent in 2007.
However, only 17 percent of remodelers said that their clients will pay more than a 5 percent premium. At the same time, 49 percent said that incorporating green features increases project costs by 5 percent — representing a distressing gap of some 32 percent. Only 50 percent of remodelers said clients will pay at least 3 percent more for green features, compared with the 83 percent who said those features add at least that much to the average remodel.
"Our market has a 'Walmart' mentality," said a full-service remodeler from Washington state. "They want the cheapest cost and won't pay extra for something that won't provide an immediate return on investment."
Local, state and federal government credits and rebates have also played a role in driving green projects by offsetting some costs. NAHB estimates the 25C credit (for energy efficiency improvements in windows, doors, HVAC and other areas) helped generate more than $25 billion worth of remodeling activity in 2009.
So not surprisingly, the smaller 25c tax credits in 2011 also seem to have played a role in slowing some types of projects, such as window replacements. (The credits were increased to 30 percent, capped at $1,500, in 2009 and 2010 as part of the stimulus package before returning to their 10 percent/$500 cap level in 2011.) Sixty percent of remodelers reported taking advantage of government incentives for green improvements in 2011, down from nearly 70 percent in 2010. Only 27 percent of remodelers used the credits or rebates on more than 10 percent of projects, down from 38 percent in 2010.
Energy efficiency top concern
With a focus on payback, it's not surprising that energy efficiency would be the top concern for homeowners.

Thirty-seven percent of remodelers said that their clients are "very concerned" about energy efficiency and 79 percent said clients were at least somewhat concerned — the only green factor that was a concern for more than half of remodelers' clients. Only 9 percent said their clients were very concerned about the environmental impact of the products used in their projects.
In an effort to gain a piece of that energy efficiency market, many remodelers have added energy audits to their range of services. (See this month's cover story on energy audits.) Thirty-seven percent of remodelers said they now offer some sort of energy assessment in their business. For most, though, this appears to be a marketing tactic more than a profit center: 75 percent of those who do perform audits said they only make money on them if it leads to other work.
Products and methods focused on energy efficiency also continue to be the most popular ones remodelers are implementing in their projects. Energy-efficient windows were used by 59 percent of remodelers on all of their projects and 95 percent of remodelers used them on at least some projects. Energy-efficient appliances, enhanced insulation and energy-efficient lighting were all used by more than 90 percent of remodelers on at least some projects.