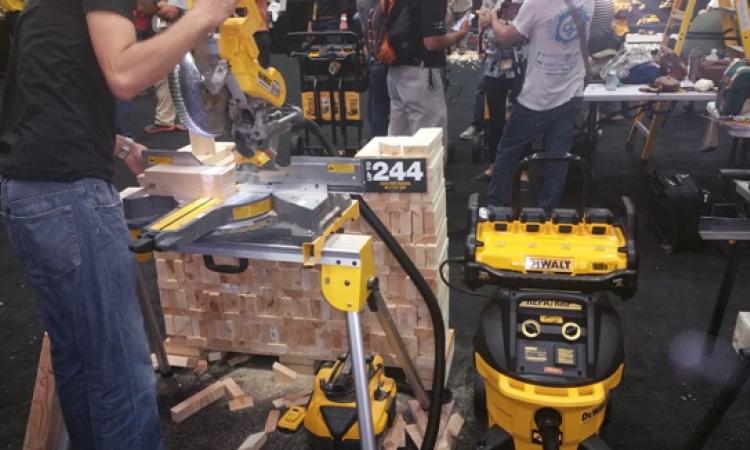 The 120v FlexVolt 12-inch Sliding Miter Saw runs on two 60v FlexVolt batteris plugged in side by side behind the motor housing. "Cuts like butter" was the comment from the guy who was crosscutting a 4x4. Shown next to it is dust-collection vac running off the FlexVolt power station mounted on top of it.
At the heart of DeWalt's new system is a 60v FlexVolt lithium ion battery that changes voltage depending on the tool it's attached to. I'm not kidding. The secret is a built-in converter that automatically switches the 15 4-volt lithium ion cells from parallel to series wiring or vice versa (see the diagram below).
The good news is that FlexVolt is backward-compatible with DeWalt's 20-volt cordless tools, where it increases runtime. The really good news is that the new 60v battery brings longer runtime and more power to a variety of new tools made for FlexVolt. And the game-changing news is that when ganged together in pairs or other groupings, the FlexVolt technology can deliver up to 120 volts, which means it can power corded as well as cordlless tools. Really, I'm not kidding.
There's also a whole lineup of new brushless tools made specifically for the FlexVolt battery, most of which will be available this Fall. These include a 7¼-inch circular saw, a 1/2-inch right-angle drill, a recip saw, a 12-inch sliding miter saw that runs on 120 volts using two 60v FlexVolt batteries, and, yes, the very first cordless 8¼-inch table saw. I tried most of them at the demonstration stations and the performance is pretty remarkable - as good as and in many case better than corded tools. Not at all kidding.
There's also a FlexVolt Power Station which can accept 4 DeWalt batteries of any voltage and supply up to 120 volts of power to corded tools. Plug it into an outlet and it can charge up to 4 batteries at a time.
Still not kidding.
For more info on the new FlexVolt system, go to dewalt.com/flexvolt.
For a preview of the 60v FlexVolt table saw, visit our friends at ProToolReviews