From Florim's Cedit collection, these tiles represent a growing trend 3D design 
The popular understanding of ceramic tile in America is neither nuanced nor complete. It is limited, and in many respects outdated. Did you know, for instance, that large ceramic slabs are now so thin they can be installed over existing tile; or that the clarity, texture, and dimension of stone-printed porcelain is, in some cases, so close to real it's near indistinguishable?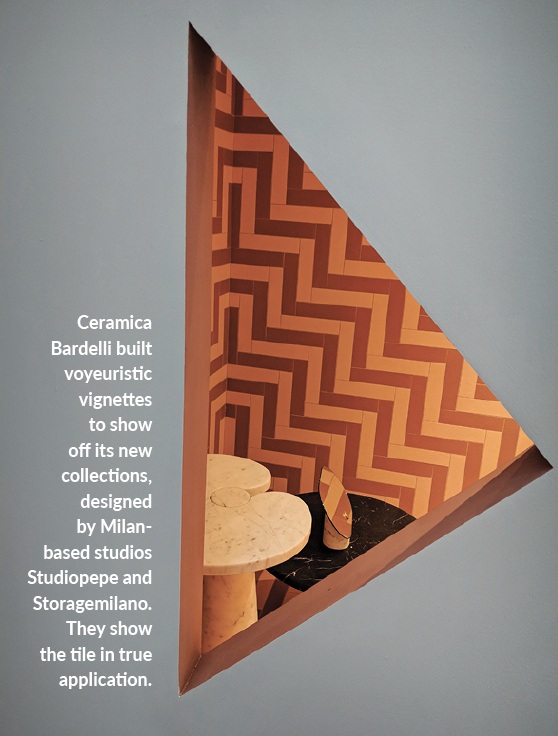 A spectrum of existing quality and possible applications is revealed in amazing depth as attendees walk the floor of Cersaie and talk with manufacturers, installers, and potential installers. The booths, assembled with dizzying detail, give onlookers a look at true application—ABK constructing a faux bathroom to display its tile shower, and Ceramica Bardelli staging kitchen and bathroom vignettes to be viewed through odd geometric shapes cut into walls erected for that sole purpose. It's as though hundreds of brands all built showrooms, shoulder to shoulder. 
An American Infatuation 
The Italian ceramic tile industry may not need American business, but it wants it. Florim, for instance, mentioned its effort to expand further into the U.S., as did LeonardoCeramica, Del Conca, Emilgroup, Vallelunga, and the list goes on. Manufacturers are chasing the U.S. market and helping to break down any roadblocks. 
Talk to any U.S. remodeler about Italian ceramics, and their biggest concern is shipping costs and product breakage while in transit. That is front of mind for Italian manufacturers, as they made frequent mention of the innovations in shipping, from developing sturdier tile to using small risers to space tiles and allow more to safely fit into a container (which also helps bring down cost). But for those who remain unconvinced, and for a more long-term solution, Italian ceramic tile companies are now simply setting up stateside operations. 
Over the last three decades, Florim has invested over $60 million to grow its U.S. manufacturing operation, and Del Conca in 2016 spent tens of millions of dollars to effectively double its U.S. capacity, which included expanding its Tennessee-based plant by 110,000 square feet. 
There is a Real market in the U.S. for large-format ceramic tile, but it's a completely different method of installation.
At Cersaie, professionals are offered unique access to these companies' executives—networking that could help forge strong partnerships as manufacturers openly strive to gain U.S. business. 
Production Insight 
Another challenge that Italian ceramic tile companies have expanding into the U.S. is that there aren't enough installers. It was a central message in a presentation on ceramic tile installation given at the show by Bart Bettiga, executive director of the National Tile Contractors Association, a U.S. institution.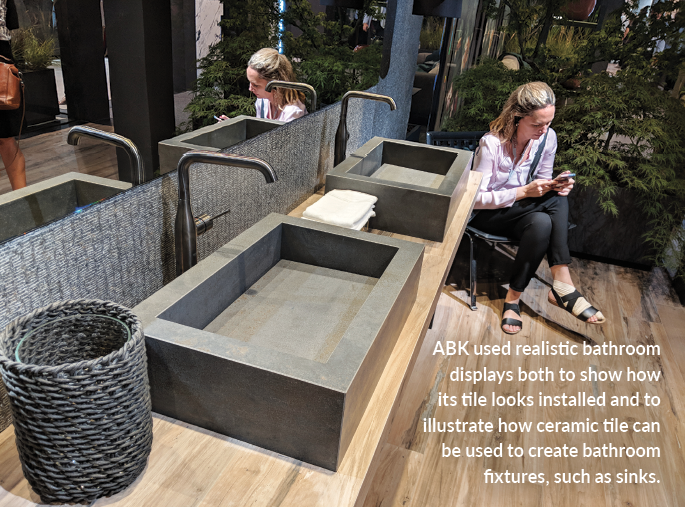 "There is a real market in the U.S. for large-format ceramic tile, but it's a completely different way of installation," he says. "It's like working with glass and slab stone. We use a lot of scoring and dry cutting, because wet saws become too cumbersome; for the install we use mortar." While the process is less labor intensive, he adds that with spreading, mixing, and laying the tile, the job still requires "about four guys." To solve the problem, his association has been ramping up efforts to help train American pros on the process. "We're working with the Department of Labor to get an apprenticeship program approved." 
Bettiga has been in the tile industry for nearly three decades, and is well acquainted with the challenges facing the American market. He's also a willing nexus to an array of stateside remodelers already using Italian ceramic tile. In fact, he had a few performing a live installation behind him during his presentation. 
His experience is invaluable, and he was only one of many Americans at Cersaie ready to lend actionable insight to his or her fellow compatriots.