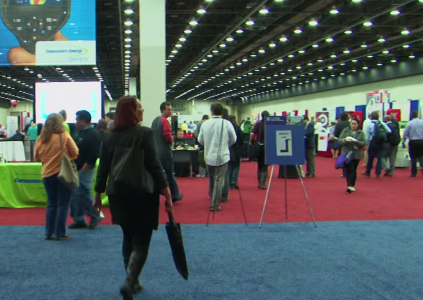 Screenshot via Amy Kozusko/Youtube
In his current Energy Vanguard blog, Allison Bailes offers 7 Reasons to Go to the ACI National Home Performance Conference, which takes place May 4-7 in New Orleans. (The conference name retains ACI, the acronym for the Affordable Comfort Institute, which has merged with the National Home Performance Council (NHPC) to form a new organization, the Home Performance Coalition.)
Regardless of where you are in your building science education, Bailes's first two reasons to attend the conference are most compelling. The first is "smarts," and it's hard to argue with the depth and breadth of the educational program. The wide variety of tracks, each with three sessions, includes everything from "Fundamentals" to tracks for "HVAC and Mechanical Systems" to tracks focused on the "Building envelope" and "IAQ and Ventilation" to a track on "Diagnostics & Audits." And that's just the tip of the iceberg. It all adds up to a wealth of educational opportunities, regardless of your  specialty and business model.
Bailes's second reason is "experience," and he's talking mainly about the presenters, the list of which reads like a Who's Who of home performance and building science. Bailes himself is presenting ("Ventilation Strategies in Hot Humid Climates," in Tuesday's "For Seasoned Pros" track), as are several building science pioneers he mentions in his article, including Linda Wigington and Dick Kornbluth ("Thinking Outside the Envelope," also in Tuesday's "For Seasoned Pros" track), and John Tooley, who is participating in at least three sessions, including Wednesday's must-see "Ask the Experts: Stump the Chump" session.
I had just joined the editorial staff of JLC when I first heard Tooley speak at a meeting of the Northeast Sustainable Energy Association (NESEA) back in the 1990's. His topic was "MAD AIR," an acronym he coined that stands for "Mechanical Air Distribution And Interacting Relationship." It came out of research he was doing into air pressure imbalances in homes caused by the interactions between the number and location of HVAC system registers and returns, exhaust fans, and human activities like opening and closing interior and exterior doors. The symptoms included everything from poor indoor air quality to flame roll-out in hot water heaters, but Tooley's analysis was a revelation. After hearing that session, I was hooked, and I looked forward to reading anything he wrote. That includes two articles published by Home Energy magazine in 1999  --  "The High-Performance House: What Does it Take?," and "Handling Framing Details in High-Performance Homes" -- that were among the earliest in the development of today's understanding of the principles involved in building the high-performance home.
As building science becomes an increasingly important part of home remodeling, a conference like ACI's is an indispensable tool in your continuing education. Four days might be more time than you can spare in early May, but even one day at the ACI National Home Performance Conference will be worth the investment. And while you're in New Orleans, make a note to stop for coffee and a beignet at The Café Du Monde French Market Coffee Stand on Decatur St. about a block from Jackson Square.