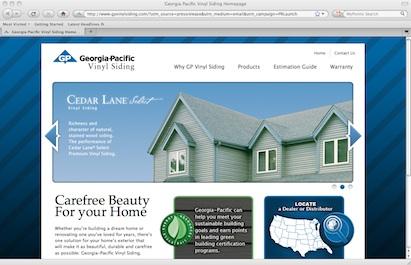 BlueLinx Corporation is excited to announce websites for the Georgia-Pacific and TrueWall brands. BlueLinx is going to increase its digital initiatives in an effort to provide complete, updated information at all levels of the supply chain. 
"Our decision to update these two brand sites was from an end-user standpoint, so that customers searching for vinyl siding will have a chance to see our products." Erin Zier, Marketing Manager of Specialty Products for BlueLinx, said, "For our dealers and contractors, it's a great way for them to show their customers what they carry and what they can get their hands on
Especially in this economy, consumers research major purchases online, such as remodeling or residing a house. It is estimated that by 2014, 53 percent of total retail sales (online and offline) will be affected by the Web. (Forrester 2010)
"BlueLinx is thrilled to introduce our new websites, which are solid platforms to launch interactive tools, such as the Siding Estimator, for our customers," April Loftus, Product Manager of Vinyl Siding for BlueLinx said, "The Siding Estimator allows the purchaser to find out how much siding they need for the job, before they even visit a dealer
Along with the Siding Estimator, these sites supply current catalogs, brochures, and warranties for both brands. Both sites also feature a Home Color Viewer that allows visitors to preview siding colors before ordering.