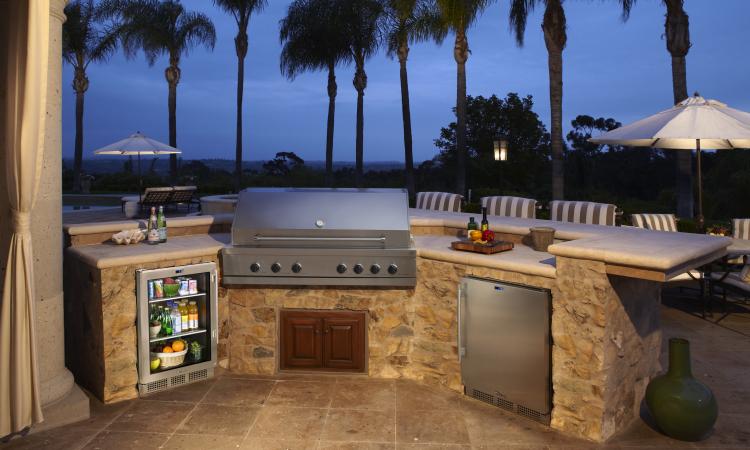 Despite a challenging economic climate, the desire to extend the indoor kitchen to the outdoors has not waned among homeowners.
According to data from a 2012 American Society of Landscape Architects survey, outdoor living spaces are expected to be the second most popular outdoor design trend this year, just behind gardens and landscaping.
Manufacturers have adopted popular appliances and accessories in indoor kitchens to suit an outdoor environment.
Cooking options have become more advanced and custom enclosures have been designed to accommodate almost any appliance configuration.
"The outdoor cooking experience extends far beyond the typical backyard grills of the past," says Michele Bedard, vice president of marketing for Sub-Zero, Inc. and Wolf, Inc. "Consumers are looking to create an extension of their homes in outdoor spaces—everything from design to appliances."
From portable to permanent
While grills on wheels have always been a backyard staple, the increasing popularity of more advanced outdoor kitchens is highlighted by the built-in options available to homeowners and designers.
"The folks that are going to spend these types of dollars in their backyards are going more toward built-ins than freestanding carts," says Brandon Hochhalter, marketing manager for GE Monogram. "Frankly, you can buy a freestanding cart at many stores. What sets apart the outdoor kitchen space is really the built-in customization."
GE's Monogram line of grills includes traditional freestanding models, but for a more customized look the brand also offers a built-in option. The stainless steel grills are available in sizes from 30 to 54 inches, and can be dropped in to any custom enclosure.
Eldorado Stone offers options for these built-in appliance enclosures. The company's Signature Kitchens outdoor line offers five design options and come pre-packaged with cabinets, hardware, end-caps, and other components necessary for installation. Homeowners can select cabinets from Eldorado Stone's eight profiles and specify the appliance brands and countertops that fit into the enclosure.
Built-in cabinetry from Danver Stainless Outdoor Kitchens is made of stainless steel and is available in 24- and 27-inch depths. The cabinets include concealed stainless door hinges, solid core doors, trash pullouts, fixed and sliding shelves, soft close drawers, and leveling legs.
"In the last four years there has been an increase in demand for powder coated, painted cabinets so they can blend into the décor of these outdoor living spaces," says Mitch Slater, president and founder of Danver. "Our cabinets are all stainless, but the fronts are colored." The company offers ten standard colors and eight wood grain powder coat finishes, which are rated for outdoor use.
Slater also notes that the cabinets are compatible with any manufacturer's appliances.
"They can still retain the same look, very much like an indoor kitchen, where the cabinets have a consistent look and people mix and match different manufacturers," he says.
Bringing the inside out
The appeal of a backyard kitchen comes largely from the desire to extend the home's indoor kitchen to the outdoor environment, particularly during the warmer months.
"Outdoor kitchen spaces are becoming much larger in an effort to truly bring the indoor kitchen outdoors," says Bedard. "Consumers are interested in creating a full kitchen experience, which often means incorporating many of the indoor kitchen's appliances in an outside setting."
The product lines offered by Sub-Zero and Wolf encompass the range of appliances homeowners might enjoy in their home and want to bring outside. Sub-Zero's product offerings include undercounter refrigeration, ice makers, and wine storage, all suited for outdoor use.
On the other end of the temperature spectrum, are Wolf products, which include grills, burners, and warming drawers, bringing the same cooking technology and capabilities homeowners enjoy in their kitchen to the backyard.
By incorporating indoor kitchen elements into the outdoor space, the need for the at-home chef to make trips back and forth to retrieve ingredients from the indoor refrigerator is eliminated.
"[Outdoor refrigeration] allows you to not have to go back into your kitchen to get the meat that you were marinating or the fresh vegetables that you want to prepare a salad with," says Steve Proctor, director of sales and marketing for True Refrigeration.
The variety of size options available from True Refrigeration makes outdoor refrigeration a very real possibility for homeowners who want a more functional outdoor kitchen. The company offers 24-inch-wide undercounter refrigerators and refrigerator drawers, and recently introduced a compact 15-inch size for kitchens with limited space.
True's background in commercial products simplified the transition to creating products suited for the outdoors. The company's refrigeration products can withstand high temperatures and excessive use by homeowners trying to make the most of their outdoor cooking experience.
"You see a lot of people who think, 'We'll stick a fridge out there and we'll put our water, our beer, our soda in there,'" says Proctor. "But they don't really think about it in terms of how it can complement their cooking until they get into working with the professional outdoor kitchen designer who says, 'How do you want to use this space?'"
Enhancing the cooking experience
According to Hochhalter, the "foodie phenomenon" has led homeowners to experiment with their outdoor cuisine and create something more advanced than traditional backyard barbecue food.
"I think what you're seeing is a resurgence of people really elevating their cooking experience outside," says Julie Wood, manager of public relations for GE Appliances. "They've really gone from hamburgers and hotdogs to a much more gourmet eating experience."
One way in which the GE Monogram line can help broaden the culinary horizons of homeowners is through some innovative features on its grills.
The three-speed rotisserie burner allows outdoor chefs to slow-roast lamb, pork, and other meats using techniques that are typically restricted to the indoor kitchen. A 23,000-BTU ceramic infrared burner provide intense searing capabilities, while two 15,000-BTU side burners allow for the preparation of soups, sauces, or anything else that the homeowner would prepare on an indoor stove.
As homeowners take advantage of cooking outdoors more frequently, the use of the grill can take a toll on the surrounding structures, as well as the air around the cooking area.
"When you're grilling, you have much more heat coming off of an outdoor grill than you would ever have inside," says Karen Collins, marketing communications manager for Broan-NuTone. "You really need to manage all of the heat, grease, smoke, and odors."
The best way to do this, Collins says, is by installing a range hood that is specifically designed to stand up to the outdoor elements.
Broan-Nutone's new collection of outdoor range hoods is designed to direct smoke and odors away from the home exterior and occupants of the outdoor space.
In the company's Best line of hoods, the BEST WPD39 M has a 30-inch deep design to handle the size of outdoor grills, with an optional 3-inch wall extension for greater coverage. The hood also feature a choice of either the SuperPro1200 internal blower or external blower options up to 1500 CFM, and a built-in light to illuminate the cooking area.
For a custom look, the BEST CPD outdoor hood insert allows the user to design the exterior of the hood to match the décor of the kitchen. The 22.5-inch deep insert with 1200 CFM blower then fits inside the customized shell.
The range hoods are made of corrosion-resistant stainless steel and require a wall or other structure for mounting.
More than just food
For homeowners not interested in becoming the next great backyard chef, an outdoor kitchen still has merits. Outdoor kitchen accessories can also complement an outdoor space that is intended for entertainment rather than dining.
"It's really more about how that space is being designed to fit the needs of that particular homeowner," says Proctor. "Are they cooking a lot or do they just want to have entertainment out there?"
For those who tend toward socializing rather than cooking, True's Professional Series includes a Dual-Tap Beverage Dispenser. The dispenser is made of 300 Series stainless steel and can accommodate one quarter-barrel or two one-sixth barrels of beer, which it serves at 33°F.
The company also offers wine storage with precision temperature control for optimum performance. The coolers are available from 15 to 24 inches wide, have several options for doors and hinges, and TruLumina LED lighting that illuminates the bottles from inside the unit.
Rather than sitting around a dinner table, guests can gather around a backyard fire. Eldorado Stone's new line of Outdoor Artisan Fire Bowls are available in two styles and four colors, and include 65,000 BTU gas burners that provide heat and light. The fire bowls can be installed in a matter of days and come with a hardwood cover, which turns the bowl into a table when not in use.
Style & strength
When it comes to the look of outdoor kitchens, a sleek, contemporary look remains the most popular.
"People are starting to find a way to incorporate more modern style into more traditional designs," says Spann. With stone, this can be done through linear style profiles such as ledge stones and smaller stacked stone pieces.
In the appliance world, there is one distinct leader.
"From what I see across the country, stainless is still king,"

says Proctor.
Stainless steel is not only most customers' aesthetic preference, but its strength makes it ideal for outdoor appliances, which must be able to withstand heat, cold, and other harsh weather events.
Stainless appliances positioned near water can stand up to salty or chlorinated air, and other outdoor products are typically given a UV-coating to protect from sun damage.
"Today's outdoor kitchens are reflecting similar design elements to indoor kitchens, such as cabinetry, beadboard ceilings, and ornate mouldings that can withstand the outdoors and provide low-maintenance," says Mike Gori, director of product management for AZEK Building Products. "In addition, decking options that are resistant to stains and scratches are also preferred in cooking and dining areas."
An alternative to wood, moulding and trim from AZEK Building Products are made of cellular PVC, which holds up under harsh outdoor conditions.
The trend in outdoor kitchens is likely to increase as new products become available and homeowners realize the feasibility of creating an outdoor kitchen as an extension of the home.
"It's amazing how much the outdoor kitchen has stayed resilient during the downturn in the economy," says Wood. "With the surge in new home construction and the rebound in that industry, we're really expecting this year for it to be even more popular than it was last year." PR