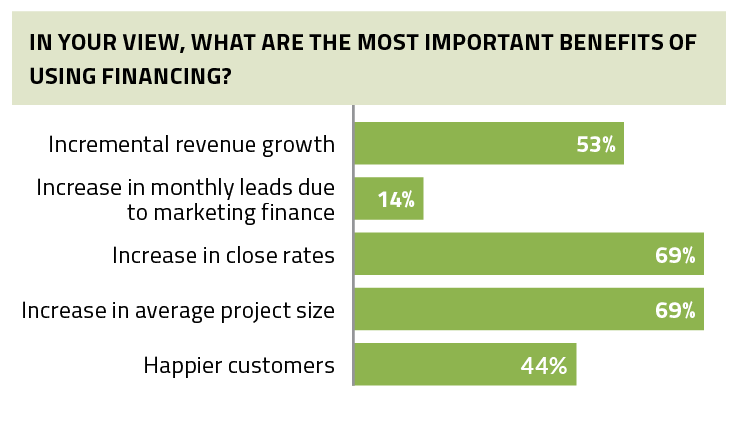 Offering financing could be your company's ticket to increased revenue, more leads, bigger projects, and generally happy customers, according to a survey of this year's Extreme Sales Summit attendees. The news may be coming just in time for some remodelers, as spending on home improvement is widely expected to see healthy increases over the next two years. 
In questioning our audience, comprised of some of the industry's largest and most renowned companies, more than half of respondents cite revenue growth as the No. 1 benefit of providing a financing option for clients. Four out of five reported 10%–20% growth as a result. Another 10% reported 30%–40% growth, with the rest saying that their revenues increased as much as 60%.  
And the benefits are greater than that one. 
Nine out of 10 respondents reported 10%–20% increases to both monthly leads and close rates, while the remaining respondents reported even higher rates, between 30% and 40%. 
Responses were similarly balanced as it pertained to average project size. Seventy-eight percent of respondents claimed financing had helped boost their average project size by 10% to 20%, with the remainder reporting 30%–40% gains.