The James Hardie Contractor Alliance™ Program gives you access to more of the resources that can add to your reputation and build your business. In the highly competitive world contractors face, it pays to partner with the industry leader.
Just as R&R contractors like you help customers transform their homes, the James Hardie Contractor Alliance Program can help you add to your success. The program gives you more of everything you want –more support, more leads and more training opportunities.
More products to set your homes apart
As home design trends toward more details in everything from decking to decorative trim work, look to the diverse collection of James Hardie® siding and trim profiles, textures, widths, and colors to beautifully capture any design. Be ready to fulfill your customers' requests with the ultimate in aesthetics and authenticity.
A deeper beauty lies in the performance these products bring to the homes you craft. Only James Hardie products are Engineered for Climate® to stand up to your local weather conditions and keep their good looks with low maintenance.
More support to collect and close leads
It can be challenging to ensure that you have a steady stream of new leads to help grow your business. James Hardie provides access to powerful lead-generation resources and customizable marketing tools to build awareness for the quality of your work.
Top tier members of the program enjoy a high-profile presence on the James Hardie website's Contractor Locator, a tool designed to match prospective customers with local contractors.
Once connected with qualified leads, James Hardie helps you close those leads with personalized sales consultation and dynamic, interactive presentations designed to educate prospective clients about the product benefits and share your company's expertise to help establish immediate trust.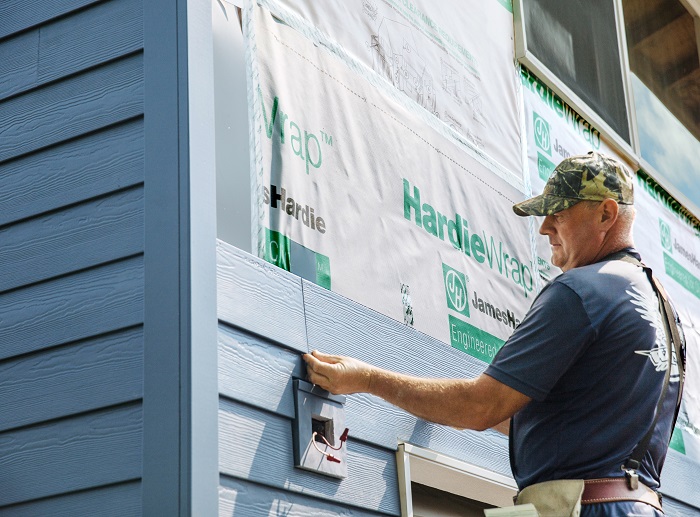 James Hardie provides direct access to installation specialists ready to share time- and cost-saving best practices.
More installation training to build with confidence
It's hard to overstate the importance of James Hardie's unmatched on- and off-site installation training. By sharpening skills and learning best practices, your crews can work more efficiently to save your company time, money and reduce callbacks. With greater confidence in your crews' ability to finish jobs faster, comes the freedom to reach out to more prospective customers and close more business.
Join an industry-leading, comprehensive business development and loyalty program. The James Hardie Contractor Alliance Program stands ready to provide the practical, proven solutions to the challenges you face every day.