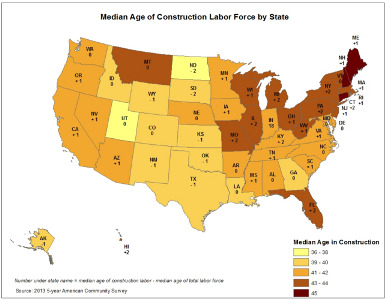 Map courtesy of NAHB
ConstructionDive.com cites Bureau of Labor Statistics showing that the number of construction jobs added in October was more than four times the number added in the previous four months combined. That's a good sign, but it may a short-term phenomenon tied to rising compensation levels aimed at attracting energy and manufacturing workers who are worried about the recent softening in those sectors.
The larger issue, and one that poses a long-term problem, is the aging of the construction workforce. A National Association of Home Builders "Eye On Housing" story includes the map above, which color codes data from the 2013 American Housing Survey to show regional differences in the median age of U.S. construction workers. The number displayed in each state represents the difference between the median age of construction workers in that state compared with the median age of the overall workforce.
Most older construction workers serve in supervisory positions, but they also hold a wealth of practical construction job-site know-how that historically has been passed on to younger workers via on-the-job training. That historical pattern was interrupted by the Great Recession, and as a result of the seven-year gap in the housing industry's recovery, much of that hands-on knowledge will exit with older workers when they retire.